Now a Category 1 storm, Hurricane Bill is traveling north in the Atlantic, remaining offshore from the United States but still bringing big waves and rip tides to beachgoers along the U.S. East Coast.
Downgraded but still dangerous, Hurricane Bill has parts of Canada's Maritime Provinces on hurricane watch.
A 5 p.m. update from the National Hurricane Center said a hurricane watch has been issued for the easternmost areas of Canada, meaning hurricane conditions in that area are possible within the next 36 hours.
In the states, the Massachusetts coast from Woods Hole to Sagamore Beach, including Martha's Vineyard and Nantucket, face a tropical storm warning.
The storm was about 300 miles south of Nantucket early Saturday evening. Waves on Cape Cod, Mass., could be as high as 23 feet by Sunday, forecasters said.
"The core of Hurricane Bill should pass offshore the coast of New England late today or tonight and move over or near Nova Scotia on Sunday," the statement read.
Visit ABC News' special section on Hurricane Season 2009.
Hurricane Bill was downgraded this morning to a Category 2 storm and further downgraded to a Category 1 storm this afternoon. Still, it has brought risky conditions to the shore.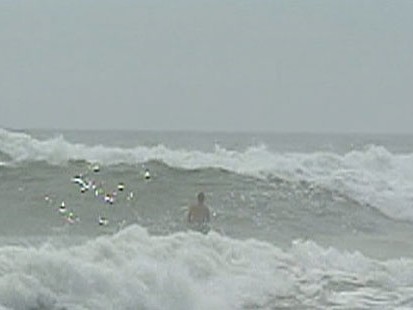 Rip tides and high waves prompted officials to close several beaches in New Jersey and New York. All of the beaches on the Massachusetts island of Nantucket are closed.
Where beaches remain open along the eastern seaboard today, people are being cautioned to stay out of the water -- especially if they are not experienced swimmers.
Bill Karatz, head lifeguard in Belmar, N.J., said conditions are "very treacherous."
"We're just letting [beachgoers] just get their feet wet," he said. "And [conditions are] gonna get worse."
Father north, Bernie Hawkins with Rhode Island's Department of Environmental Management, said lifeguard stations will be fully staffed.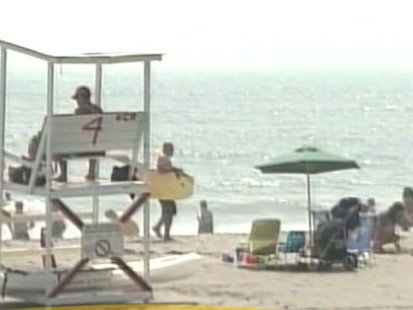 "We will have every chair occupied," he said. "We will also have lifeguards on foot patrol, and we will flag off really serious rips."
Bermuda Soaked With Rain and Strong Winds
By Friday night, Hurricane Bill lashed Bermuda with high winds and caused some heavy damage.
But the island avoided a direct hit, and Bermuda's hurricane watch and subsequent tropical storm warnings have been discontinued.
Secretary of State Hillary Clinton and former President Bill Clinton were vacationing on the island but left early. Other vacationers stayed.
"The south shore is all upsy-daisy, turned upside down," Sydney Simmons, an island resident, said Friday.
Early this morning, Bermuda's cabinet office issued a statement saying the worst had passed, but caution continued.
Bill's Winds Weaken but Still Pose Threat
The hurricane carries 85 mph winds, down from 105 mph winds this morning. Bill has diminished gradually throughout the week, but it's still a wide storm, with hurricane force winds stretching 85 miles from its center, and tropical storm force winds extending 275 miles from its core.
Indeed, beachgoer Amy Minot felt its effects in North Carolina Friday. The weather appeared sunny, but the water told a different story.
"It was just really strong," Minot said. "Even the waves that were down by my ankles were, like, moving me. The big ones were almost knocking me over."
Now Bill is moving north-northwest, and officials in the Northeast are bracing for heavy flooding.
In Chatham, Mass., boaters and fisherman have moored their boats. Some have taken them out of the water completely.
"People need to know the seriousness of Mother Nature," Hawkins said. "It's beautiful to watch but they need to be careful."
After earning its name last Saturday when it became a tropical storm, Hurricane Bill became the first hurricane of the Atlantic storm season by Monday morning. The hurricane strengthened to a Category 4 hurricane by Wednesday, with sustained winds up to 135 miles per hour.
On Thursday morning, it weakened slightly to a Category 3, with winds decreasing to 120 mph.
"Weakening is expected to begin on Sunday as Bill moves over cooler waters," the National Hurricane Center's update said Saturday evening.
ABC News' Marysol Castro, Stephanie Sy, Jeffrey Kofman, Gerard McNiff, Jan Simmonds, Sharyn Alfonsi and The Associated Press contributed to this report.