TSA Instagram Feed Shows Confiscated Firearms, Knives, Grenades
New TSA Instagram feed shows items confiscated at airport checkpoints.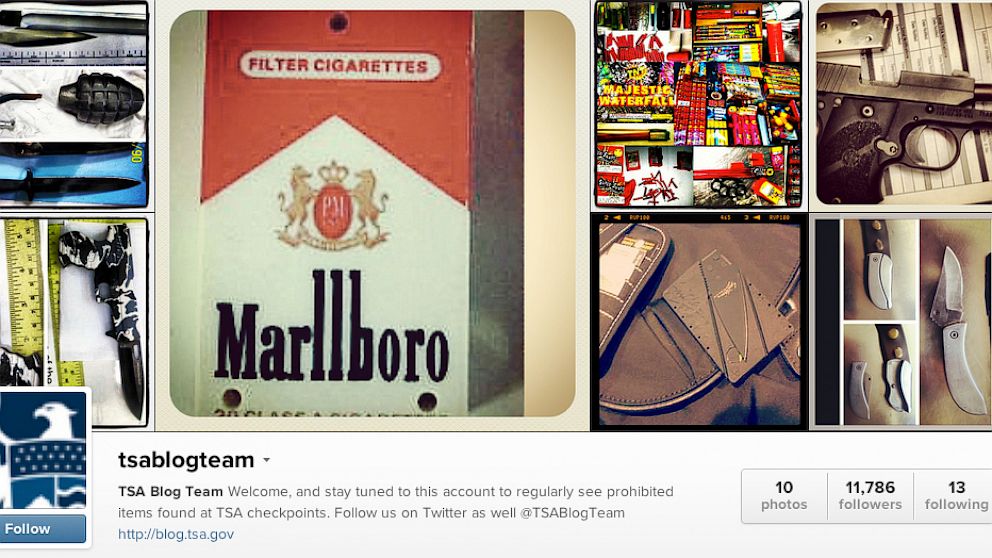 July 3, 2013 — -- A running feed of photos of guns and knives might not be all that interesting to most Instagram users, but when the Transportation Security Administration posts them as examples of items confiscated at airport security checkpoints, thousands will follow and hit the "like" button.
Since launching its own Instagram account earlier this week under the guise of @tsablogteam, the TSA has gained more than 12,000 followers by showing filtered photos of grenades, a range of guns, bullets, cigarettes, fireworks and credit card knives.
The TSA has been posting photos of confiscated items on its blog since 2008, and also has a series of Twitter accounts maintained by various public affairs officers.
But the move to Instagram is a way to publicize and educate travelers about the items the TSA takes daily from passengers.
"The Transportation Security Administration (TSA) uses a variety of ways to engage with the traveling public in order to provide timely information that assists them in traveling safely," the TSA said in a statement sent to ABC News.
The TSA isn't the first government move to an Instagram feed. The White House -- and the first lady -- have Instagram accounts too.
In March, the TSA said it would begin to allow small knives and certain sporting goods – such as baseball bats -- on planes. But in June, after flight attendants and others protested, it reversed its decision, meaning it's likely those items will pop up in the Instagram feed sometime soon.