— -- Just as champagne and kisses at midnight are tied with New Year's Eve, a newer year-end tradition has become complaining about sky-high Uber charges after the fog of the night before has worn off.
This newer tradition continued online today as ride share users from around the globe posted screen grabs of their alleged nightmare fees.
Uber allows prices to surge in times of high demand, which they say helps draw more drivers onto the road. They confirmed to ABC News that they do not have a cap on how high the surge multiplier can go, and last night, Twitter users appeared to show that was the case.
Shahriar Jahanbani, a student in Miami, told ABC News that he wanted to call an Uber just before 10 p.m. on Thursday night but opted against it when he saw that the surge level was 9.0 times the normal fare.
"I just think that it's taking a little bit advantage of the situation," Jahanbani told ABC News today.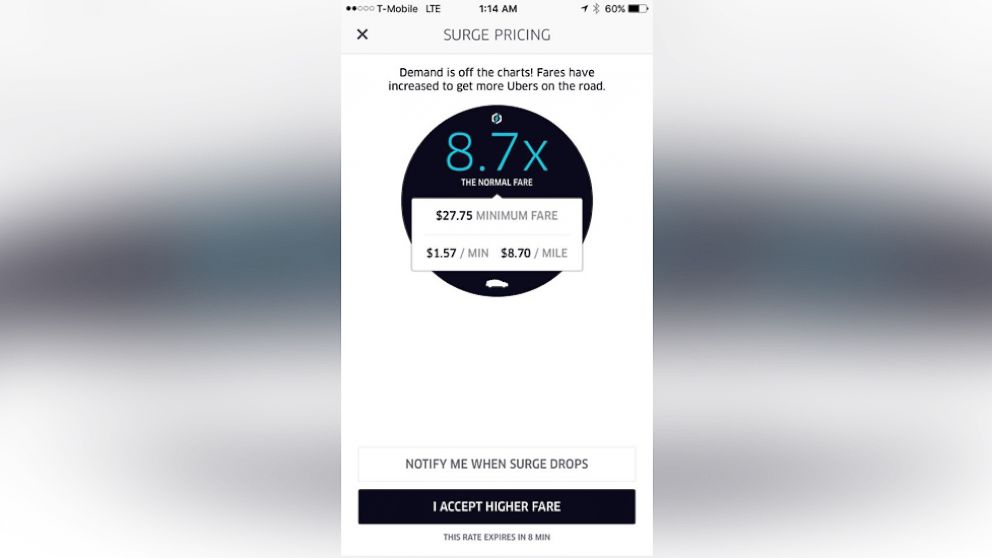 Uber's Facebook page had more than 100 comments from riders complaining about high surge prices and frustrating experiences.
Hours before any celebrations began on Thursday, Uber sent out an email with tips to users which showed a graph of the busiest times.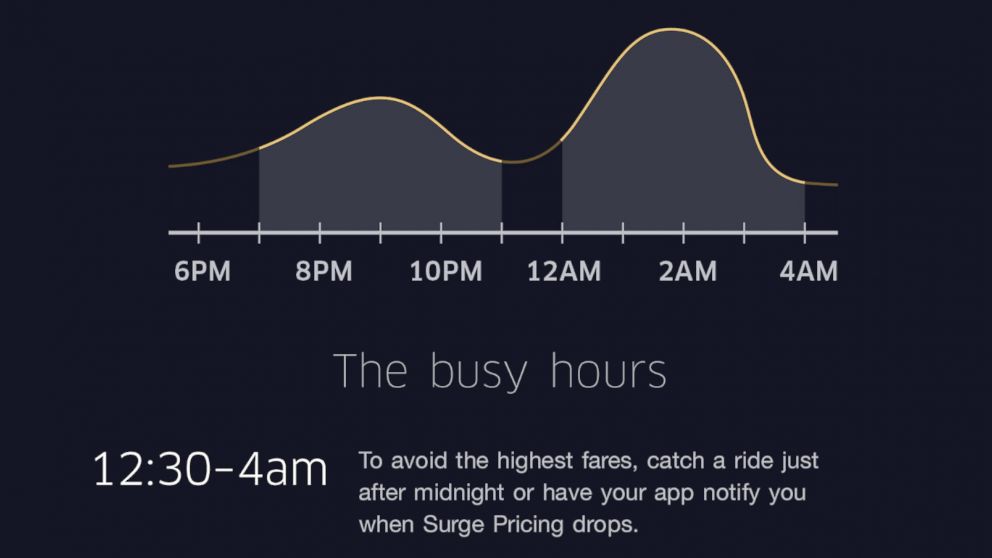 Alicia Barnes and her boyfriend took note of the busy times when they were planning their trip to Old Town Alexandria in Virginia to watch the fireworks. She told ABC News that their trip to the festivities was only $10, but because of increasing surge fares on their way home, it ended up costing them $68.73.
And that was after four other Uber drivers cancelled their trips after initially accepting them, Barnes told ABC News.
"We were literally waiting in the street, looking for the driver to pull up," Barnes told ABC of one of the first drivers that accepted them, only to cancel when the car was two blocks away.
When they first started requesting an Uber at around 12:10 a.m., the surge rate was 1.7 times the normal rate. Then it jumped to 2.2 times, then upwards of 3.5 times, then 4.7 times and then finally 5.9 times when they got picked up at 12:39 a.m.
For their part, Uber suggests that the high surge pricing were anomolies.
According to a company spokeswoman, 84 percent of U.S. Uber trips between 5 p.m. Thursday night and 5 a.m. this morning had surge pricing of less than 3.0 times the standard fares, and 60 percent of all U.S. trips were at normal prices without surges.
"Riders are repeatedly notified about the pricing directly within the app and asked to confirm and accept increased fares, or can opt for a notification when prices drop," the spokesperson told ABC News. "When folks know that the option for a reliable ride home is available right at their fingertips, it becomes much easier to make the smart decision not to drink and drive."