It's been a mess. A fierce winter storm slogged eastward across the U.S. today, bringing a foot of snow to the Midwest, pelting rain to the eastern seaboard, 50 mph winds, slippery road conditions and hundreds of school closings.
The National Centers for Environmental Prediction called it a "significant winter storm" -- never mind that the winter solstice is still 12 days away. Over the last three days, it said, there have been 17 inches of snow in Madison, Wisc., and 15 inches in Winterset, Iowa.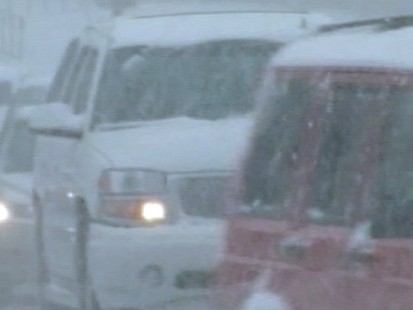 In Omaha, Neb., a 28-year-old woman was reportedly killed Tuesday night when a pickup truck, plowing out of the parking lot of an apartment complex, accidentally backed over her.
The storm is caused by the same low-pressure system that already blew across the West, leaving three to four feet of snow in mountainous parts of California and Arizona and causing winds of 80 to 100 mph in parts of Texas.
"It's definitely the worst storm I've seen in quite a few years of being up here, absolutely," said J.T. Michael of Flagstaff, Ariz., where 30 inches of snow were reported.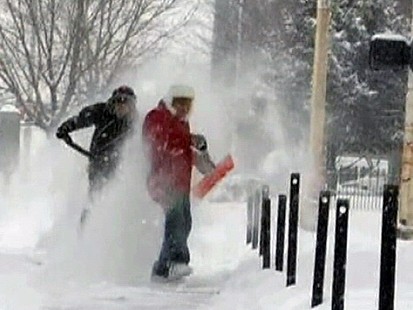 On Wednesday night the system was moving eastward, sending snow and rain ahead of it into New England and the Canadian Maritimes. Grand Rapids, Mich., was warned to expect wind chills below zero on Thursday morning.
In the mid-south, meanwhile, there were high winds and widespread flooding. In Nashville, Tenn., the wind was enough to snap the Christmas tree at the state capitol building in half.
Moving Quickly East
The National Weather Service said, "The combination of heavy snow and strong winds over the Upper Midwest and Great Lakes region will cause blizzard conditions into the overnight."
The weather service late today had winter storm warnings posted for northern New England. Blizzard warnings were lifted for much of Midwest -- but replaced by wind chill advisories.
"It's horrible out there," said Todd Lane, assistant manager of a convenience store in Des Moines, Iowa.
"Outside of the city there's 15-foot drifts and people are stuck in them," Lane said drivers told him. "It sucks and it just keeps on coming."
Western New York State, south of Buffalo, often gets lake-effect snow from nearby Lake Erie, is forecast to have blizzard conditions in the morning.
Though the storm was fast-moving -- rain ended in New York City by afternoon -- forecasters warned people not to be lulled.
Snow, Wind, Rain, Slippery Roads
"You're going to have ground blizzard conditions, even after the precipitation stops falling from the clouds," said Mike Caplan, a forecaster for ABC station WLS-TV in Chicago. "You're going to have some snow on the ground that's going to be wind-whipped at 40-50 miles per hour."
Slick roads remain where the storm has cleared out. And even where there has been no snow, forecasters said the storm would quickly be replaced by cold Canadian air, likely to create icy patches on roads overnight.
"It's treacherous conditions," said trooper B.K. Smith of the Kansas Highway Patrol, "a lot of slide-offs, a lot of accidents."
"I'm like a turtle on ice out here," said a driver in St. Joseph, Mo.
Click here for national weather maps and conditions in your area.
The Associated Press contributed to this story.