Born weighing barely 3 pounds, Jyoti Amge was not supposed to survive for more than 10 minutes.
"Even up to a full nine months, the child could not be seen on the scan. They said the child was not formed. It is like water and that it was not alive," says Kishanji Amge, Jyoti's father, in a National Geographic program about Jyoti that will air tonight. He and his family speak Hindi but communicated through translators.
"When they found that the baby was alive, it was a miracle," Amge said. "The doctors were in shock. It was beyond their understanding."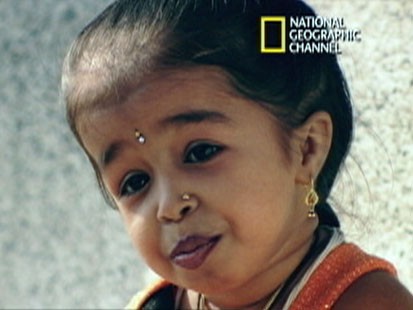 But Jyoti, who lives in Nagpor, India, with her parents and four siblings, recently celebrated her 15th birthday.
She attends school with students her age, enjoys fashionable clothes and jewelry, and dreams of becoming a film star. But though she is a typical teenager in many ways, she is not even 2-feet-tall.
Standing 23½ inches and weighing about 12 pounds, at 15, Jyoti is no bigger than many 6-month-old infants. According to National Geographic, record keepers say she is the smallest girl in the world.
Although it has not been medically confirmed, doctors who have treated her think she has pituitary dwarfism, or a condition caused by a malfunction of the hormone-secreting pituitary gland responsible for physical growth and development.