In the world of YouTube, not even the combined subscriber numbers of Adele, Beyonce and Taylor Swift could compare to that of a man known as PewDiePie.
PewDiePie, whose real name is Felix Kjellberg, is currently the most subscribed personality on YouTube. He has over 40 million subscribers and over 10 billion views on his videos.
"It was definitely very exciting, and it is still exciting, of course. And I never expected it. I've never been the popular guy or whatever," Kjellberg said in an interview with Yahoo Global Anchor Katie Couric. "So, to all of the sudden be in this situation where there's so many people who loves what you do and appreciates what you do, that's amazing. And I couldn't be happier about it."
The 26-year-old from Sweden said it all started five years ago when he began uploading videos of himself playing video games along with some colorful commentary.
"People watch for many different reasons. Maybe you watch someone else play a game because you want to learn about the game. You want to become better at the game. It's kind of like you watch sports, I would say," Kjellberg said. "But for me, it's different. I think no one watches me to get better at games. People watch me to just be entertained and feel like they're hanging out. It's a closer connection watching someone on YouTube because they can interact with me in a better way. And it's almost like you're sitting next to me on a couch and we're playing games together."
The name PewDiePie, Kjellberg said, also came from his video game playing.
"It was pew, like lasers. Pew, pew. And I would yell out 'pewdiepie' whenever I did well in games," Kjellberg explained. "And people would just laugh, and I would just go -- went with it."
The new form of entertainment Kjellberg is a part of is known as the "Let's Play" phenomena, where watching someone play a video game can be as entertaining as actually playing the game.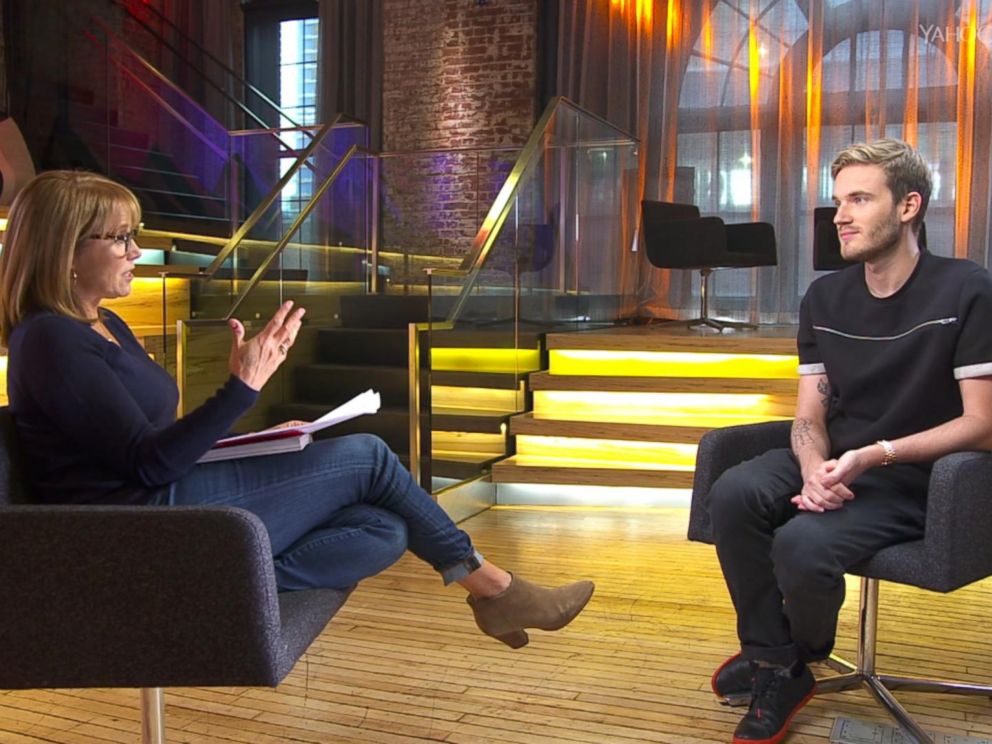 In fact, the phenomena is so popular that the website Twitch, which streams live Let's Play videos, is the fourth-most visited website, above both Facebook and Amazon.
Seeing the opportunity, Kjellberg quit school to make his videos full time.
"I just felt like I was on the wrong path in life. I was going, you know, with an education that I felt like was more to make, you know, parents proud and stuff like that. It wasn't really what I wanted to do," Kjellberg said. "And I saw that there was this opportunity over here that seemed insane, and it seemed too good to be true. But I wanted to give it a shot at least. And I'm here now and I'm lucky it worked out."
Initially, Kjellberg said, his parents didn't understand what he was doing.
"But I think once they saw the fans' reactions to it and how they understood that it meant so much to so many people, what I was actually doing, that's when they realized, 'Okay. This is actually a thing.'"
Kjellberg has gone on to turn his millions of video views into a profit. His monthly earnings are estimated by SocialBlade to reach up to $1.4 million, and his PewDiePie brand continues to grow. His group of male and female followers, known as the Bro Army, call themselves "bros."
"It started ironically a long time ago where I would call -- I would play horror games, and then to call out the monster in the horror game to make myself less scared, I would call him 'bro.' Kind of like, 'Hey, Bro? What's up, Bro?' It just spawned from there," he said. "I think most people think it's just guys. But it's cool to see that anyone can enjoy it, and ... I feel like then I've done my job 'cause I want people, even if you're not a gamer necessarily, to still be able to enjoy my videos."
Aside from playing video games, Kjellberg released his first book this year, which debuted at number 1 on the New York Times Young Adult Paperback Best Sellers List. Next year, he will be releasing a new YouTube series called "Scare PewDiePie."
And despite all his new ventures, Kjellberg said playing video games is his passion and what he wants to keep doing, even if he might one day be too old to be PewDiePie.
"It seems ridiculous if I'm like, I don't know, 70, and I'm just sitting playing games, commentating like I am now," Kjellberg said.
He added, "I feel like already in these five years, my content has evolved a lot and I keep it will keep evolving. But how it will evolve, I don't know yet."