A Seattle-area woman is accused of killing a pregnant stranger and cutting her live baby from her womb, one of several similar incidents that mental health experts say sheds light on the rare phenomenon of females with a pathological desire to obtain a baby at any cost.
As first reported by ABC News affiliate KOMO, Seattle, Phiengchai Sisouvanh Synhavong was arrested for allegedly binding Araceli Gomez's hands and feet with yarn, removing her baby and stabbing the woman to death. Police say Synhavong later claimed that Gomez's infant son, who survived the horrific incident, was her own.
In the last three months, two other women, in Illinois and Missouri, were convicted of similar crimes.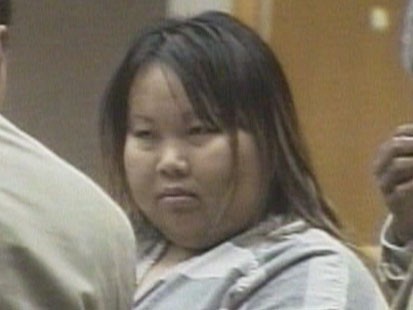 Though the alleged crimes may seem incomprehensible, forensic psychologists told ABC News that some people who kill pregnant women and attempt to steal their babies may be motivated by extreme low self-esteem and a pathological desire to bear children.
"Unlike many homicides, in which a variety of different factors and influences make it impossible to generalize, the woman who commits this crime is someone whose feminine identity is very much wrapped up in her fertility," said Dr. Michael Welner, a forensic psychiatrist and head of The Forensic Panel.
"This is someone who is otherwise empty and has very little sense of self or esteem or value, and becomes overly invested in this idea" of having children, he said.
Welner and other experts compared the crime to women who steal infants from maternity wards and, even, to the far less extreme case of young girls who choose to have babies as a way to gain status and attention.
"It's a whole new life for a person who feels empty or insignificant," said Thomas Caffrey, a psychologist and former chief of psychological services at the federal Metropolitan Correctional Center in New York.
According to KOMO, Synhavong allegedly called 911 and told dispatchers she had given birth, but that her baby may have died. When police found her in her car with a baby, Synhavong repeatedly asked, "Is my baby OK?"
Gloves soaked in blood, a boxcutter, bloody paper towels, yarn, a baby bottle and baby socks were among the items found in Synhavong's purse, according to court documents cited by the Associated Press.
Synhavong will be arraigned Wednesday. Her court appointed attorney could not immediately be reached for comment on Monday.
Though Synhavong's case is rare, several similar incidents have been reported in the last few years.
In April, Lisa Montgomery was sentenced to death for killing Bobbie Jo Stinnett and cutting her baby, then in the eighth month of gestation, from her womb. Prosecutors said during her trial that Montgomery strangled Stinnett with a rope, then used a kitchen knife to cut the infant from the womb.
Earlier this month Tiffany Hall, 26, pleaded guilty to killing her pregnant friend, Jimella Tuntstall, and cutting her unborn child from her womb in a bathtub. Hall later told police in Illinois she had given birth to a stillborn child. She was sentenced to life in prison.
Brings 'Identity, Self-Worth'
Forensic psychologists, who were not involved in any of these cases, suggested several possible factors that drive people to commit such an act.
Suspects generally suffer from psychosis or a severe personality disorder, said Joel Dvoskin, a forensic psychologist and assistant professor at the Louisiana State University Health Sciences Center.
Having children also carries tremendous cultural importance, said James Garbarino, a forensic psychologist at Loyola University. "They perceive it as bringing to them identity and self worth and recognition in the community," he said.
"We have 15-year-old girls having babies of their own. We have a history of some women faking pregnancy," he said. "This, to me, is a very, very extreme form of that."
The key question for courts, said Dvoskin, is usually whether the defendants know the difference between right and wrong, whether their actions are motivated by psychosis or extreme narcissism.
"The most likely answers are that the person is actually psychotic or they just have such an extraordinarily extreme way of thinking about the world, that wanting something makes it theirs," he said.