Officials charged with ensuring that American taxpayers receive their share of revenue from oil and gas companies drilling on federal lands reportedly engaged in a "culture of ethical failure," one plagued by sexual relationships with oil industry employees and improper acceptance of dinners, gifts and travel, according to a series of Interior Department inspector general reports released today.
The investigation "revealed a relatively small group of individuals wholly lacking in acceptance of or adherence to government ethical standards; management that through passive neglect, at best, or purposeful ignorance, at worst, was blind to easily discernible misconduct," Interior Department Inspector General Earl E. Devaney wrote in a letter accompanying the reports to Interior Secretary Dirk Kempthorne.
The two-year, $5.3 million investigation targeted the department's Minerals Management Service and several of its subsidiaries and officials.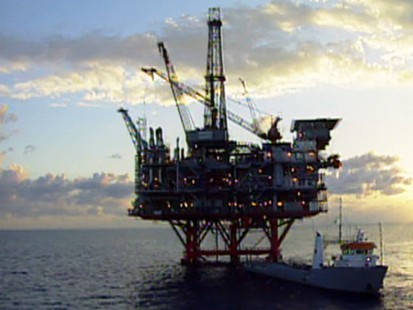 There was a party atmosphere at the key Royalty in Kind (RIK) program office in Denver, investigators say.
Devaney said in his letter that the probe uncovered a "culture of substance abuse and promiscuity" in the RIK program, noting that "several staff admitted to illegal drug use as well as illicit sexual encounters."
The office, which manages the sale of commercial oil and gas commodities, averages approximately $11 million in business per day, according to the report.
Investigators also say they confirmed allegations that Gregory W. Smith, the former head of the Royalty in Kind program, "engaged in outside employment that conflicted with his RIK position, that he accepted gifts from the oil and gas industry and that he engaged in sex and drug use with subordinates."
The report notes that Smith retired before the investigation was completed and that earlier this year the Justice Department declined to prosecute him for the activities alleged by investigators.
The Associated Press contacted Smith, who told the wire service that he had not seen the report and therefore could not comment on the allegations against him.
Another report targeted Smith's former employees for alleged conflict-of-interest activity.
Between January 2002 and July 2006, "19 RIK marketers and other RIK employees -- approximately 1/3 of the entire RIK staff -- had socialized with, and had received a wide array of gifts from, oil and gas companies with whom the employees were conducting official business," the report claims.
When investigators zeroed in on several individuals, they found that, among that group, the dollar amount of the gifts received was less than $1,000 per employee but that "the frequency of the gifts was quite disturbing," including two individuals who received gifts "on at least 135 occasions from four major oil and gas companies."
But the employees didn't display much remorse, according to investigators.
"Our investigation revealed that many RIK employees simply felt that federal government ethics standards and DOI policies were not applicable to them because of their 'unique' role," the report stated.
"The activities at the RIK office are so outlandish that this whole IG report reads like a script from a television miniseries -- and one that cannot air during family viewing time," House Natural Resources committee chairman Nick J. Rahall, D-W.V., said in a statement that accompanied the report.
"This is unheard-of conduct, it is beyond any ethical lapse of memory or conduct," Rahall told ABC News. "We always suspected a cozy relationship between RIK employees and the oil industry."
Danielle Brian, executive director of the Project on Government Oversight, told ABC News that it "was almost impossible to use hyperbole in this case."
"I would have been embarrassed to have my teenagers acting this way," she said.
The department promised to take action to ensure this never happens again and insists there's no evidence taxpayers lost any oil and gas revenue as a result of the alleged wrongdoing.
"We take the report seriously," Randall Luthi, director of the department's Mineral Management Service, the parent division of the programs involved in the report, said today.
"We believe we've made a lot of progress. Fourteen people, I don't think, represent the culture when dealing with an agency of over 1,700 people."
"But I will say, we've lost in the public trust," Luthi said. "That's what we've got to regain."
As many as seven employees implicated in the report still work for the Department of Interior. Devaney's recommendation is to consider terminating some employees singled out in the report and for the department to consider banning them from ever working for the RIK program.
The four energy companies that allegedly plied government employees with gifts were Chevron, Shell, Hess Corp. and Gary-Williams Energy Corp., but they do not face any penalties.
In addition to the allegations that employees cozied up to the oil industry, a Justice Department criminal investigation has been opened into the matter.
"The [Justice] Department can confirm we have received one or more referrals related to matters referenced in the Department of Interior inspector general reports publicly released today," said spokeswoman Laura Sweeney. "We are unable to comment any further on those referrals, however you will note Jimmy Mayberry, referred to in one of the reports, has pleaded guilty to a felony violation of the conflict of interest law."
Mayberry, former special assistant to the associate director of Minerals Revenue Management, entered his plea last month in U.S. District Court in Washington.
The charging papers against Mayberry, filed in June 2008, claimed that he and Lucy Querques Denett, his supervisor, struck an arrangement so that he could be brought back to work as an independent contractor. Devaney noted in his letter that the Justice Department declined to prosecute Denett.
According to the court papers, in January 2003, while still employed by the Interior Department, Mayberry created his own set of proposals and bid evaluation process. A month later, after he retired, Mayberry submitted a bid for an Interior Department contract.
Among the numerous bids and the four final contracts, Mayberry "was the only bidder to receive a grade of 'excellent' on all the requirements for the position and was awarded the contract in June of 2003."
On Capitol Hill, lawmakers who have long called for greater scrutiny of the Minerals Management Service were quick to react.
"This isn't about a few renegade individuals," said Sen. Ron Wyden, D-Ore. "It's about a government agency fostering a culture of disrespect for both the public's resources and trust. It's time to clean house at the Minerals Management Service."
As leaders of the Senate's Energy and Natural Resources Committee, Sen. Jeff Bingaman, D-N.M., and Wyden asked the inspector general to examine these issues last year.
"The improper activities detailed in this report are extremely troubling," said Bingaman, chairman of the Senate panel, in a statement today. "From my vantage point, this investigation raises very serious questions about management and organization at the Interior Department. American taxpayers deserve to have confidence that their interests are being protected when it comes to collecting royalties from the production of public oil and gas resources, especially given the potential for expanded domestic drilling."
Sen. Chuck Schumer, D-N.Y., chairman of the Senate Joint Economic Committee, said in a statement, "Unfortunately for U.S. consumers, this IG report has it all -- sex, drugs and Bush administration officials once again in cahoots with Big Oil. The Department of Justice and the Interior Department should prosecute those involved in this unseemly case to the fullest extent of the law. It is a flagrant abuse of the public trust."
ABC News' Z. Byron Wolf contributed to this report.