Former President Bill Clinton, our exclusive headliner on Sunday's "This Week," first appeared on "This Week with David Brinkley" in 1991 even before he had declared his candidacy for President.
David Brinkley, George Will and Sam Donaldson pressed the popular Democratic governor of Arkansas on his domestic policy stances. Clinton stressed the importance of a renewed focus on national affairs. "The American Dream is in serious danger," Clinton told David Brinkley. "People are worried that the future will not be as good as the present, and there's ample reason for that."
Additionally, the "This Week" panel pressed Clinton on government spending. The Governor confidently asserted his ability to manage a budget as he had done in Arkansas, including cutting government programs when necessary.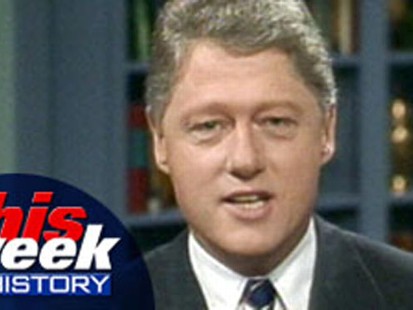 Later, when asked about his position on abortion, Clinton demonstrated his pro-choice tendencies, but declared that the president must first and foremost defend the law. "No matter what you think about abortion," Clinton answered, "whether you're pro-choice or you have the opposite position, you have to believe in the rule of law if you're president."
Watch Former President Bill Clinton in his first "This Week" interview on August 18, 1991 - then, tune in on Sunday for Clinton's latest appearance.