In a week when Rep. Randy Neugebauer (R-TX) shouts "baby killer" on the House floor and numerous threats and acts of violence are directed at several members of Congress, the status of the country's Congressional decorum comes into question. Is this the end of political civility as we know it?
In 1993, almost seventeen years before the latest health care reform vote on Capitol Hill, the 'This Week with David Brinkley' roundtable predicted a drastic shift in the nature of discourse among congressmen.
As news emerged that House Minority Leader Bob Michel (R-IL) would resign, ABC News' Cokie Roberts stated that "what you really see is the end of civility in the House of Representatives in a very important way."
Rep. Michel, who served in the House for 38 years and as Minority leader for 14, announced his resignation as he grew increasingly at odds with the approach taken by the rising voices in the Republican Party. "There is a big gap between my style of leadership and my sense of values, my whole thinking process," Rep. Michel told reporters as he announced his pending retirement. "[That] is giving way to a new generation, and I accept that."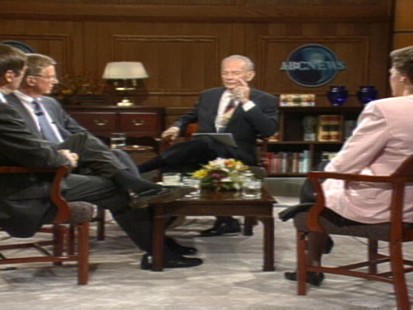 "His time was up. He was a moderate, and it's the un-moderates who control the House Republicans," ABC News' Donaldson said on the Roundtable. "The bomb throwers don't believe in civility. [They] believe in throwing bombs."
In addition to his military and political contributions, Rep. Michel is remembered for the impeccably poor timing of his resignation. In the midterm election following Michel's resignation, Republicans gained control of the House, something not seen in entire 38 years Michel served. With the newfound majority, Michel would very likely he would have become Speaker of the House leading John Ensign, Lindsey Graham, Mark Sanford and other newly elected Republican Representatives.
Watch this clip from the 'This Week' archives where the Roundtable projects the end of political civility on October 10, 1993.