If you're paying $200 to fly to Florida before summer's end, it's probably too much, and if you've been waiting for a travel bargain, your time has come, FareCompare.com CEO Rick Seaney said today.
Steep sales announced Tuesday by two airlines are the latest attempt by a struggling industry to lure back the travelers it's lost during the recession.
Watch "World News With Charles Gibson" tonight at 6:30 ET for the full report
Ticket sales at Southwest and AirTran airlines are aimed at enticing travelers eager for a fall vacation for less than $200 -- but only if they seize the opportunity before the end of the week.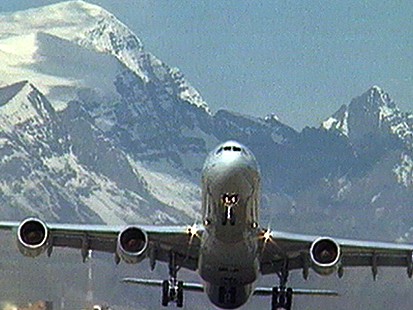 "You have to take advantage of these," Seaney said. "This is only a two-day sale. If you blink, these prices are going to be gone."
If you're one of those travelers, you can scoop up a $90 one-way ticket on Southwest for all domestic destinations that are more than 750 miles apart. Those fares kick in for flights after Labor Day. Or travelers can book even cheaper fares for shorter trips.
Passengers can fly Southwest round-trip from Denver to Chicago for $120, compared with the $288 price they'll fork over when the offer ends.
Air Tran's sale offers $39 tickets each way for flights from Atlanta to Charleston, Baltimore to Boston, or St. Louis to Milwaukee.
"Folks are being tight with their money, and we won't fly unless it's a heck of a good deal," said Tom Parsons, who runs BestFares.com. "The people that are saving them are the low cost travelers. It is better to have $180 bucks coast to coast rather than zero."
Both airlines' offers are available if you're taking a trip before mid-November. Southwest's sale ends at the end of the day today; Air Tran's runs through tomorrow.
"Those are crazy cheap prices," Seaney said. "The holy grail of coast to coast has been $99 one way. This undercuts the holy grail."
It's possible other carriers will soon follow their lead.
"Nobody wants to be undercut in this economy," Seaney said. "When one of them has a sale, they all have a sale."
Airline Business Hopes to Attract Frugal Travelers
The past year has seen an increasing amount of extra fees tacked onto the price of airline tickets because carriers were trying to make money while paying oil prices that soared to a pricey $145 a barrel.
But their struggle to profit continues in the recession as some families opt to stay home and others keep vacation costs low by driving. Business travelers are dialing in to conference calls rather than hopping on the quickest flights.
The bottom line for the airlines: It's been a long, slow summer, with numbers to prove it.
According to the airlines' own numbers, June travel was down about 6 percent over last year at the big carriers, illustrating that hard times have descended upon the airline business.
"The airlines are going to beg, borrow and steal to get the leisure travelers," Parsons said.
"They've had to make up for business travelers that have left in droves," Seaney said.
Hotel Industry Also Challenged by Travel Decline
The hotel industry, too, is trying to entice people who have so far stayed away with cheap rooms, show tickets and package deals.
Despite cheaper rooms in many regions of the country, hotel occupancy rates were down more than 10 percent this May compared with last May in cities like New York, Las Vegas, Chicago and West Palm Beach, Fla., according to Smith Travel Research.
In New York, average room rates were down 23 percent this May compared with last May. Las Vegas similarly saw a 21 percent drop, and West Palm Beach saw an 18 percent decline.
Still, it's unclear whether the airline and hospitality industries' efforts will have enough of an effect to buoy business.
According to Parsons, last-minute decisions to book a ticket are "good for the business and leisure travelers, but not good for the airlines."
"Travelers are booking under 60 days -- it's messing up airlines because they can't see the advance bookings like they used to," he said.
For travelers who have been waiting for a deal, now might be the best time to take advantage, according to Seaney.
"If you're buying this weekend, prices will be up anywhere from 30 to 50 percent, so you have to get it while the getting's good," he said.