A year after the U.S. Navy launched a concerted effort at curbing modern-day piracy, the seas are safer in the Gulf of Aden. But there is evidence that the success of the U.S. and its partner countries in the busy shipping lane has pushed the problem outward, as pirate attacks spread through the Red Sea and into the Indian Ocean.
"It's an undeniable fact, you're going to push the problem elsewhere. Enemies adapt, and pirates will adapt as well," said Jason Alderwick, a maritime safety expert with the International Institute for Security Studies.
For countries like the Seychelles, an island nation in East Africa that relies heavily on tourism, piracy has become a critical issue.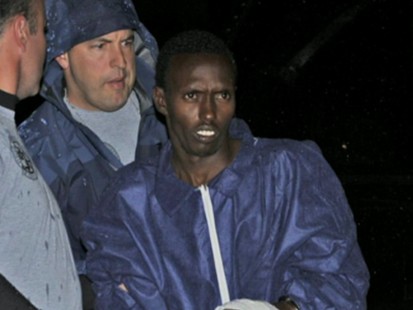 As the
map of pirate attacks
has expanded, the luxury yachts and commercial ships off its coast have become fresh prey. The result has been a
maritime game of cat-and-mouse
. In April the Seychelles arrested nine suspected pirates for the attempted hijacking of a cruise liner, and this fall the U.S. military plans to deploy unmanned drones in the Seychelles to deter piracy by air.
"There's going to clearly be a limit in terms of maritime intervention," said Alderwick. "They're probably reaching the best case scenario in what they can achieve."
Since last year American warships, in partnership with the navies of more than a dozen countries, have patrolled and protected what's called the "Internationally Recommended Transit Corridor," a 464-mile, two-lane water highway through the Gulf of Aden. The approach has been a qualified success. The U.S. Navy says not a single vessel that has passed through the corridor has been hijacked since the patrols were launched in fall of 2008.
But ships traveling outside the lane are still prime targets. The busy shipping route, which lines the Horn of Africa and sees passage of more than 33,000 ships each year, had been riddled with attacks from Somali pirates – leading what the International Maritime Bureau (IMB) called "an unprecedented rise in maritime hijacking."
Navy Commander Claims Success in Preventing Pirate Attacks
Rear Admiral Scott Sanders, the new commander of the U.S. Navy's multi-national counter-piracy task force in the Gulf of Aden, tells ABC News his ships have increasingly intercepted would-be pirates before they can attempt an attack.
"We're finding those suspicious skiffs that we know are out here, looking for a target of opportunity, and we're preventing them from getting anywhere near someone they can prey upon," said Sanders.
The Navy has encountered 537 pirates since August 2008, many navigating the Gulf in small fishing boats and carrying small arms, ladders and grappling hooks – equipment used to hijack a merchant vessel. Because suspected pirates have not actually committed a crime by sitting in wait for an oncoming ship, the navies have no grounds to hold them. Most are released, after their weapons are confiscated or thrown overboard.
In April pirates successfully hijacked the Maersk Alabama, a U.S.-flagged cargo ship. The ship was near the coast of Somalia, outside the protected shipping corridor, when it was taken over, leading to a dramatic military intervention – Navy SEAL snipers shot dead three Somali pirates at long range and rescued the ship's captain.
Admiral Mike Mullen, chairman of the Joint Chiefs of Staff, told ABC's Good Morning America that the Maersk Alabama incident led him to order a review, looking "broadly and widely and deeply" at how to deal with piracy. Merchant ships have also advanced their own defensive strategies, some hiring armed guards, others using fire hoses or barbed wire to keep pirates away from the access points where they might board.
The Maersk Alabama incident was a clear message to pirates that there are deadly risks to an attempted attack.
Pirates Now Negotiating for Bigger Ransoms
Roger Middleton, an Africa expert with U.K. think tank Chatham House, says the effort has pushed pirates into the Indian Ocean and around the Red Sea – less trafficked waterways, but also less risky ones. The rise in ransom amounts – Middleton says payments now routinely reach several million dollars – has given pirates ample incentive to keep trying for a successful catch.
"They have a more hard-line position in negotiating. That's a sign of them getting better at what they're doing," said he said.
On the counter-piracy front, Kenya and the Seychelles have been among the more vocal and active African states, but other countries like Mozambique and Tanzania are also vulnerable as the new potential stomping grounds of Somali pirates. They recognize that the solution to the piracy problem at sea rests on land, in Somalia.
An impoverished country long without a functioning government, Somalia has seen piracy grow into a multi-million-dollar domestic industry – the lack of law and order enabling pirates and the wealthy investors within their clans who cover their initial costs.
In January Somali lawmakers elected a new president, Sheikh Sharif Sheikh Ahmad. He told ABC News in a February interview that he was willing to work with the United States and other nations to curb piracy. Since then, international donors have pledged $250 million in aid to his government to help deal with internal security, including the piracy issue.
"We're starting to gain a little bit of traction with those relationships," said Royal Navy Captain Keith Blount, a British officer .
Middleton, the Chathan House analyst, doubts whether the Somali government has the capacity to deal with the problem.
"They've arrested a few pirates, [but] they need to have stability in the political and security sphere, then they can take this on," he said, adding that the ongoing violence in Somalia, which fuels a humanitarian crisis threatening millions of people, is their higher priority.