Like Presidents Bill Clinton and Ulysses S. Grant before him, President Barack Obama is vacationing on Martha's Vineyard, Mass., and the Obamas are staying at a home costing more than $35,000 a week to rent.
Despite having a reputation as a summer destination for the wealthy, many of the island's top attractions are free or low cost. With a variety of lodging options, a vacation on Martha's Vineyard can be accessible for anyone -- even travelers on a budget.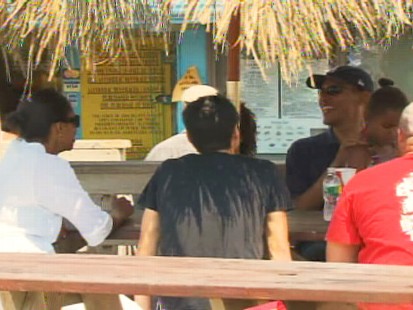 ABCNews.com spoke with Budget Travel magazine's Sara Morrow, Travelocity's Genevieve Shaw Brown and Nancy Gardella from the Martha's Vineyard Chamber of Commerce for tips on maximizing a trip to the island with as little money as possible.
"A Martha's Vineyard experience is available at any price point," Gardella said.
She suggests that before leaving home, visitors check island resources and search around for the best deals available.
Know When to Visit Martha's Vineyard
The beaches of Martha's Vineyard are busiest during the month of August, but a visit right before or after the peak season can help travelers save money on lodging while still having the opportunity to enjoy the outdoor events and warm weather attractions the island is known for.
"Post Labor Day is an ideal time to visit the island. Lower prices, fewer crowds, and spectacular weather," said Brown.
"Because of the Gulf Stream, our waters are the warmest in September, so it's a great time to be on the beach during the day with weather well into the 70s and cool breezes in the evening," said Gardella.
Getting to Martha's Vineyard
Located seven miles off Cape Cod in Massachusetts, Martha's Vineyard is only accessible by boat or plane. The least expensive way to get to the island is a ferry from Cape Cod.
Brown advised, "You'll save by taking a passenger ferry and leaving your car behind, but make sure you're prepared to get around by foot, bike, or taxi once you're on island."
For less than $20 round trip, The Island Queen and the Steamship Authority offer daily non-stop passenger service to Martha's Vineyard from several towns along the Massachusetts coast.
Travelers making the trek from outside New England can also save by searching for inexpensive flights. Jet Blue offers service to Martha's Vineyard with fares starting as low as $174 each way from New York City.
Vineyard Offers Lodging in Every Price Range
Once you're on the island, instead of renting a car, bike rentals are available at the ferry ports and Martha's Vineyard also offers public transportation with bus service to all six towns.
"The hotel is likely going to be the most expensive part of your trip and so you want to focus your money-saving efforts there," said Brown.
According to island expert Gardella, "there is lodging that's available at every price point."
Options range from five-star luxury hotels and bed and breakfasts to the Martha's Vineyard Campground and a youth hostel.
"A bed and breakfast can be a nice way to go because of the breakfast inclusion -- definitely a money-saver," said Brown. "But families need to make sure the B and B they hope to visit accepts kids, as some have a minimum-age requirement."
Morrow said bed and breakfasts on the northern side of the island tend to have lower rates, with some less than $100 per night during the peak season.
Brown also suggested carefully choosing which days of the week you'll stay when booking.
"Mid-week rates are often much lower than weekend rates and you can save by incorporating a Sunday night into your stay," Brown said.
Morrow suggests large groups or families skip the hotels and opt instead to rent a house or a cottage. Web sites like Home Away and Owner Direct list hundreds of homes available for rent on Martha's Vineyard, and the cost split between a large group may wind up cheaper than booking a hotel.
House rentals have an extra money saving benefit -- a kitchen. By purchasing groceries locally and cooking, families can pass on expensive restaurant dinners and enjoy preparing and eating locally grown and produced food.
Seafood, Seafood, Seafood
Many Vineyard restaurants serve seafood caught right off the island's shores. An affordable local place to dine is a favorite of Budget Travel magazine -- The Bite in Chilmark. The Bite is a typical Martha's Vineyard roadside beach shack known for its quaint outdoor eating and fried seafood.
Nancy's is another popular, yet affordable food destination. The restaurant boasts views of Oak Bluffs Harbor and has both a casual snack bar option and a more formal dining room upstairs with a full seafood menu.
Budget travelers may also skip dining at restaurants and instead buy and prepare their own food.
"Picnics are a great way to save money," said Brown. "Pick up a few sandwiches and head to the beach rather than spend every day eating lunch in a restaurant. And picnics are not just for lunch. You can pick up a pizza or other inexpensive take-out and eat it by the ocean for dinner. Again, picking a hotel with a kitchenette will help you save money on breakfast every day."
See the Sites, Don't Break the Bank
The outdoor attractions on Martha's Vineyard are generally the most popular and are often free or low cost.
The Martha's Vineyard Chamber of Commerce maintains an online guide to the island's free beaches.