China's consumerism is going to the dogs. A booming economy and rising standard of living mean more and more Chinese are sharing the wealth with their pets.
Like their Western counterparts, affluent Chinese treat their pets to a host of lavish services, from designer clothing to spa treatments. Since 1998, nationwide spending on pets has increased by more than 500 percent.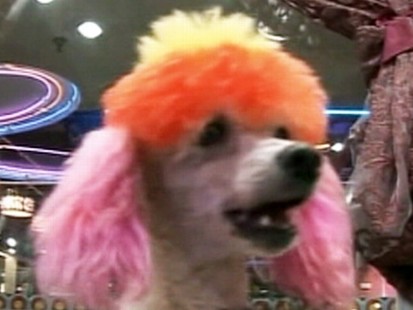 In recent months, a new trend has emerged from the country's nascent pet industry, doggie dye jobs that transform pets into miniature versions of exotic animals.
"Our panda design is one of the most popular," Sun Ruowen, owner of Ruowen Pet Spa in Beijing, said. "Since this year is the Chinese 'Year of the Tiger,' our tiger design has also grown in popularity."
Looking like zoo animals on the loose, the dyed dogs are turning heads everywhere they go.
"My friends and I were in Sanlitun and we saw this crowd of people gathered around a bench, so we went over to see what was going on," Beijing tourist Jiali Lin said. "It turned out there was a lady sitting with what appeared to be a panda. I did a double take and then realized that it was a dog that had its fur dyed to look like a panda. It was an interesting sight to see. Most of the people nearby were also taking pictures and admiring it."
Sun first completed the panda design five years ago and has been offering pet dye jobs to customers for eight years. The early dye jobs, however, were simpler looks that focused on coloring parts of the body, such as an ear. Her full-body, wild-animal designs did not come into demand until Sun showcased the looks June 5 at the first national pet grooming innovation contest.
Dyeing and grooming costs vary, depending on the complexity and on the dog's size. Customers can pay about $7 for the Beckham look, a punk-style dye styled like a Mohawk, or up to about $443 for the tiger look. A panda or turtle shell design costs anywhere from $118 to $148.
The cost of the natural dyes, which Sun imports from Japan and Korea, and the level of human labor required contribute to the price tag.
"A complicated design, like the tiger, can take seven hours to complete, and you need professional pet groomers with three to 10 years of experience," Sun said. "Most clients don't know what suits their pets, so our groomers examine their dogs' personality, shape, breed, etc., to suggest the best design. Because each dog is unique, the transformation is really a kind of art form. You need to have a sense of creativity and know how to interact with a dog throughout the process."
Since opening the Beijing spa in May, Sun has seen a brisk growth in business. The shop books 10 appointments a day on weekdays and 20 to 30 appointments a day on the weekends.
Safety Concerns
While critics argue that the dye jobs are inhumane and subject pets to long hours of unnecessary dyeing, Sun said that she makes sure to give dogs adequate breaks to rest and eat.
"As a pet health spa, we pay attention to our dogs' mental and physical well-being," Sun said. "This should be a fun, happy experience for them, so we won't make it into a painful one."
Veterinarians warn owners to pay attention to the dyes being used because cheap, low-quality dyes could be poisonous and cause skin burn and itchiness. Owners should also assess their dogs' physical and mental health before dyeing the pets.
"Owners should seek pet spas that use natural coloring which won't damage the dog's hair or irritate the skin," Tian Haiyan, who works at the Beijing Guanshang Animal hospital, told Associated Press. "Mentally, some dogs that aren't used to being in the spotlight may react negatively to the sudden attention."