Winter storms in the Midwest are threatening to make Christmas travel a nightmare for some folks who just want to get home for the holidays.
AirTran, Continental, Delta, JetBlue, United and several other airlines offered travelers a one-time chance to rebook their tickets for travel to the affected areas to another day. But that was little relief to travelers who just wanted to get home for their Christmas dinner.
So far Thursday morning, the Federal Aviation Administration did not report many major delays at the nation's airports. Houston had some delays thanks to thunderstorms and Charlotte had some high winds. Later on in the day, bad weather caused some delays in Dallas.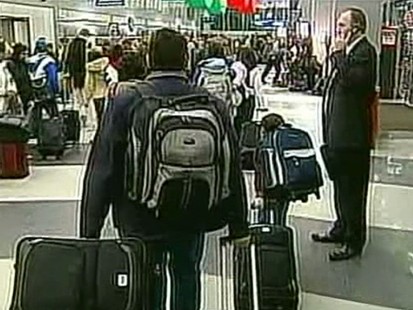 To see up-to-the-minute information about the status of your airport, visit the Web site for the
FAA's Air Traffic Control System Command Center's
map of the nation and delays at key airports.
But the storms have already done their damage, with airlines trying to re-accommodate passengers from flights canceled yesterday. For instance, at Chicago's O'Hare international airport, there were more than 200 cancellations Wednesday with another 60 across town at Midway.
This comes just as the East Coast is recovering from a record snowfall last weekend.
Stay Up to Date on the Latest Travel Trends From ABC News on Twitter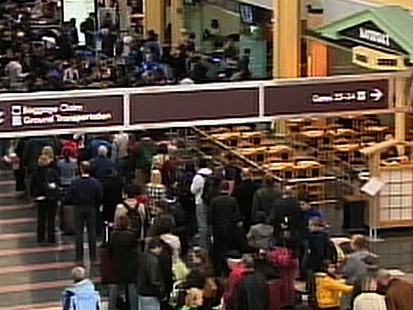 Those on the roads won't expect much relief either. Snow, freezing rain and heavy thunderstorms are going to make it slow going for millions of motorists.
The biggest accumulations of snow were expected from eastern Nebraska to the Upper Mississippi Valley. Freezing rain was possible across parts of Kansas, Nebraska, Iowa, Illinois and Indiana and heavy thunderstorms could produce flooding across Texas and into the Ohio Valley.
The National Weather Service issued blizzard warnings early Thursday for Kansas, western North Dakota, northern Minnesota, northwestern Nebraska and the Texas Panhandle. It cautioned that travel would be extremely dangerous in those areas through the weekend and that anyone taking to the road should pack a winter survival kit including flashlight and water in case of emergency.
Travelers should take extra time, also pack some snacks and a little bit of extra patience.
More Travelers Head Home for Christmas
More people will be on the road this year, heading out for the Christmas and New Year's holidays, and they'll likely be paying more money to head home -- or wherever else -- for the holidays.
AAA projects that 87.7 million Americans will travel 50 miles or more away from home during the year-end holidays, a 3.8 percent increase from last year.
Like most holidays, the overwhelming majority -- about 77.7 million people -- will travel by car. Another 4.2 million will take to the skies, and everybody else will take trains, buses or boats to see their loved ones or just escape from home.
The bad news for all those drivers: the national average for a gallon of regular unleaded gasoline now stands at $2.60. That's still down from the record prices the country saw in the summer of 2008 but 94 cents higher than last Christmas. That's about an extra $12 for a family driving 400 miles in a typical sedan.
Prices for car rentals and airfare are also up about 2 percent, according to AAA, while hotel rooms are down about 6 to 10 percent on average for mid-range hotels.
"More Americans traveling during the winter holidays is another sign consumers are continuing to grow more confident in their personal financial situations," AAA's Director of Travel Services Glen MacDonell said in a statement. "The moderate projected rise in the number of air travelers this holiday period is especially welcome since the airline industry was hit especially hard by the recession."
But even if family finances are stronger this year, some helpful travel tips can still make the trip easier. Nothing can assure a delay-free holiday, but a few tips might ease the pain.
Flight Delays
Making a connection? Print out an airport terminal map in advance (they are also in the back of those in-flight magazines.) Sign up for flight delay alerts to your cell phone, iPhone or BlackBerry. And take advantage of your airline's online services.
For instance, most airlines let you check in online 24 hours in advance.
"The second you are eligible to print your boarding pass -- usually 23 hours, 59 minutes and 59 seconds before departure -- do so," said Rick Seaney, CEO of the airfare site FareCompare.com and an ABC News columnist. "He who prints first, gets the best seats -- plus some room in the overhead bins."
Checking bags? There are still advantages to going online first, including special lines at some airports.
"Travel is inherently nerve-racking. Alleviate some of that anxiety by checking your family and bags in online up to 24 hours in advance. Then use the pre-checked bag line at the airport ticket counter. It's a great time-saving shortcut offered by many airlines," said Brian Clark, senior vice president of travel search site Fly.com. "There is no substitute for arriving early at the airport."
There is one bit of good news for travelers who have Wi-Fi enabled laptops and phones: lots of free Internet offers this holiday travel period.
Google offers free Wi-Fi at 47 participating airports across the country through Jan. 15. To find the airports check out http://www.freeholidaywifi.com/. Virgin America is also providing free service through Jan. 15 for all passengers on all flights.
United Airlines will give first-time Wi-Fi users one free session on its transcontinental p.s. (short for premium service) flights. To learn more about Wi-Fi on planes, check out our comprehensive guide here.
Christmas Travel Tips: How to Avoid Headaches
One big change this year: a new security measure being phased in by the Department of Homeland Security that will require airline passengers to submit their full names (including middle name), birth dates, and gender when booking a ticket. The idea behind the questioning is that this extra information will cut down on cases of mistaken identity. Although small differences between your ID and boarding pass shouldn't be problematic right now, consistency will help to minimize your time in line.
Airport security lines can often be one of the biggest travel hassles. Anne Banas, executive editor of SmarterTravel.com offers several tips to speed your way through security:
Know what 3-1-1 means. Transportation Security Administration (TSA) regulations restrict the amount of liquids you can take on the plane. Each passenger is allowed to fill a single, quart-sized, clear plastic bag with 3-ounce (technically, 3.4-ounce) containers of liquids. Exceptions are made for medications, baby food, and breast milk, but these items must be declared.
Pack carry-ons neatly. Use clear zip-top bags to help organize your clothes, and pack in layers so that screeners can easily see what is inside, and coil electronic cords carefully. If transportation security officers (TSOs) can't tell what is in your bag from an X-ray, your bags will likely have to go through an extra manual search.
Pack holiday goods appropriately. If you're flying home for the holidays, don't wrap gifts, because TSOs may have to unwrap them for inspection. Also, liquid and gel-like foods, such as cranberry sauce, gravy and salad dressing will be confiscated, so ship them ahead or put them in your checked bag. Cakes and pies are allowed, but may require additional screening.
Dress for success. Before you head to the airport, empty your pockets of loose change, wear minimal jewelry, and avoid wearing a belt so you have fewer items to remove for the metal detector. Wear shoes that are easy to slip off and on. And if your travels include someplace cold, try to wear one jacket you can remove easily.
Choose your line carefully. Many airports now offer three lines for travelers: Expert, Casual, and Family. If you're traveling with little ones or have liquids that must be declared, choosing the latter will help minimize stress.
Swine Flu and Travel
With millions of people traveling through airports, train and bus stations or the confined space of those planes, trains and buses, the Centers for Disease Control and Prevention urges people to take extra caution.
"People are in close contact -- whether they're on a plane, train, ship or just visiting with loved ones," Dr. Anne Schuchat, director of CDC's National Center for Immunization and Respiratory Diseases, said in a statement. "We know that flu -- and specifically H1N1 this year -- is a big concern for people, but flu shouldn't ruin the holidays. By practicing a little prevention, people can enjoy their holidays and stay well at the same time."
The CDC suggests traveling only when feeling well, getting vaccinations, washing hands often and covering coughs and sneezes with a tissue or sleeve.