Roger Gouge and his family have the keen eyes of young Coast Guard officer to thank for their rescue after spending nearly 20 hours in dangerous waters off the South Carolina coast this weekend clinging to a cooler, trying to stay alive after their boat sank.
The four men and three children -- 15-year-old Tylor Gouge, 14-year-old Caleb Gouge and 5-year-old Xander Gouge -- set out Saturday morning for a holiday weekend outing. But shortly after, the engine compartment of their 38-foot powerboat flooded and the boat began to sink. The Coast Guard is still investigating why.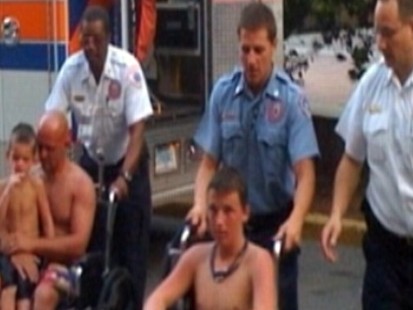 They placed a quick mayday call, put on life vests and got in the water. As the hours passed, jellyfish stung them and the blistering sun beat down on their faces and arms. Then the cold, chilly night set in.
Then finally, just before dawn Sunday, a young Coast Guard officer, using night vision goggles, spotted them. The shipwrecked seven were flown to a local hospital and treated. All have now been released, according to the Coast Guard.
Petty Officer 2nd Class Ben Rosen had been scouring the sea for nearly six straight hours. The moon was barely out, his helicopter was running out of fuel and was about to return to shore when the 22-year-old spotted something in the ocean.
On the final search, "I was able to spot out the left side of the helicopter, what looked like a debris field," Rosen told ABC News. He called it a "lucky glimpse" that turned into a successful rescue.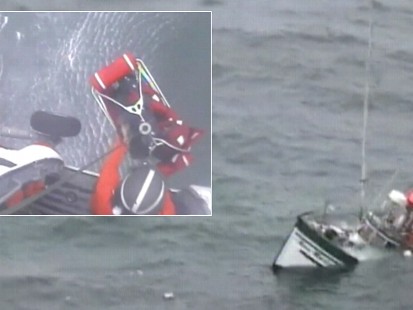 "When we found them, all of us were ecstatic" Rosen said. "It's pretty incredible because you never think you're going to be that person. It's the crew that's completing the mission. But it's pretty awesome to be that one person who actually spots them."
Stay Up to Date on the Latest Travel Trends from ABC News on Twitter
Life Jackets Help Family Survive
Gouge, 52, of Marion, N.C., was visiting his relatives in the Charleston, S.C., when the boat overturned. The group rushed out a mayday radio message after first running into trouble but were unable to give a location. The Coast Guard launched a search but without any location details, was initially unable to find the group.
Then, around 10 p.m. a woman called to say that her husband's boat had never returned. She gave the Coast Guard information about where the group was heading. It was dark out but two helicopters and a C-130 aircraft started a new, more focused search.
Rosen was on one of those helicopters.
Once they were spotted, a rescue diver jumped into the water and the four men and three children were lifted into two search helicopters.
Coast Guard spokesman Christopher Evanson said the boat did not have an emergency locating beacon which would have allowed authorities to pinpoint its location but luckily all the passengers had life jackets on.
"It was a pretty miraculous case. They were out there in the dark at night," Evanson told ABC News.
Several phone calls and e-mails to the men stranded at sea were not returned.
"We said this was going to be once in a lifetime, and it really was -- but not for the reasons we thought," survivor Jody Gouge, told a local television station.
Alisa Gouge Hawkins, one of the men's wives, wrote on her Facebook page: "Thank you to all the men and women that risk their ives [sic] every day to save someone else! Today especially, THE US COAST GUARD!!! As Xander says "frogman" he's the one that came out of the helicopter to get them!"
"Without that, this might have been a drastically different story," he said. "They stuck together, which is very important on the water."
All seven survivors were treated and released from an area hospital, Evanson said.