The two Northwest Airlines pilots who overshot their airport had their pilots' licenses revoked today by the Federal Aviation Administration for failing to comply with air traffic control instructions and clearances and operating carelessly and recklessly.
The revocations are effective immediately and the pilots have 10 days to appeal the emergency revocations to the National Transportation Safety Board.
Capt. Timothy B. Cheney and First Officer Richard I. Cole, who missed the airport by 150 miles last week, were apparently using their personal laptops to review scheduling as air traffic controllers repeatedly tried to reach them, according to the NTSB.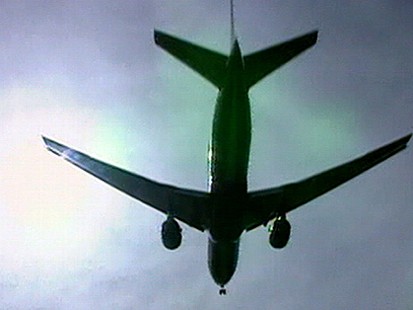 The use of personal laptops in the cockpit violates airline policy, according to the NTSB, which issued a statement Monday on the incident after interviewing the pilots.
"This explanation that they were both engrossed, working on their computers -- that was admission that no one was in control of the flight," John Wiley, a retired pilot and a writer for Aviation Week, told ABC News. "That's unacceptable. Sure, you can be bored, but ... part of the job is learning that you have to stay involved with the airplane."
Stay Up to Date on the Latest Travel Trends from ABC News on Twitter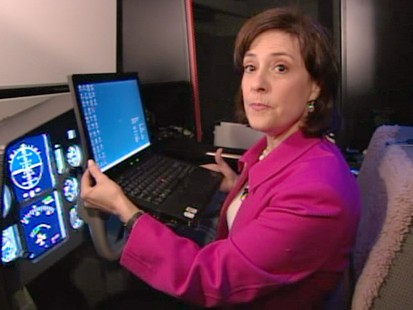 Passengers are being offered $500 rebates. The plane landed safely.
Cheney had a perfect flight record before the overshooting incident, logging more hours in the air than Chesley Sullenberger, who "miraculously" landed US Airways Flight 1549 in the Hudson River earlier this year.
ABC News Aviation analyst John Nance told "Good Morning America" today that there's no justification for the pilots to miss attempts by air traffic control to reach them for more than an hour.
"When you disconnect so far ... that you aren't even seeing those instruments ... that's a very worrisome thing," Nance said. "These fellas had totally disconnected."
Even if they hadn't been listening to air traffic controllers, Nance said, the instruments on the plane would have showed the pilots they had veered from the flight plan had they looked.
"This raises a systemic problem," he said. "Is this happening more often than not?"
Laptop Use Violated Company Policy
Neither pilot was aware of the airplane's position until a flight attendant, Barbara Logan, called about five minutes before they were scheduled to land and asked about their estimated time of arrival. It was only then that the captain realized they had passed the airport.
"I just called them and said when are we landing, and that was it," Logan told ABC News.
Stay Up to Date on the Latest Travel Trends from ABC News on Twitter
She said she didn't know anything was wrong, but just wanted to find out when the plane was landing. Logan said she didn't have a clue about what happened in the cockpit and the pilots didn't tell her.
Flight 188 had 144 passengers, two pilots and three flight attendants on board. It landed safely about an hour after its originally scheduled time.
Delta Monday afternoon said that using laptops or engaging in activity unrelated to the pilots' command of the aircraft during flight is against airline policy "and violations of that policy will result in termination."
"Nothing is more important to Delta than safety. We are going to continue to cooperate fully with the NTSB and the FAA in their investigations," Delta CEO Richard Anderson said in a statement.
For one hour and 18 minutes Wednesday night the pilots -- flying at 37,000 feet above sea level between San Diego and Minneapolis -- were radio silent as air traffic controllers at times tried to reach the cockpit.
As the event unfolded, concern was high among air traffic controllers, who repeatedly attempted to establish contact during the incident, using multiple methods, the air traffic controllers union told ABC News. Eventually, controllers asked other planes in the air to attempt to contact the Northwest plane, a method that the union said ultimately proved successful.
Federal counterterrorism agencies treated the stray jetliner as a serious threat. Fighter jets were placed on alert, though not put in the sky.
Northwest Pilots Had Logged Thousands of Flight Hours
In separate interviews with the NTSB, Cheney and Cole told investigators they were in a "concentrated period of discussion" over a new monthly crew flight scheduling system in place as a result of the merger of Delta and Northwest. Both accessed and used his personal laptop computer while they discussed the airline crew flight scheduling procedure. Cole, who was more familiar with the procedure, was providing instruction to Cheney, the NTSB said.
The pilots said they lost track of time and were using cockpit speakers to listen to radio communications, not their headsets.
Initially, there was speculation that the pilots had fallen asleep in the cockpit. Both pilots dismissed that, saying there were not fatigued. Each had commuted to the flight, but they had a 19-hour layover in San Diego before arriving at work. They both told investigators that they did not doze during the flight and there was no heated argument.
Airport police who met the plane at the plane at the gate asked the pilots to submit to a alcohol breath test. Cheney and Cole both voluntarily agreed and the tests showed no traces of alcohol, according to the police report.
Capt. Cheney, 53, was hired in 1985 and has about 20,000 hours of total flight time including about 10,000 hours in an Airbus A-320, the plane he was flying the night in question. About 7,000 of those hours were as pilot in command of the A-320.
First Officer Cole, 54, was hired in 1997. His total flight time is about 11,000 hours and he has about 5,000 hours on the A-320.
With reporting from ABC News' Lisa Stark, from National AeroSpace Training and Research Center, and Matt Hosford.