The forecast high temperature for Philadelphia Tuesday is 101 degrees. It will be 100 in New York City and in Washington, D.C., according to the National Weather Service. And it will last all week, with highs in at least the mid-90s through Friday.
So today was a day to get ready, with predicted highs of only -- only -- 99.
"We could see some record-breaking temperatures for at least the next three to five days," says forecaster Michael Musher of NOAA's Hydrometeorological Prediction Center in Camp Springs, Maryland. "Temperatures across this area of the country the last few summers have been near average or slightly above average. Well, this is the first true heat wave we've had in several years."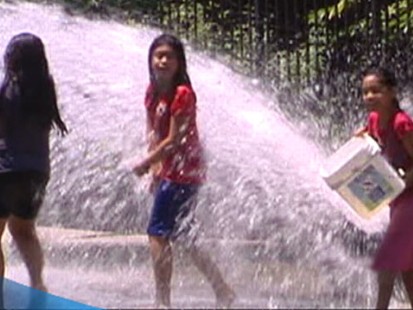 Heat of this sort is more routine on the Gulf Coast, where the National Hurricane Center said there was a 40-percent chance that a new tropical storm would form in coming days -- in almost the same area off the Central American coast where
Hurricane Alex
began late last month. There was a second region of thunderstorms just west of the site of the BP oil spill in the Gulf of Mexico, but forecasters said its chances of becoming a named tropical storm were just 10 percent.
Raleigh, North Carolina is forecast to hit 100 on Wednesday. Richmond, Virginia should get to 101. The weather service office there put out a warning: "Air quality is expected to reach code orange, which is unhealthy for sensitive groups, and means individuals with respiratory and/or heart ailments, older adults and children should reduce prolonged or heavy outdoor exertion."
Doctors say children younger than age 5 and adults older than age 65 generally have less resistance to hot weather. They urge people to wear loose, light-colored clothing, avoid exertion if they have to be outside, and drink plenty of fluids, whether or not they're thirsty.
Plain water is best; alcohol or sugary soda can rob the body of needed fluids.
Click here for 10 Tips to Prevent Heat-Related Illness
New York's mayor Mike Bloomberg ordered the city to open air-conditioned cooling centers today and keep them open at least through Thursday. Other cities had similar plans in effect.
"The threat of heat exhaustion is real," said Bloomberg. "Use an air conditioner or keep a window open if you don't have one. Consider going to a library, a shopping mall, or a movie theater to get a break from the heat."
Heat Wave Stalls over Eastern Seaboard
The worst of it today was in Maryland, Virginia and the District of Columbia. But there were heat advisories in the midwest from Detroit across northern Ohio and Indiana. And an air quality alert was issued for much of western New York State, including Buffalo and Rochester, where today's forecast high temperature was 87 and ozone levels were rated as unhealthy.
A woman on the Mall in Washington said, "We usually go from one shade spot to the next shade spot to the next shade spot and kinda make our way that way."
It was ten degrees warmer in Philadelphia than in Atlanta, 700 miles to the southwest. The heat is forecast to spread across the southeast as the week goes on.
When will it end? Not until the coming weekend, according to current forecasts, when a cold front comes in from the northwest.
One New York woman said it was beautiful outside, but hard to take.
"I thought I'd have some coffee and relax and cool down, but it's hot all over, even by the river."