Think the airlines can't possibly come up with another way to cut costs? Think again. Coming soon on your flight across country, US Airways will no longer offer in-flight movies.
The carrier announced Thursday that movies are the most recent casualty of the fuel crisis because the heavier the plane, the heftier the fuel bill. At 500 pounds per plane, the in-flight entertainment systems weigh too much for the carrier to justify bringing them on board.
"Nothing is off the table for us or anyone else in the airline business," said US Airways president Scott Kirby. "The stratospheric increase in the price of oil is forcing all of us to radically restructure and rethink our business."
US Airways said it will save $10 million per year in fuel costs by getting rid of the movies, starting in November.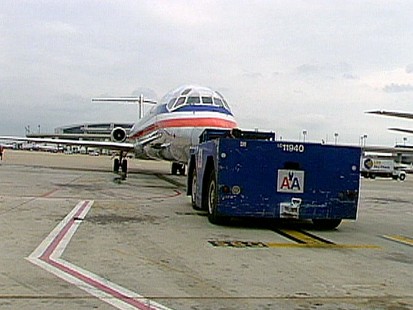 Watch "World News with Charles Gibson" TONIGHT at 6:30 p.m. ET for a full report on the latest round of airline industry woes.
"It's just a sign of how desperate the airlines are to save weight so they can save fuel," David Field, U.S. editor for Airline Business Magazine, said Thursday. "US Airways is doing this because they're getting a couple hundred pounds off each of the airplanes."
Not Much Fun Leaving on a Jet Plane
Already, Field said carriers have replaced heavy drink carts with lighter plastic ones and installed lighter, cheaper and thinner seats.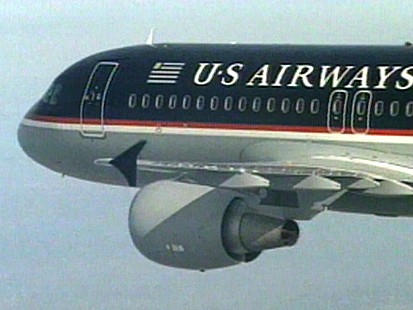 In a last-ditch effort to save money, airlines have made extensive cuts in recent months from charging travelers to sit by the window, check a bag or stop eating pretzels.
They're even asking their best customers to pay extra fees instead of rewarding them for their service.
Pain at the Jet Fuel Pump
According to the Air Transport Association, a barrel of jet fuel comes in at $139.52 so far this year, up drastically from the $81.94 comparable price of jet fuel in 2007.
The spike means airlines have also announced they'll soon dramatically cut staff and stop flying to many towns and cities across the country to save money. In other words, the crisis will likely get worse in the fall.
And when that happens, will travelers even be able to get to their destinations?
"No," Field frankly said. "If you're planning Christmas or Thanksgiving travel, now is the time to book."
At a summit in Washington, Transportation Secretary Mary Peters also voiced her anger about the state of air travel.
"It just makes me furious to think of all of the good people in the aviation industry losing their jobs, of the communities losing air service, because politics has driven policy on energy issues for far too long," she said.
The Transportation Department also thinks easing congestion will help save fuel and announced Thursday it would finalize a proposed rule that will allow airports to charge landing fees based on the time of day rather than only on the weight of the aircraft.
The idea is that airlines will spread out flights and ease congestion if it costs more to land at an airport like New York's LaGuardia during rush hour.
"Topping the list of ways to provide immediate relief is eliminating congestion wherever and whenever we have an opportunity to do so," Peters said. "Planes circling airports, or waiting on the tarmac, waste fuel and have a negative impact on our environment."
Airline CEOs Plead With Public
Thursday's aviation news comes just after 12 airline CEOS released a joint letter to their customers on Wednesday, pleading with American travelers to write Congress in an effort to prevent oil speculators from trading oil futures that raise the price of fuel.
Peters also blamed Congress for not taking action to increase oil production in the U.S.
"American aviation is struggling with one of the greatest challenges in its history," Peters said. "It is important to recognize we are dealing with a supply and demand equation. There are several options we could pursue -- and should have been pursuing -- to lower the price of fuel by increasing domestic oil production here in the United States."
In the meantime, some say the crisis runs so deep that the carriers' slew of piecemeal changes, like eliminating in-flight movies, won't do nearly enough to resuscitate the airline business.
"To be honest, you could take everything off the airplane," Field said. "You're still talking about uneconomic business models."
ABC News' Randy Gyllenhaal contributed to this report.