A hurricane watch was discontinued for the Florida Keys today as Hurricane Ike, recently downgraded to a Category 1 storm, was expected to slip well south of the Keys and slide along the southern coast of Cuba as it made its way toward the Gulf of Mexico.
"When you realize two days ago we were facing a 'Cat 4' going over the Seven Mile Bridge, things have changed dramatically in our favor," said Monroe County Mayor Mario Di Gennaro. "I'd like to reach out to everybody in Cuba and pray for them because they're taking the brunt that we might have gotten."
Forecasters expect the storm to hit western Cuba Tuesday and fear that it could gain strength if it dips south of the Cuban coast and into the warm waters there.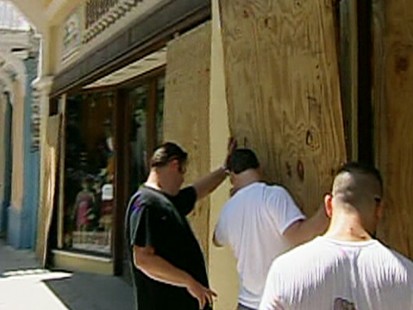 According to current projections, Ike could hit the Gulf Coast anywhere from New Orleans to Mexico perhaps as late as the weekend.
If the storm makes landfall in the United States, it will be a record sixth consecutive named Atlantic storm to do so.
The storms have already had a major impact on the oil and gas industry. Because of Hurricane Gustav last week, 80 percent of the oil industry in the gulf was shut down and the rigs will remain idle until Ike passes. The storms have also shut down 70 percent of the gas rigs in the gulf.
Ike came ashore in eastern Cuba Sunday night, with winds of 125 miles an hour, spraying giant walls of water over the tops of five-story buildings, more like a tsunami than a storm surge.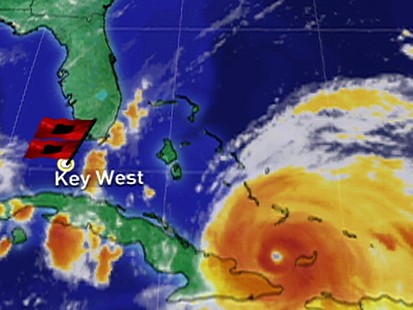 As the hurricane's winds and water besieged communities, people strained to help one another. Authorities raced to evacuate hundreds of thousands of people as the storm approached, and so far there are no reports of deaths in Cuba.
"The main effect has been from storm surges from the ocean and the penetration of ocean water inland. Generally the state of construction especially among single-family homes is very basic in Cuba," said Susan McDade, the U.N. representative in Cuba. "There's been a heavy impact on housing and infrastructure."
Residents across Cuba have been told to seek higher ground. The Associated Press has reported that 770,000 have already fled their homes.
Ike has death and destruction across the Caribbean, battering the islands of the Turks and Caicos and part of the Bahamas.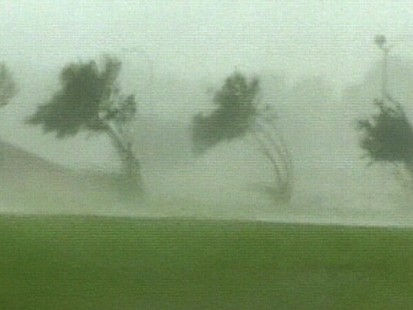 "I've never seen anything like this," one Turks and Caicos resident said. "The island of Grand Turk is devastated. As you can see, all of the homes have been evacuated. Seventy percent of people have lost their roofs. It's an amazing devastation."
Haiti, the poorest country in the Americas, has been hit by four hurricanes in a month and has had no time to recover between assaults. Ike took another 58 lives, the AP reported. The coastal city of Gonaives is under water yet again, its last bridge to the outside world washed away. Flooding has killed 500 people, leaving thousands with no access to food or drinking water, creating chaos for the few U.N. troops able to reach the stricken areas.
"It's a very difficult, complex situation because people have lost all of their belongings. There's a big need for food, tensions are rising, especially where humanitarian aid has not been able to reach yet," said Colin Chaperon of the Red Cross Emergency Response Unit, stationed in Haiti.
This morning, the amphibious assault ship USS Kearsarge arrived off the coast of Haiti from Colombia to assist with relief efforts. Its fleet of helicopters will transport supplies to the rain-ravaged island.
A mandatory evacuation order expired today after an estimated 15,000 tourists left the islands over the weekend. Tropical storm warnings remain in effect in the Keys.
Most residents however appear to have ignored the order. One longtime resident, speaking for his friends and neighbors, told ABC News "None of us are going to leave. We're all staying. Those of us who been through a few of these, know what to do."
Hurricane Ike: Storm Path
There is still a chance that Ike could change course, especially as it gets sliced up over Cuba's mountains.
Along the eastern U.S. seaboard, Tropical Storm Hanna spent the weekend spreading heavy rain and knocking out power for hundreds of thousands from the Carolinas to New England. Some areas got up to 9 inches of rain. Winds reached as high as 50 miles per hour. The rain forced major delays at the U.S. Open tennis tournament in New York City. Several people died in automobile accidents, and several surfers and other swimmers went missing, including in New Jersey, where at least two people have not been found. Officials from most beach communities said they were spared the heavy erosion forecasters had feared.
The Associated Press contributed to this report.