Two days before Christmas, it's looking a lot like winter ... a very cold one.
Across the country, record-breaking temperatures have gripped the United States, stranding travelers and locals on one of the busiest travel days of the year.
For those hitting the New England roads, it was a tough haul on highways and rails covered in a week's worth of snow and ice. And patience waned as hundreds of Amtrak passengers were delayed en route to holiday destinations around the tri-state area of New York, New Jersey and Connecticut.
"They keep saying it's going to be a little bit longer, little bit longer, another hour, maybe two hours," said one Amtrak customer in New York. "And that's been 12-and-a-half hours ago."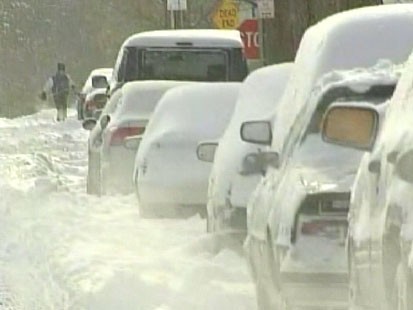 Amtrak officials said that operations were back on track at New York's Penn Station late this afternoon, but with Christmas approaching, some travelers in other areas were running out of options.
With brutal weather hitting a wide swath of the country, hopes for an easy holiday getaway disappeared, and the Midwest took center stage today.
"Amtrak is booked. All the buses are booked. I can't rent a car because they are all gone," said traveler Cara Plesscher, stranded in Chicago.
At Chicago's O'Hare International Airport, one of the busiest airports in the world, the holiday rush slowed to a crawl. As snow piled up, so did delays and cancellations – more than 400 flights were grounded by late afternoon.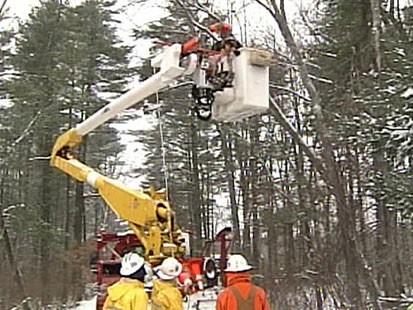 Average arrival delays topped three hours at O'Hare due to snow and ice in the region, according to the Federal Aviation Administration. Airport officials plan to provide 500 cots for those who may be stuck there overnight.
Deb Norman and Randy Beauchamp's flight to Phoenix was grounded. Stranded at the terminal, the couple is missing an important wedding Wednesday -- their own.
"I'm upset," Norman said, sighing. "I've been waiting for this day for a long time."
The Ripple Effect
Flight cancellations and delays in the most severely hit parts of the country are causing a ripple effect throughout the United States. With the sluggish economy, fewer people are traveling this holiday, but there is less availability. Airlines are flying 3,000 fewer flights per day to cut costs, making it tougher to rebook.
"You have completely packed flights, you have a packed schedule, so anytime an issue occurs with mother nature, it's basically a disaster for travelers," said Rick Seaney, CEO of FareCompare.com.
Continental Airlines said its flights to and from Chicago may be delayed for up for nearly three hours. AirTran warned that a winter storm in the Midwest could affect its flight operations in Chicago and Milwaukee today and Wednesday.
U.S. Airways also relaxed its ticketing policies -- including waiving change fees -- for several cities, such as Chicago, Boston, Detroit and Milwaukee.
Delta is also waiving some restrictions for flights to and from several destinations in the Midwest, Pacific Northwest and Northeast.
The ripple effect of the delays in Chicago is spreading throughout the country. Flight delays are also expected for Denver, Detroit, Indianapolis, Kansas City and Minneapolis.
Earlier this morning, departing flights leaving Newark, N.J., were delayed by up to an hour. In Charlotte, N.C., departing flights were delayed by up to 30 minutes.
There were long, snaking lines at customer service counters today and Monday, and some travelers said they spent three hours waiting Monday to rebook flights to the snowy Pacific Northwest.
Airlines at the Seattle-Tacoma airport began to resume normal service late this morning. Airport spokesman Perry Cooper told The Associated Press that only about 100 people had spent Monday night at the terminal and that ticket counter lines today were greatly reduced.
"We're rebooked out on a flight this morning, and as of when we left home they said we're going, so we'll see," Colette Stallbaumer, a stranded traveler, told Seattle affiliate KOMO.
Alaska and Horizon airlines, which account for about half the flights out of the Seattle-Tacoma airport, planned to resume normal operations today.
Alaska Airlines officials are warning passengers to check flight status and figure out their plans before they get to the airport so they are not waiting at the airport.
Amtrak's Cascades passenger train service remained shut down Monday between Eugene, Ore., and Vancouver, British Columbia. Gus Melonas, a spokesman for Burlington Northern Santa Fe Railroad, which operates the tracks, said partial service might be restored today.
Greyhound resumed bus service today after bus passengers bound for Washington state and Oregon were stuck for as long as three days in Salt Lake City because of road closures and hazardous conditions, Greyhound Lines Inc. spokeswoman Abby Wambaugh said.
Winter Weather Paralyzes Nation
The weather is expected to stay frigid until at least Christmas. The National Weather Service expects snowfall to total 2 to 4 inches in Chicago, with an additional 1 to 3 inches overnight and into Wednesday morning. It also warned residents to take care while driving because of limited visibility and snow on the roads.
Midwest residents are experiencing below-freezing temperatures, with snow so heavy that roofs have caved in under pressure. The Chicago Bears played against the Green Bay Packers Monday night at Chicago's Soldier Field in a bone-chilling 2 degrees, the coldest game in Bears history.
Snow has gripped Portland, Ore., and Seattle where hundreds of travelers have been unable to fly or drive out because of flight, train and bus delays and cancellations. The snow in some parts of the Pacific Northwest is the deepest it has ever been.
At the Seattle-Tacoma airport, some travelers have waited as long as 12 hours to talk to an agent.
Meanwhile, snow and ice also continued to bedevil the Northeast.
New Englanders are used to blizzards and ice, but parts of the region got battered with their third major storm in a week, extreme for even longtime residents.
The small town of Eustis, Maine, got nearly 3½ feet of snow.
In New Hampshire, thousands of residents remained without power from earlier storms and an additional foot of snow was expected in the latest storm.
An electric outage in many areas has forced thousands of people into homeless shelters.
Christine and Mike Dauwer, residents of Londonderry, N.H., never imagined spending the holidays in a shelter. The family of six lost power two weeks ago when an ice storm hit the region, and they still don't have electricity in their home.
"We might not even have power for Christmas," Christine Dauwer said. "That's really, you know, upsetting. Especially since it's going to be her [the baby's] first Christmas, we'd like to have that at home."
Like the Dauwers, residents are outraged that it can take more than two weeks to turn the power back on in this country.
Massachusetts Gov. Deval Patrick has launched an investigation into utility companies to find out why it is taking so long to restore power. Electric companies say they are working as fast as they can, but with so many downed trees and power lines, they simply do not have the personnel to work as quickly as everyone would like.
Massachusetts resident Patricia Parks has been spending most of her time in her car because she cannot afford a power generator.
"I've been wearing three pairs of pants, three pairs of socks, a jacket, a hood, my mittens," she told ABC News. "[I am] still freezing."
Looking on the Bright Side
In Minnesota, where residents are used to bitterly cold temperatures, some were looking on the bright side.
"It's 2 below now," one Minnesota resident said. "It's better than 25 below."
A positive outlook might help, but the frigid weather is not expected to die down anytime soon. Forecasters say the Northwest and Midwest could see an additional 3 to 8 inches of snow in the next 24 hours.
More snow and ice is headed into New Hampshire, where residents have filled up shelters because of power outages in some parts. The Seattle region is also expected to be battered by additional snow storms until at least Christmas Eve.
But all eyes are on the Midwest today. In Chicago and St. Louis, more sleet and snow is developing and expected to envelop the region, likely resulting in more flight delays at least through Christmas Eve.
The National Weather Service warned residents of northern Indiana about a significant flooding threat this weekend because of expected heavy rains later in the week and a rapid snow melt.
The Associated Press contributed to this report.