Chocolate, chocolate everywhere!
The aroma of brewing hot chocolate, sizzling churros with chocolate sauce and chocolate-covered strawberry skewers filled the air of London's South Bank this weekend. For three days it was nothing but non-stop chocolate at this dessert lover's extravaganza.
This weekend marked the second annual Central London Chocolate Festival, where pastry chefs and master chocolatiers alike lead workshops, tasting talks and demonstrations. Events-coordinator Yael Rose was the brains behind the operation.
"This is the largest chocolate celebration in the U.K," Rose said. "It's just hard to say 'No' to the stuff."
Some 35 vendors displayed and sold chocolate dishes of all types, from the traditional truffle and chocolate-covered pretzel to the more adventurous chocolate chili and martini.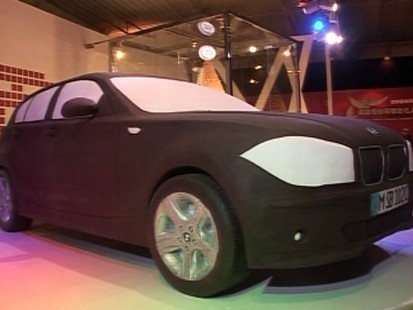 "There is a lot of chocolate everywhere. I love it," Vincenzo Bifulco said.
He and his two friends originally from Sicily were chomping down on freshly-fried churros and chocolate sauce.
"These churros are the best thing here," Rudy Twone said.
They spent a couple of hours at the festival, trying samples from each of the booths. After winding their way through the green and white tents they found that the chocolate martini and churros were their favorites.
Rose said her goal in throwing this chocolate bonanza was to both give these vendors a space to celebrate their chocolate creations and to help them market their companies in this time of economic need.
'Indulge!' is the Motto of One Chocolatier
Paul Wayne Gregory
was one of the vendors and said that for him, creating chocolate is more than just a job.
"I am not just a chef, I am a chocolate artist," Gregory proudly said.
With a consistently crowded tent and an even more consistently full dish of samples, Gregory was hands-down the star of the show.
"I've always known I wanted to work with chocolate, ever since I was a little boy," he said.
But perhaps even more popular than Gregory himself was his signature Passion Fruit chocolate. Little squares of milk chocolate encased a rich passion fruit center, proving that Gregory is one chef who thinks outside of the chocolate box.
"It's all about balance," he said. "I like to work with the type of chocolates people know and then transform them into something new to bring the true beauty of chocolate to the surface."
His other creations include rum, whisky, spiced chocolate and perhaps the most unique- space dust chocolate. This small square of chocolate decadence encases a tiny core of space dust which creates the same tingly sensation as Pop Rocks candy.
"Indulgence is everything. That's my motto," he said.
While Gregory was coaxing the crowd to indulge, on the other side of the tent was Chocacao, the "healthy chocolate" vendor.
Deborah Sandford ran the Chocacoa booth and explained how a chocolate a day keeps the doctor away.
"Our chocolate is good for you," Sandford said. "Our chocolate extraction process called Acticoa retains 80 percent of the antioxidants in the cocoa bean, while the regular method only retains 20-30 percent of the antioxidants.
According to Sandford, high levels of antioxidants can perform health wonders, such as prevent heart disease, strengthen the immune system and improve concentration and memory.
Divine Enjoyment
"Besides, chocolate is what we've been put on earth to enjoy. It's one of the best things out there," Sandford said with a laugh.
From decadent truffles to healthy cocoa bars, there's a chocolate designed for all palates. At the Central London Chocolate Festival one finds that Forrest Gump is right, that life truly is like a box of chocolates -- you never know what you're gonna get.