10-Year-Old Boy Dies on Kansas Water Park Ride
Officials are not sure how the accident happened.
— -- The 10-year-old son of a state lawmaker died Sunday in an accident on a ride at the Schlitterbahn Water Park in Kansas City, Kansas, officials said.
The Verruckt ride and the rest of the park were closed for a full investigation, park spokeswoman Winter Prosapio said.
"We are saddened to share that a young boy died on Verruckt this afternoon," Prosapio said Sunday. "Given that safety is our first priority, we have closed the Kansas City park today and Monday and have closed the ride, pending a full investigation. Our thoughts and prayers are with the family during this difficult time."
The boy was identified as Caleb Schwab, 10, the son of Kansas Rep. Scott Schwab and his wife, Michele Schwab. Police earlier said the boy, whom they did not name, was 12.
"Michele and I want to thank the Olathe and Kansas City, Kansas, communities and all of our friends and family for their outpouring of support and compassion as it relates to the sudden loss of our son, Caleb Thomas Schwab," Scott Schwab said in a statement.
"Since the day he was born, he brought abundant joy to our family and all those he came in contact with," he said.
Kansas House Speaker Ray Merrick sent an email to other members of the state legislature asking for their prayers for the boy's family.
"It is with an absolutely broken heart we have to ask for prayers for the Schwab family, who suddenly and tragically lost their sweet and energetic son in an accident today," he wrote. "No words can express the pain we all feel for this terrible tragedy."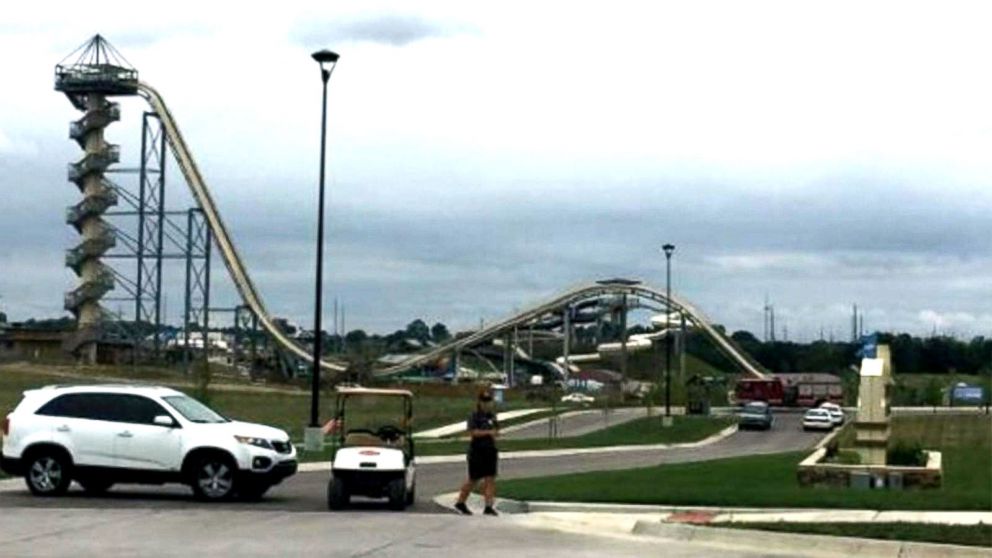 Prosapio said it was unclear how the accident occurred, and the ride was inspected for weeks before the water park opened for the summer.
The Verruckt water slide, which is promoted as the world's tallest water slide, opened in 2014. Riders have to climb 264 steps to get to the top of the slide — which, at more than 168 feet, is taller than Niagara Falls.
Riders sit in an inflatable raft to plunge down the slide, reaching 40 to 45 mph, according to park officials. The ride lasts about 11 seconds.
Verruckt was over budget and a year late in opening, delayed by mud, storms and unsuccessful tests. To mimic human riders, designers used sandbags during testing, several of which went sailing off the slide.
Debrorah Hersman, the CEO of the National Safety Council, told ABC News today that fatalities were rare occurrences in water parks.
"You know the good news is we don't see fatalities — they're so rare," she said. "We do see injuries, [but] they're also infrequent."
Hersman said the most common injuries seen on water slides are head, neck and back injuries. She said that her organization is focused on making sure that everyone who uses rides are safe and that there's "also some responsibility for local and state authorities as well as manufacturers" to ensure the safety of guests at water parks.