An 11-year-old girl electrified the crowd at the March for Our Lives rally in Washington, D.C., telling the throngs in attendance she was there to represent African-American women who were victims of gun violence whose stories aren't told.
Naomi Wadler, who led a protest walkout at her grammar school in Alexandria Virginia, told the crowd she was there to represent Courtlin Arrington, Hadiya Pendleton and Taiyania Thompson -- African-American teenagers who died from gun violence.
"I am here today to acknowledge and represent the African-American girls whose stories don't make the front page of every national newspaper, whose stories don't lead on the evening news," she said. "I represent the African-American women who are victims of gun violence, who are simply statistics instead of vibrant beautiful girls full of potential."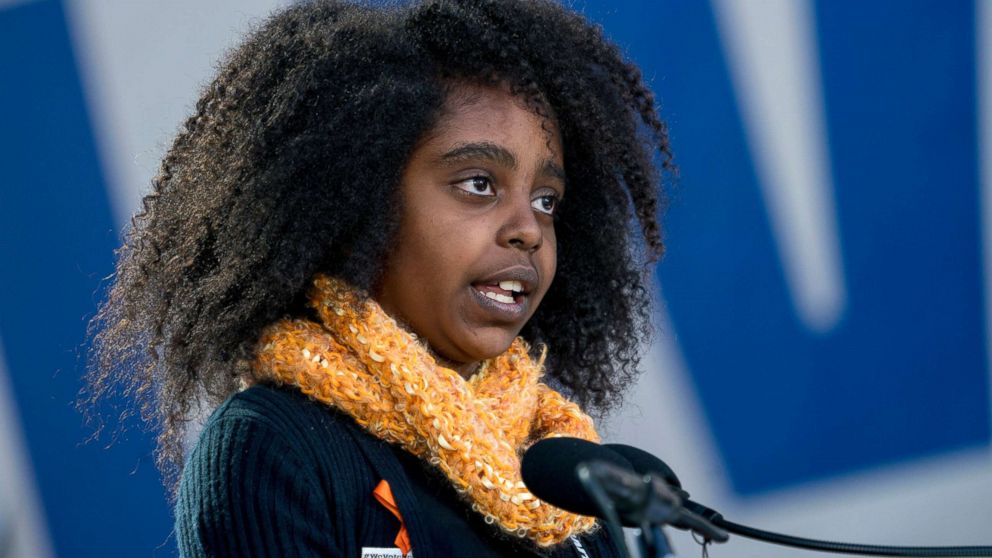 The rapt crowd interrupted Naomi with cheers and applause nearly every time she paused for breath. She urged the crowd to join her in telling the stories of the "women of color who were murdered at disproportionate rates in this nation."
Naomi dismissed the notion she might be under the thrall of an adult with an agenda and issued a veiled warning for the politicians in Washington and beyond.
"My friends and I might be still be 11 and we might still be in elementary school, but we know, we know life isn't equal for everyone and we know what is right and wrong," Naomi said. "We also know that we stand in the shadow of the Capitol, and we know that we have seven short years until we too have the right to vote."