A variety of dashcam, bodycam and surveillance video footage obtained by ABC Detroit affiliate WXYZ shows a 15-year-old who died last year after crashing an ATV was first shot by a state trooper's stun gun.
Damon Grimes died Aug. 26 following a Michigan State Police pursuit that ensued at around 5:30 p.m. near Rossini Drive and Gratiot Avenue.
In the video, Michigan State Trooper Mark Bessner can be heard saying: "He's slowed down, we Tased him and he crashed out."
Bessner added: "Have EMS step it up. He's got a pulse."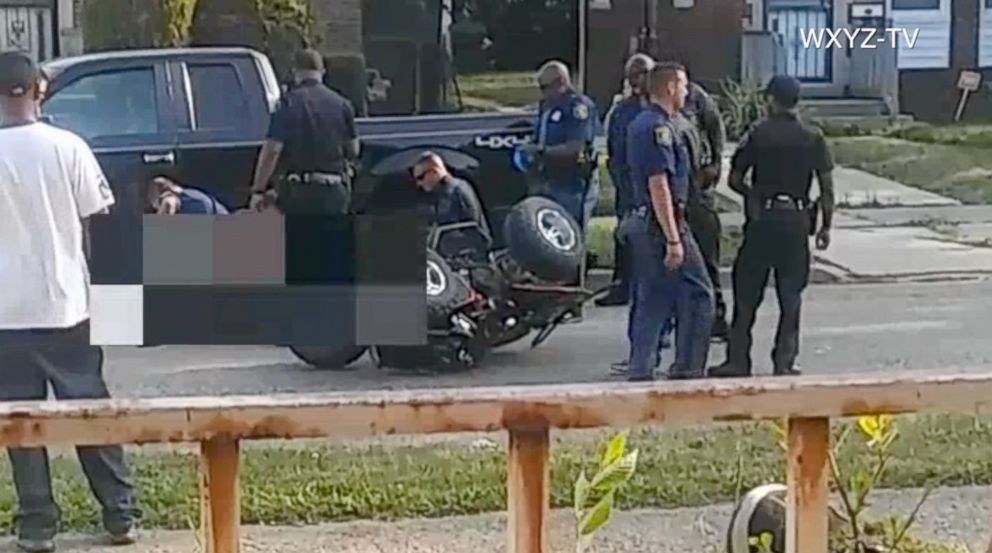 The video shows troopers attempting CPR on Grimes.
"They Tased his ass while he was cruising," said an officer at the scene, according to the video.
An ambulance arrived a few minutes after the crash and transported Grimes to St. John's Hospital, where he was pronounced dead on arrival.
Bessner, who allegedly fired his stun gun at Grimes from the passenger window of a squad car, resigned from the force in October and is the subject of a federal lawsuit from Grimes' family alleging use of excessive force and gross negligence.
MSP Trooper Ethan Berger, who was driving the patrol vehicle, is also being sued.
Geoffrey Fieger, an attorney for the Grimes family, told ABC News that Bessner and Berger "killed [Grimes] whey they shot him with a Taser and electrocuted him and he ran into another vehicle and broke his neck."
"It was a drive-by shooting by Michigan state police that killed a child driving an ATV," he said. "They were doing it for sport."
The 25 hours of footage released to WXYZ does not include dashcam footage of the pursuit by Bessner or Berger, the station reported.
The civil complaint filed back on Sept. 20, 2017, states that though the 15-year-old Grimes never posed "an immediate threat of harm" to Bessner, the teen was "unlawfully struck with the Taser while in motion on his ATV."
The complaint adds that Bessner allegedly "deployed his Taser directly at Damon Grimes through the open window" of the patrol car, which would have been against Michigan State Police policy and was "unconstitutional."
The stun gun's electrical force allegedly caused Grimes "to lose control of the ATV" and propelled him into the rear of another car, the complaint states.
The troopers' actions of pursuing and firing the stun gun at Grimes as he was operating the ATV were "extremely dangerous" and could be constituted as "excessive use of force," according to the complaint.
The complaint accuses both Bessner and Berger of failing to stop their patrol car after the firing of the Taser at Grimes. "Bessner and [Berger] did not stop the patrol vehicle and instead drove off," the complaint states.
Berger, who has been suspended pending the investigation, claims in an answer to the complaint that "he was driving and he pursued Grimes," but that he "otherwise denies the allegations as untrue." He also specifically denied leaving the scene of the accident and said the claims that Grimes was not threatening the officers "are untrue."
He also noted that he "acted under color of law and within the scope of his official duties."
An autopsy was performed on Grimes on Aug. 27 -- a day after he was pronounced dead -- ruled the manner of death as an "accident."
It indicates severe head trauma and contusions to the torso, but also that there were "leads from a conducted electrical weapon" embedded in the boy's lower back.
In December, the Wayne County Prosecutor's Office charged Bessner with second-degree murder and multiple counts of involuntary manslaughter.
He has pleaded not guilty. His jury trial is scheduled to begin on Aug. 20, a Wayne County prosecutor's spokeswoman confirmed. Berger is not facing criminal charges.
ABC News' Brendan Rand contributed to this report.