— -- One Muslim woman in California has made history by starting the first all-female mosque in the United States. It opened last week in Los Angeles.
The Women's Mosque was hosted in a modest, multifaith worship center, where Muslim women and women of other faiths joined together for a Jumu'ah, a congregational prayer Muslims hold every Friday, and a Khutbah, a public sermon.
"Oh, my God, it was so amazing," founder M. Hasna Maznavi told ABC News today. "As you know, when it rains in L.A., no one comes out. But people came out in droves. It was estimated that around 150 people attended."
And unlike most U.S. mosques that have a male imam, or leader, a woman led the traditional prayer and gave the sermon.
Being part of the historic experience was invigorating and terrifying at the same time, Edina Lekovic, who led last Friday's debut event, told ABC News today. Lekovic is also a public affairs consultant for the Muslim Public Affairs Council.
"Being surrounded by women in an environment created for women created a special spiritual charge I won't ever forget," Lekovic said. "One of my friends said she couldn't stop her tears through the whole thing."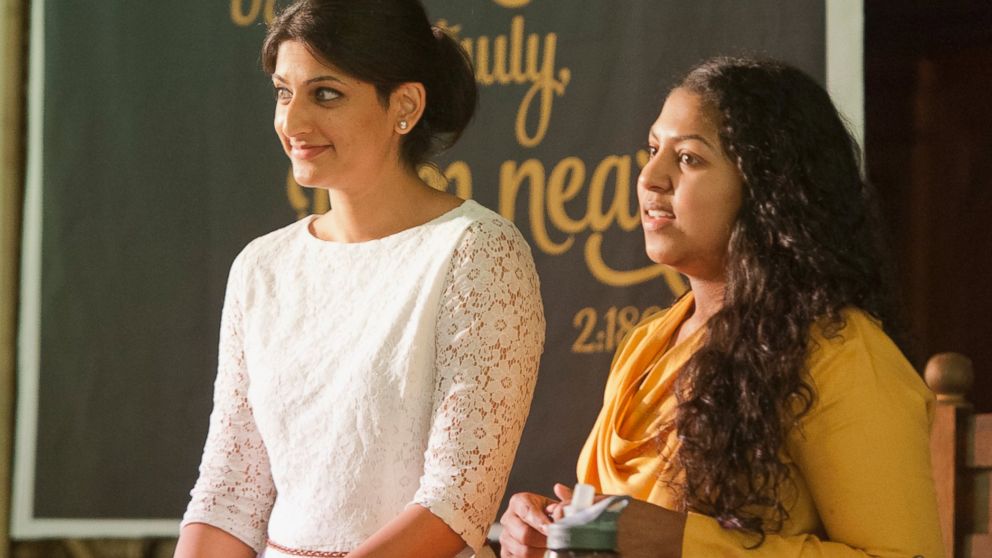 The Women's Mosque came out of a group of Muslim women's growing disillusionment with many U.S. mosques and Maznavi's childhood dream of starting her own mosque.
Many mosques segregate women or bar them completely, Hind Makki told ABC News. Makki runs Side Entrance, a Tumblr blog that collects photos of Muslim women's spaces of worship, which are more often than not in poorer condition than men's, she said.
"I posted a picture on Facebook of one women's room for prayer in a Chicago mosque I visited, which was only 8 feet by 20 feet," Makki said. "While many girls commented, 'Yup, that's typical,' a lot of my guy friends were so surprised and wanted to help change this."
The Koran and the Prophet Muhammad never said women should be separated, Maznavi said. Indeed, there is a lost history of thousands of female authority figures and scholars in Islam such as the prophet's wife Aisha, she added.
Maznavi became interested in Islam and women's role after 9/11 when she read the Koran cover to cover in English as a young girl, she said. She was surprised to see a merciful, loving and just God, and discovered that what was going on in mosques she visited was not a reflection of the actual teachings of the Prophet Muhammad, she added.
Other women said they felt the same as Maznavi, such as Sana Muttalib, an attorney and co-president of the Women's Mosque. Together, these women helped to make the Women's Mosque happen.
They say the space isn't meant as an alternative to local mosques but as a complementary place where women can begin to feel empowered.
"Our mosque has a healthy, great relationship with men," Maznavi said. "Many are supportive of our idea that we want women to first become empowered and comfortable in our safe space so that they can go back and transform their own communities and local mosques."
The spiritual leader for the Islamic Center of America, the largest mosque in the U.S., said he supports the women at the Women's Mosque. At the Islamic Center of America, men and women can pray in the same space though men are in the front and women are in the back.
"I believe this is one way female Muslims can express their Islamic identity while being proud to be women who have equal rights to men in our religion," Imam Hassan Qazwini told ABC News. "I think it's a bold and courageous step, and ultimately, I think they should be respected by all Muslims."
The Women's Mosque plans to add other events and classes that men can join, but they are keeping their worship and prayer sessions exclusively for women, Maznavi said.
The nondenominational mosque welcomes women of any faith who may be curious to learn about Islam and encourages visitors to come as they are, she said. You don't have to come dressed a certain way or anything like that, she added.
The Women's Mosque is planning to hold a Jummu'ah and sermon one Friday a month at the multifaith Pico Union Project building, but it said it plans to expand to other spaces to reach as many people as possible more often. They rely on donations to fund their house of worship.
"I want to garner the untapped potential of Muslim women not only for the Muslim community, but to empower all women of the world," Maznavi said. "God does not change the condition of people until people change themselves."