One of the two inmates who escaped from an Ohio prison has now been caught, authorities said. However, an inmate convicted of murdering two people remains at large.
The Allen County Sheriff's Office warned residents on Tuesday to "be aware and use caution" after the two men escaped from the Allen-Oakwood Correctional Institution in Lima.
The inmates were identified by the sheriff's office as Bradley Gillespie, 50, and James Lee, 47.
Lee was captured in Henderson, Kentucky, on Wednesday, but Gillespie remains on the loose, according to the Ohio State Highway Patrol.
"If a subject is seen matching Bradley Gillespie's description, please contact 911 immediately and do not approach," the Henderson Police Department said on social media Thursday. "Bradley Gillespie is considered to be armed and dangerous."
Gillespie was convicted of murdering a man and woman in 2016 and sentenced to 32 years to life in prison, according to Ohio Department of Rehabilitation and Correction online records. He is described by authorities as being 200 pounds and bald with blue eyes.
Lee was convicted in 2021 of charges including burglary, safecracking and breaking and entering and was serving at least 20 years in prison, state records show.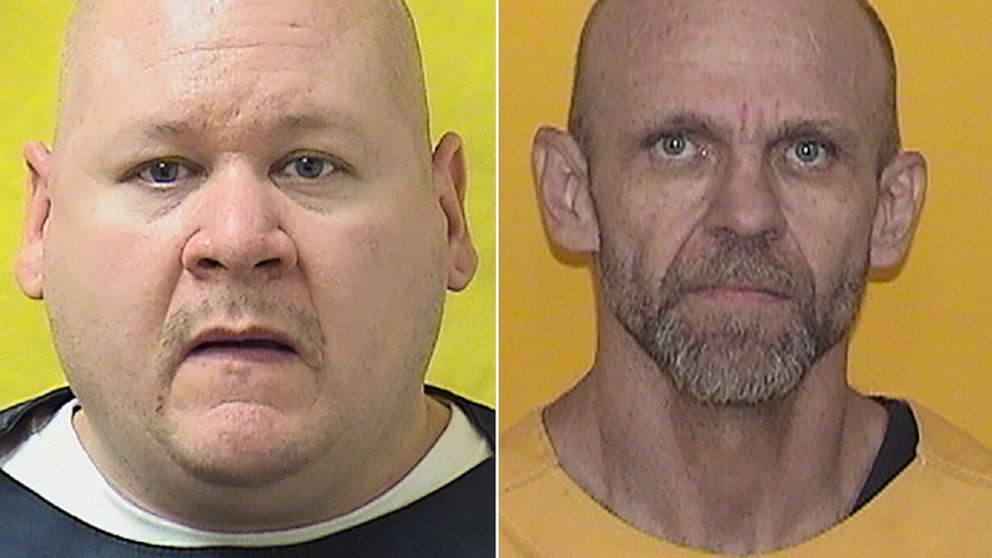 Lee was first discovered missing during a prisoner count at 11 a.m. Tuesday, the Ohio State Highway Patrol said. An emergency count of all prisoners determined that Gillespie was also missing, state police said.
The two men were last observed on surveillance video inside the facility at 8:41 a.m. on Monday, state police said.
The men were believed to be in a red Mercury Capri that was stolen in Auglaize County, Ohio, according to state police.
The vehicle was located by police officers in Henderson, Kentucky, Wednesday shortly after 3 a.m. local time. Police attempted a traffic stop but the vehicle fled before crashing into a fence, Henderson police said.
The inmates then fled on foot, Henderson police said. Lee was "immediately" taken into custody but Gillespie was not apprehended, police said. A shoe believed to have been worn by Gillespie was found two blocks from the location of the vehicle.
"Law enforcement officers continue to saturate that area in search of the escaped inmate," the Ohio State Highway Patrol said in a statement Wednesday afternoon.
Henderson police asked residents to review any home surveillance they may have since Wednesday at 3:17 a.m.
Multiple county, state and federal agencies are involved in the manhunt. Police K9s, water vessels, helicopters and drones have been used in the search, police said.
The United States Marshal Service, Ohio State Highway Patrol and the Allen County Sheriff's Office are offering up to a $21,000 reward for information that leads to Gillespie's capture.
The Ohio Department of Rehabilitation and Correction is also conducting an internal investigation into the incident.