— -- Protests continued today in Baton Rouge, Louisiana, and St. Paul, Minnesota, following a night in which 200 protesters were arrested by police between the two cities.
Thousands of demonstrators have flooded the streets of major U.S. cities throughout the weekend, protesting the recent killings by police of two black men, Philando Castile in suburban St. Paul, Minnesota, and Alton Sterling in Baton Rouge, Louisiana earlier this week.
Last night, participants in the St. Paul demonstration allegedly hurled Molotov cocktails, fireworks, rocks, glass bottles, concrete slabs, and bricks at riot gear-wearing police officers.
In Baton Rouge, demonstrators knocked out an officer's teeth, according to police.
Three rifles, three shotguns and two pistols were confiscated during that rally, police also said. Members of the New Black Panther Party for Self Defense were also present, shouting "Black Power" and raising their fists, police said.
The St. Paul protesters, who kicked off the night at 8 p.m. from the governor's mansion, forced the closure of Interstate 94. Some participants allegedly threw objects and dropped liquids from overpasses on officers below. Others allegedly directed laser pointers at officers.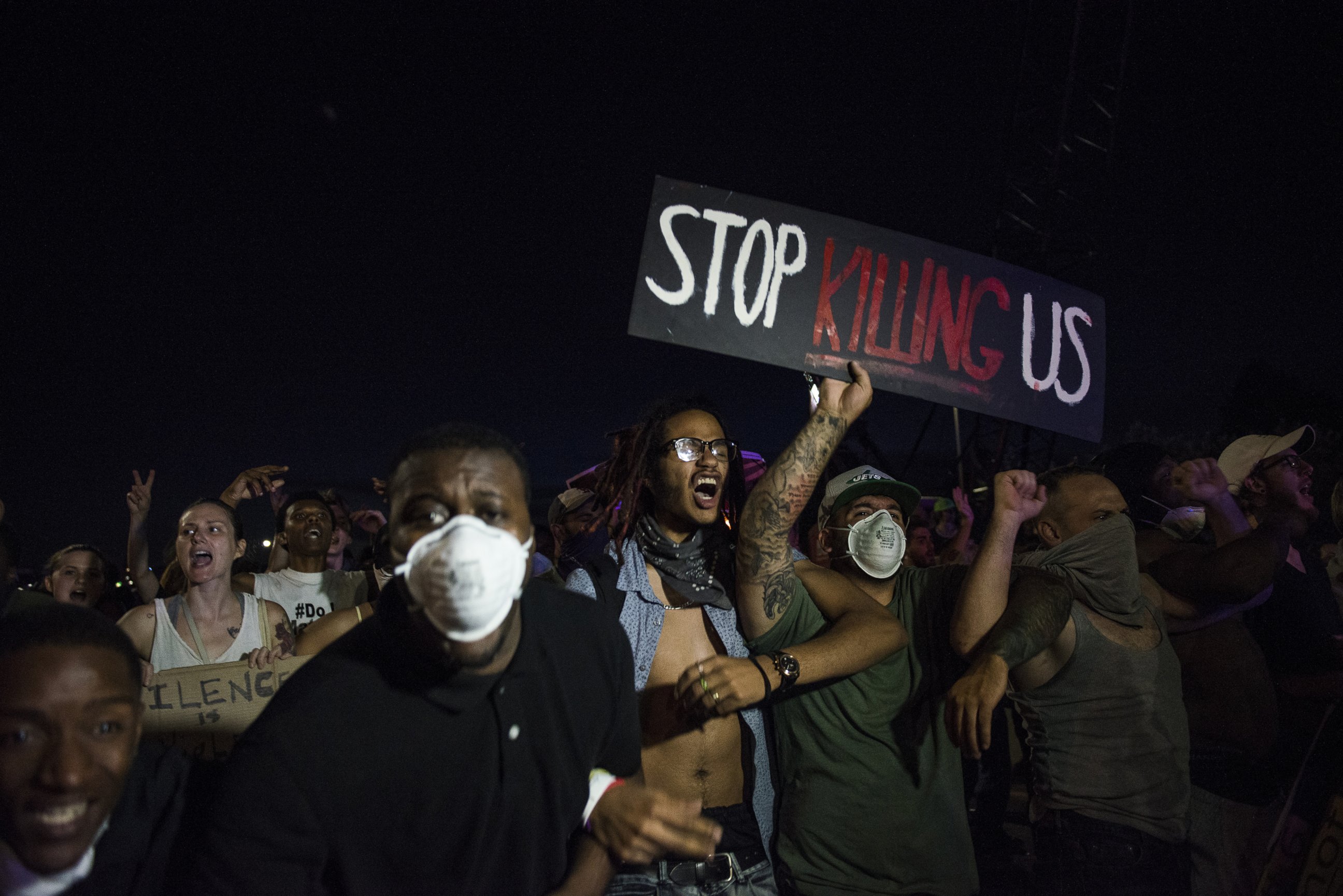 Police responded shortly after midnight by using what they described as "inert, glass balls and smoke" to clear about 200 demonstrators who were blocking the interstate in St. Paul, which reopened early Sunday morning. Pepper spray was also used on some protesters.
Protester Mike Martin told The Associated Press he was pepper sprayed by a police officer on a pedestrian bridge overlooking the interstate. He claimed he was trying to move the crowd along and keep the peace.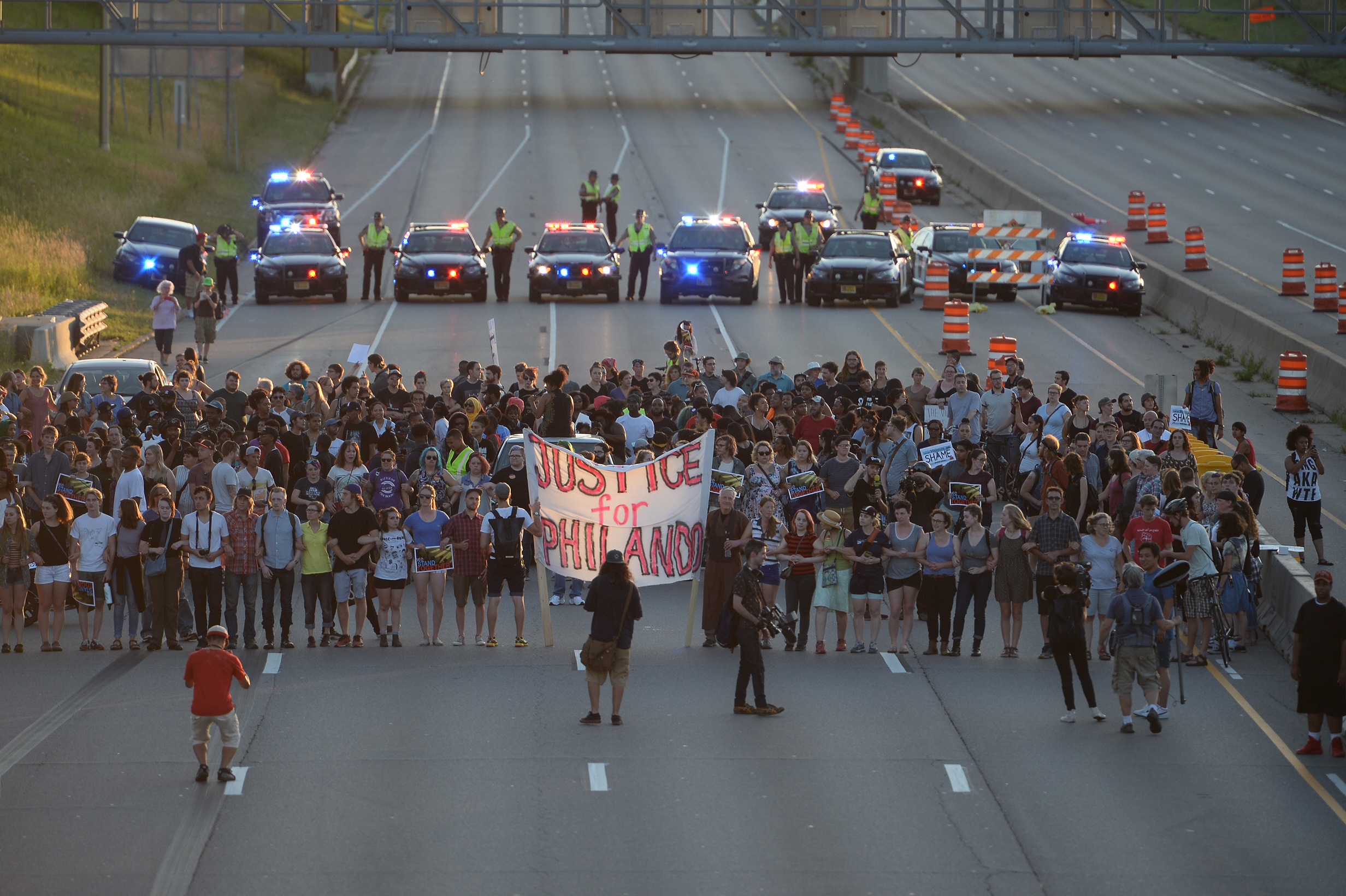 "I guess I wasn't moving fast enough for him," Martin said of clashes with the police in the St. Paul demonstration. "He just got it out and bam, I saw a cloud. It's burning pretty bad."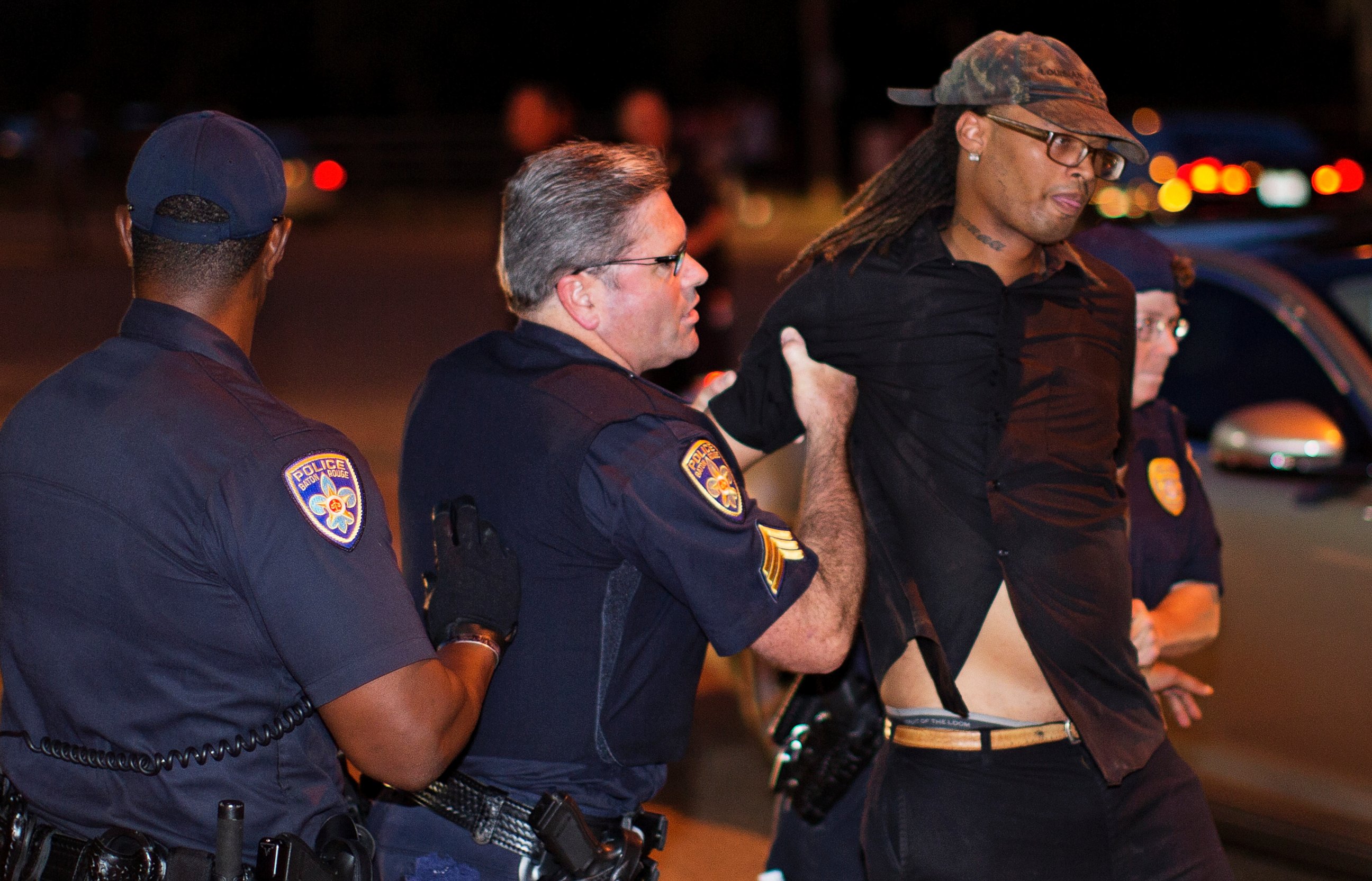 Among those arrested in Baton Rouge was prominent Black Lives Matter activist DeRay Mckesson. It was unclear why he was arrested, but he was released on bond Sunday afternoon.
Mckesson was filming live the moments leading up to his arrest.
"The police in Baton Rouge have been truly awful tonight," Mckesson said on the video, while walking along Airline Highway. "They have provoked people, they chase people just for kicks. The police have been violent tonight. The protesters have not."
In the video, which was posted online, someone can be heard shouting, "This is the police, you're under arrest! Don't fight me! Don't fight me!"
Mckesson responds: "I'm under arrest, y'all!" The camera is then knocked to the ground.
After being released, Mckesson said he remains disappointed with Baton Rouge police, who he says were provoking peaceful protesters.
Mckesson, who said he was charged with obstruction of a roadway, added that he remains hopeful that the Justice Department intervenes both in the death of Alton Sterling and the way the police treat protesters.
President Obama addressed the recent spate of protests that have taken place across the country during his trip to Spain today, praising the legacy of free speech in America, but warning that violent rhetoric aimed at police officers could result in the Black Lives Matter movement "losing allies."
"America over time has benefited from free speech," he said, listing civil rights, union, and environmental movements as examples of how protest has helped to shape America in positive ways.
Obama went on to say that "any violence to police officers" represented a serious crime, and that "even rhetorical" violence could risk alienating the Black Lives Matter movement by causing the group to "lose allies" in its goals to reform.
In religious services throughout the country, Americans mourned the deaths of Sterling and Castile, as well as the five police officers who were slain by by suspect Micah Xavier Johnson during a protest that took place in Dallas on Thursday night.