— -- A series of storms sweeping across the U.S. is delivering flooding rain, heavy snow and ice, and strong winds, putting two dozen states under storm alerts.
Stormy weather already has inundated the western U.S., from Washington to Southern California and into the Rockies. Snow fell near Seattle and on mountains near Los Angeles. Gusty winds sparked a wildfire that required the evacuation of 200 people in California.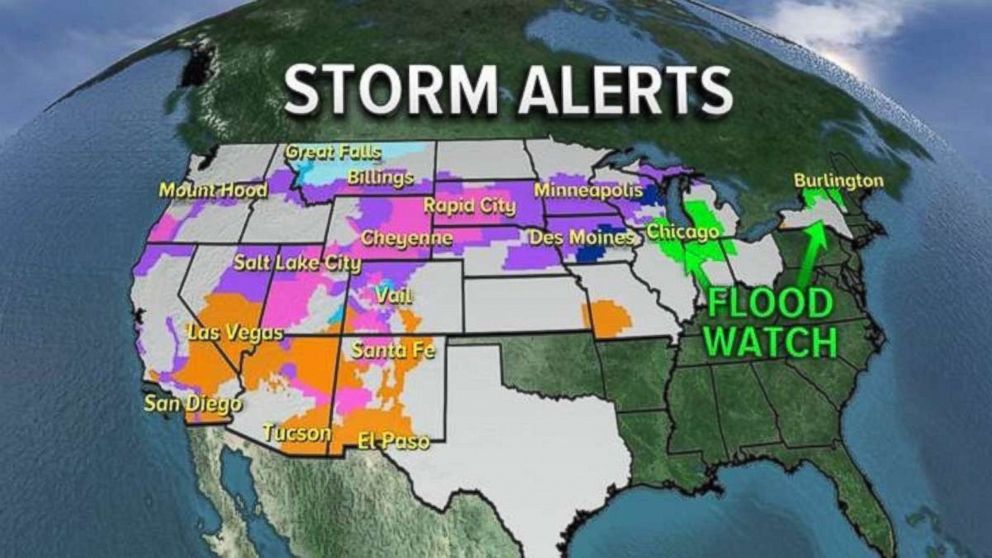 Storms are lining up this morning from the Southwest into the Midwest.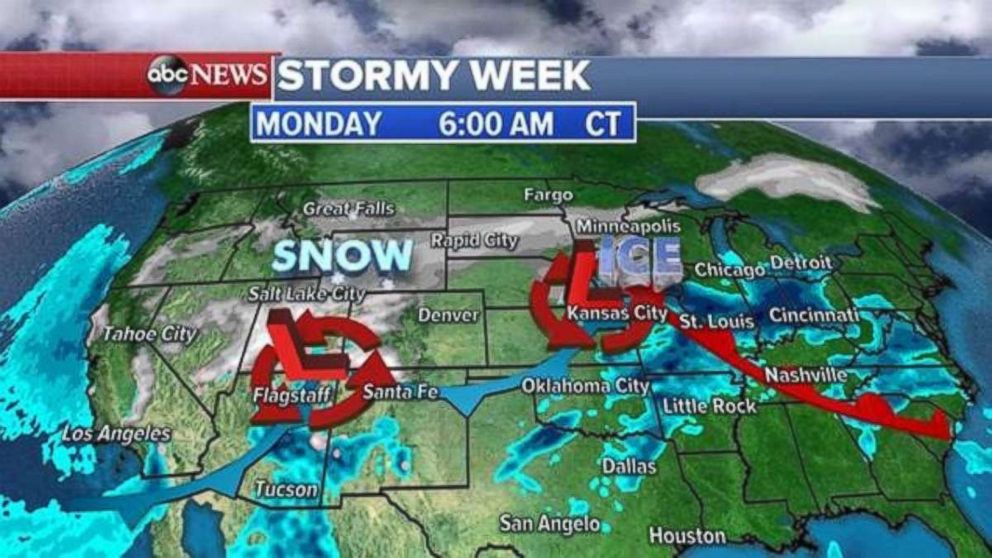 The stormy weather is expected to move east later today, streching from Texas into the Great Lakes area. Severe storms are possible from Dallas to Little Rock, with snow and ice from the Twin Cities to Des Moines to Milwaukee.
An ice-storm warning has been issued for parts of eastern Wisconsin, while heavy rain in Mississippi and the Ohio Valley region may cause flooding.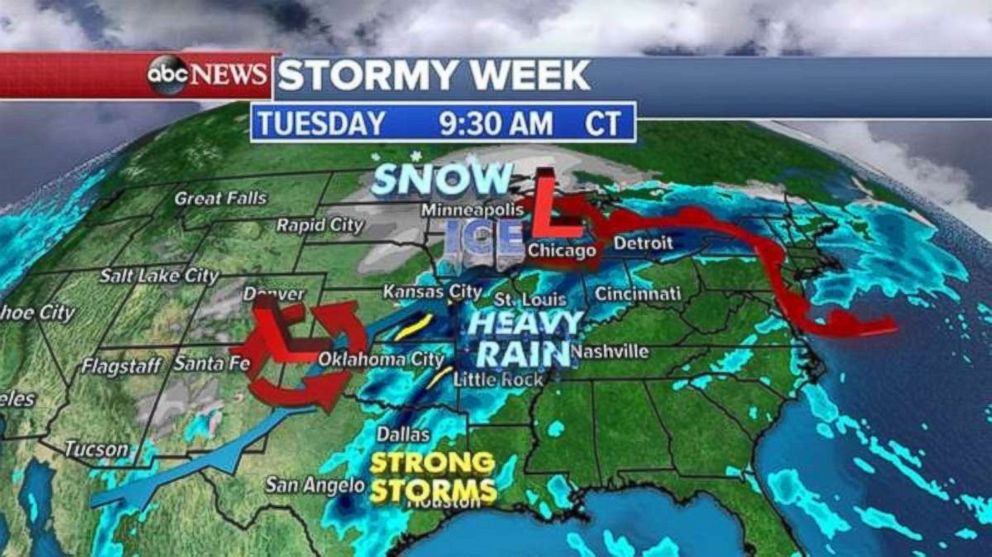 By Wednesday, the storm system will move toward the eastern Great Lakes and continue pouring rain on Ohio and the Mississippi River Valley. Texas and Arkansas will continue to be threatened by heavy rain, seeing as much as half a foot, with other parts of the Midwest seeing 2-4 inches.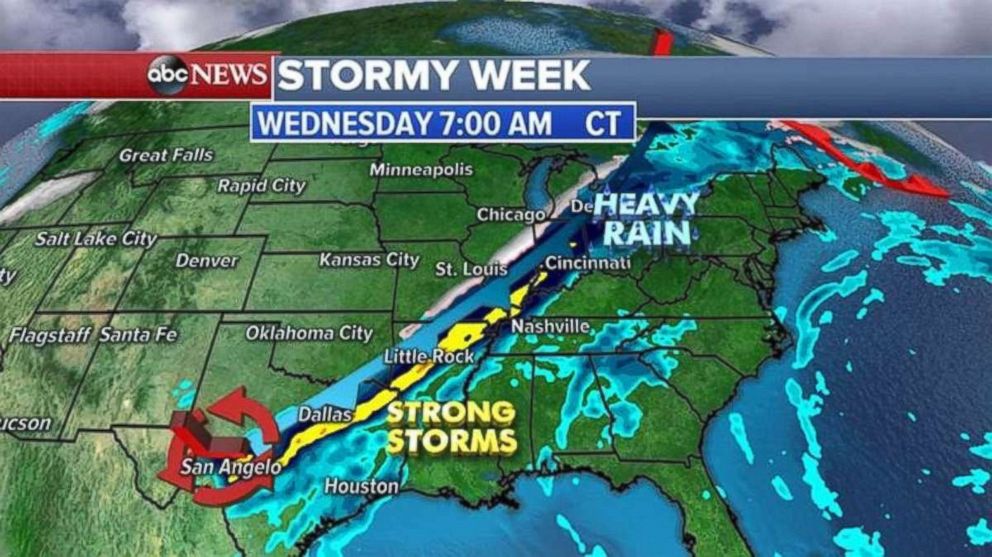 Heavy snow and ice will continue in the Rockies and Upper Midwest, with some parts potentially seeing 1-2 feet of snow.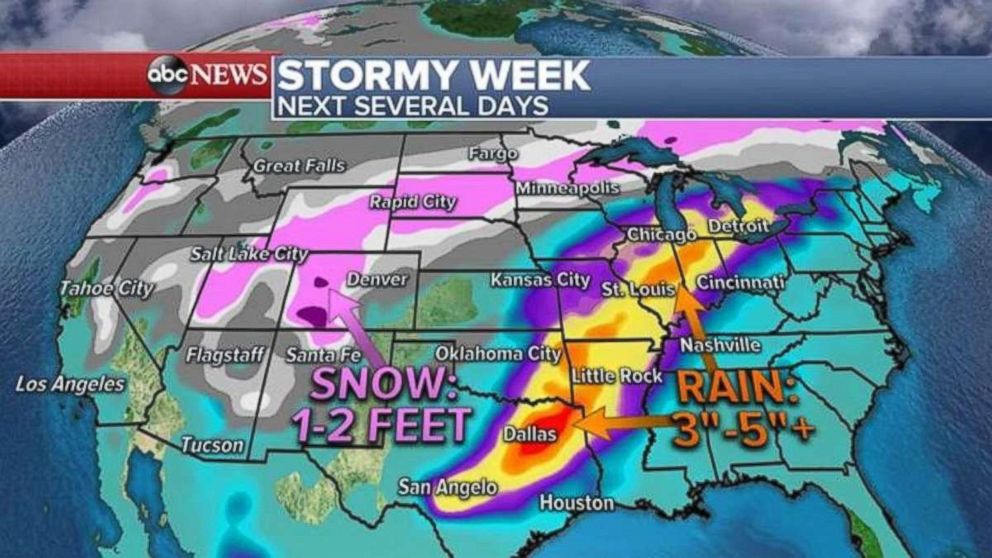 Later in the week, the South and Southeast will see unseasonably high temperatures. Highs in Florida on Tuesday may reach 90 degrees, as 70s and 80s cover much of the rest of the Midwest, South and mid-Atlantic regions.
Florida up through Maine may see record highs on Friday as the warming trend continues.