— -- The Tulsa Police Department released video showing that a 40-year-old black man who was killed by a white officer Friday night had his hands up in the moments before he was shot.
Dashcam video released today shows a Tulsa police officer responding to a call at 7:43 p.m. on Friday. As the squad car pulls up to the scene, a man, identified by police as Terence Crutcher, is seen walking toward a tan SUV parked in the middle of a two-lane road with his hands up as a female officer points her gun behind him. Three officers then run up to the pair. Crutcher lowers his hands and seems to reach into the vehicle, and then is seen falling to the ground.
A video from a police helicopter that arrived to the scene also shows Crutcher with his hands up in the moments before the shooting.
"That looks like a bad dude, too," the helicopter pilot is heard saying over the intercom. That comment is not heard on the dashcam video.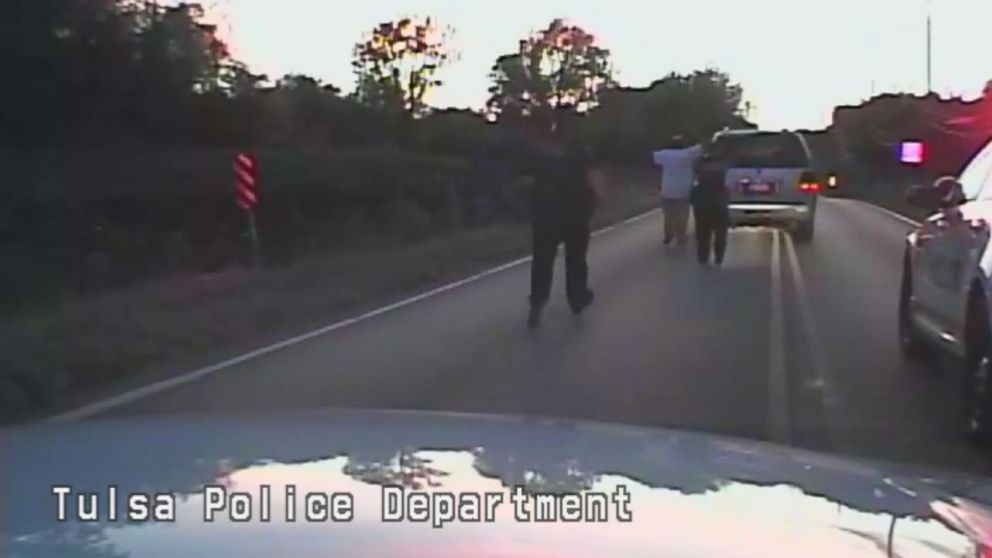 Crutcher died at the hospital where he was taken after he was shot Friday. The Department of Justice has opened an independent investigation into the Tulsa Police Department's use of force during its encounter with Crutcher, said U.S. Attorney Denny Williams today.
A police spokesman told ABC News that the video "raises a lot of questions" about whether the shooting was justified, which is the reason why the Department of Justice was brought into the investigation so early.
Officers were responding to a different incident when they noticed an SUV stalled on the road, police spokeswoman Jeanne MacKenzie said, according to The AP. The officers were walking to the SUV when Crutcher approached them, The AP reported. According to Tulsa Police Chief Chuck Jordan, the stalled vehicle belonged to Crutcher.
"He refused to follow commands given by the officers," MacKenzie said. "They continued to talk to him, he continued not to listen and follow any commands."
One shot was fired by an officer, Jordan said. A Taser was also deployed by a second officer, according to police. There was no gun on Crutcher or in the SUV, the police chief confirmed.
The officer who shot Crutcher has been identified as Betty Shelby, who has worked for the Tulsa Police Department since Dec. 1, 2011. Shelby has been placed on routine administrative leave with pay. ABC News could not immediately reach Shelby for comment.
Shelby's attorney, Scott Wood, said "it's important to remember" that she encountered Crutcher about two minutes before what is seen in the video footage and said that he had ignored about a dozen commands she had given him.
When Shelby first found the vehicle, it was still running, but no one was around, Wood said. The doors were closed, but the windows were opened, and Shelby had been peering inside the SUV to see if anyone was crouching on the floor.
When she turned around, she saw Crutcher walking toward her, Wood said, and she gave him "numerous" commands, which he did not follow. He did put his hands above his head for "periods of time," Wood said.
Shelby then told Crutcher to stop and get down on his knees, because she wanted him in a position where he couldn't charge at her, Wood said. Crutcher then paused at the driver's side window and inserted his left hand through the open window, prompting Shelby to fire the shot, according to Wood.
Another officer who perceived the same threat discharged his Taser simultaneously, Wood said. Police identified that officer as Tyler Turnbough.
ABC News has reached out to Crutcher's family for comment, but did not immediately hear back.
Jordan said he could not discuss the details of the incident any further due to the pending investigation but said police would "achieve justice in this case."
Demonstrators gathered outside the Tulsa County courthouse this morning to protest Crutcher's death.
Tulsa District Attorney Steve Kunzweiler and Tulsa Mayor Dewey Bartlett assured the public that the investigation would be transparent. Tulsa City Councilor Jack Henderson said he had a "hard time" with the incident, adding that it would "not be swept under the rug" and that he hopes to remain a "strong city" and "together city."
"We don't want to see things that happened to other cities here in Tulsa, Oklahoma," Henderson said.