— -- Some 68 million Americans are in the storm zone tonight from New Orleans to Chicago as severe weather is expected to roll across the middle of the country. Cities from Greenville, Mississippi, to Louisville, Kentucky, have the best chance for tornadoes.
A severe weather outbreak is taking shape this afternoon and into the evening from the South to the Great Lakes. The biggest concern is highlighted in red where there is a rare moderate risk for severe weather, issued by the Severe Storm Prediction Center. Memphis and Nashville are both included in the area that has an elevated threat for tornadoes.
There is a "Particularly Dangerous Situation" Tornado Watch issued from Monroe, Louisiana, to Jackson, Tennessee, which is also rare. That means there is a high chance for significant or long track tornadoes today. This includes both Greenville and Memphis.
Tornado Watches this afternoon stretch across eight states from Louisiana to Indiana.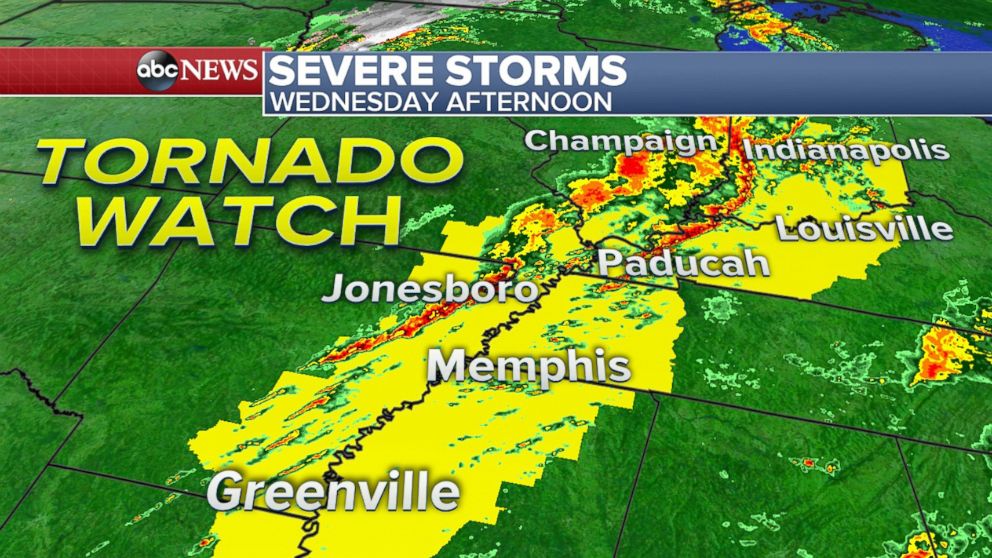 In general, anywhere from New Orleans east to Atlanta and north toward Chicago could see strong to severe storms today. Aside from the tornado threat, damaging winds over 70 mph are another big issue, and possibly some scattered hail.
The storms have already turned deadly in Arkansas when heavy rain and high winds caused a tree to uproot and fall on house with people inside, killing an 18-year-old woman who was inside. So far today, there have been over 50 severe storm reports, most being wind damage, and that number is expected to rise through tonight.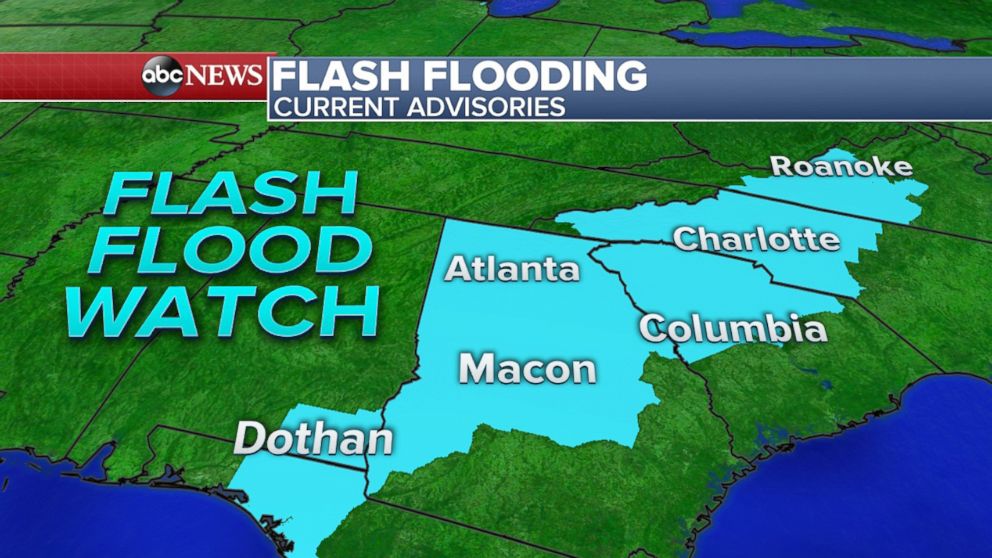 Further east, six states from Florida to Virginia are under Flash Flood Watches today as very heavy rain is moving across the East Coast. Generally, Four to seven inches of rain is expected here over the next several days, and over seven inches of rain has already fallen in Mobile, Alabama, causing flooding earlier this morning.