— -- Although it is still a month before his 3-year-old neighbor moves away, World War II veteran Erling Kindem, is already reminiscing about their good ol' days.
Kindem, 89, made friends with Emmett Rychner, 3, when they struck up a conversation in Kindem's front yard in Farmington, Minn.
They have been an inseparable duo ever since, with the veteran teaching the boy how to fix a bike, throw a baseball and riding matching lawn mowers, although Emmett's was a toy replica.
But now the Rychner family has outgrown their house and are packing to move, and Kindem's family is urging him to move to a retirement center.
Read More: Unlikely Friendship Between Toddler and WWII Vet Will Melt Your Heart
Read More: World War II Marine, 90, Fights to Correct AWOL Record
As they prepare to part ways, Kindem today recalled some of the cheery memories, often begun with the refrain, "One day..."
"One time I was doing the new sidewalk around my garage," Kindem said. "Emmett ran over and wanted to help me shovel the cement. I asked him: 'Can you do it?'"
"I strong," Emmett told Erling as he showed his muscle.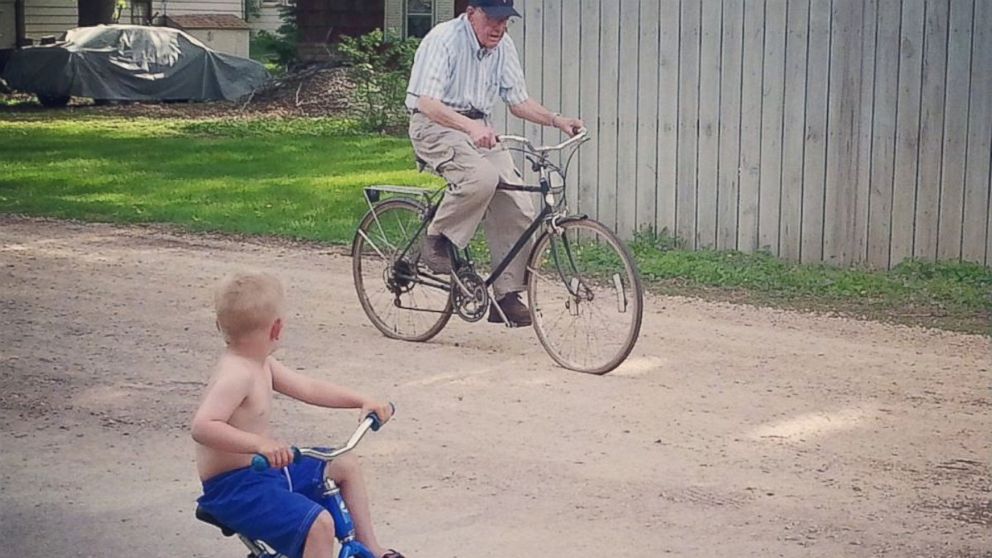 "One day, Emmett came in through the door and asked me: 'Erling, why are you always eating when I come in?'"
"I said to him: 'Emmett, why do you always come in when I am eating?'" Kindem chuckled.
"The other day, the wind was blowing really hard and the yard was full of leafs and dirt," Kindem said. "I went outside and found out that the lawn was clean."
Emmett had picked up the leafs with the help from his visiting grandmother, and had put all the trash in a blue container.
"I've got to pay you," Kindem recalled telling Emmett. Kindem produced four quarters.
"I told him: 'These coins don't burn like paper bills. You can take them home and put them in your bank.'"
A few days ago, Kindem dug up a croquet set that had been untouched for the past 20 years.
"It [the croquet set] was brand new. I gave the set to Emmett's parents and told them they can pack this up when they move," Kindem said.
Emmett, his sister and parents are moving to a four-bedroom home in Dundas, Minn. Kindem is considering a facility in Northfield, which would be closer to the hospital that he and his wife use, and 5 miles from Emmett's new home.