Drew Peterson, the ex-cop under investigation for his fourth wife Stacy Peterson's 2007 disappearance, has been jailed on two first-degree murder counts in the 2004 death of his third wife, Kathleen Savio, authorities said.
"I've been through hell," Savio's sister, Susan Doman, told ABC News amid Peterson's arrest. "Hopefully, he's gonna get what's coming to him."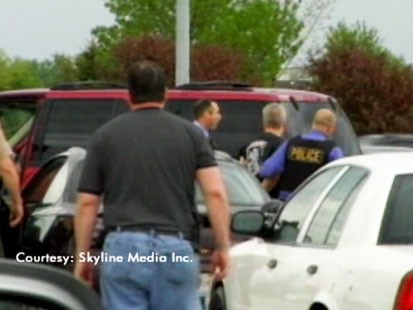 Peterson, 55, was being held at the Will County Adult Detention Facility in Joliet, Ill., with bond set at $20 million, and could face 60 years in jail, Will County State's Attorney James W. Glasgow said.
"This is a grave and serious matter, and I think that's reflected in the bond," Glasgow told reporters.
"We are very confident in our case," he added.
Joel Brodsky, an attorney for Peterson, called the $20 million bond "excessive" and said he hoped to get it reduced. He noted that Peterson had passed two privately administered polygraph tests that suggested he did not kill Savio. Another attorney told The Associated Press that Peterson had an alibi for Savio's death.
Savio, 40, was found face-down in an empty bathtub in March 2004, her hair soaked with blood from an apparent head wound.
The death initially was ruled an accident, but was reclassified a homicide in 2008 after her body was exhumed and given a new autopsy following Stacy Peterson's October 2007 disappearance.
That autopsy determined Savio had drowned, Illinois State Police Capt. Carl Dobrich said.
An indictment handed down by a grand jury Thursday morning accused Peterson of "two counts of first-degree murder, one on the theory of intentional killing, the second [for] knowingly doing an act that can cause great bodily harm," said Glasgow, whose office will prosecute the case.
Peterson was arrested "without incident" in a traffic stop by a uniformed state trooper and plainclothes officers near his home in Bolingbrook, Ill., Dobrich said. He added that Peterson's four children were in the process of being removed to government care.
Andrew Abood, an attorney for Peterson, told The Associated Press the indictment was not a surprise because "there was tremendous pressure for the government to do something in this case."
He added Peterson had a "lock-tight alibi" because Peterson and Savio's teenage son said last month in a television interview that he was with his father at the time of his mother's death.
"I highly do not believe that my dad had murdered my mom," Thomas Peterson, 16, told CBS' "The Early Show." "Because, first off, he wasn't there. He was with us during that period of time."
Peterson, a former duty sergeant for the Bolingbrook Police Department, was the first officer to respond to the scene of Savio's death. His nearly-three-decade career in law enforcement ended when he stepped down after Stacy Peterson disappeared.
Brodsky said he had not spoken with his client Peterson as of late Thursday night, but expected to speak with him Friday.
Doman told ABC News she hated watching Drew Peterson walking around freely and seemingly basking in the media limelight in the year and a half since Stacy Peterson vanished, an event that inflamed her own family's suspicions about Peterson regarding her sister's death.
Doman added that she hoped now "he's eating oatmeal" in jail.
She knew Peterson's arrest was coming because she had been working with authorities, and she hoped justice would finally be done.
May 13 would have been Kathleen Savio's 46th birthday, her sister noted. Every year, she said, family members visit her grave and relive the pain of her death. This year, she added, there will be some relief.
Savio's divorce from Peterson was nearly complete at the time of her death. She had received an order of protection in 2002 against Peterson, alleging a pattern of physical abuse and threats.
Doman said she wants to encourage battered women to get out of bad relationships, claiming Drew Peterson battered her sister.
"No matter how strong you are, get out," she said she would tell other abused women.
A lawyer for the Savio family, Martin Glink, told ABCNews.com the family is "very grateful and relieved that at long last he [Drew Peterson] is going to be charged.
"We're hoping that Mr. Peterson will get a measure of justice," Glink added. "We're looking to have the right thing done and that obviously points to Drew Peterson."
Mystery Surrounding Stacy Peterson's Disappearance
Stacy Peterson, then 23, vanished Oct. 28, 2007, after reportedly telling her minister that Peterson had confessed to killing Savio.
Earlier this year, a grand jury was convened to decide whether to indict Drew Peterson for Stacy Peterson's disappearance, but it has not done so. Like Savio, Stacy Peterson told family and friends that she feared her husband.
Drew Peterson has maintained that Stacy Peterson ran away with another man.
In November 2007, when the state announced it wanted to reopen Savio's case, Peterson told ABC News that he would put more investigative stock in the first determination that Savio's death was an accident.
"I put more faith in the first autopsy because it was fresh," he said at the time.
ABC News' Martin Bashir, Elizabeth Tribolet, Jesus Ayala, Lindsay Goldwert, David Schoetz, Barbara Pinto and The Associated Press contributed to this report.