As Tropical Storm Hanna targets the Atlantic seaboard, its bigger, schizophrenic brother, Hurricane Ike, has turned to the Southwest where it is wobbling toward the Bahamas and could possibly slip into the Gulf of Mexico next week.
Residents up and down the East Coast were boarding up windows and heading inland Friday to brace for Hanna, which forecasters believe could become a Category 1 hurricane shortly before making landfall over the South Carolina coast early Saturday morning.
The storm is expected to make its way up the coast and into New England by early Sunday morning. Some areas could see up to 10 inches of rain, meteorologists said.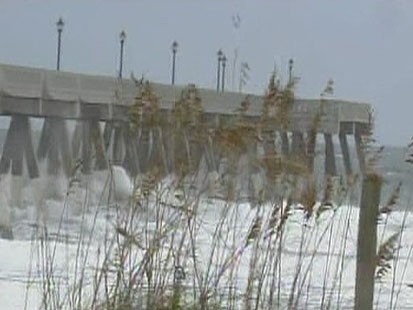 In response to the storm's potentially widespread impact, the National Weather Service issued various tropical storm watches and warnings, and a hurricane watch, for areas along the coast from Georgia to New Jersey.
Here Comes Uncertain Ike
Ike, which has been downgraded to a Category 3 hurricane, is still festering in the Atlantic and heading southwest toward the Bahamas.
However, due to a high current above it, Ike's potential path is significantly less predictable, Federal Emergency Management Agency officials said in a news conference today.
According to the latest forecast, Ike is expected to tear through the Bahamas on Sunday on its way to the Gulf of Mexico, breaking through the Florida Keys on Tuesday or Wednesday.
The hurricane is packing 125 mph winds, and FEMA officials say it could become a dangerous Category 4 hurricane -- especially if it reaches the Gulf and is strengthened by the warmer, deeper waters there.
In advance of both storms, some southeastern states have already declared emergencies.
Amtrak has canceled some train service along its East Coast routes in anticipation of the storm. Passengers with confirmed reservations for the affected trains are being contacted, according to Amtrak. Passengers may call 800-USA-RAIL for more information.
Hanna First Named Storm in Years to Target Northeast
In the past 80 years, hurricanes have taken direct aim at the northeast only 10 times. The worst was in 1938, before the storms were given names. The Category 3 hurricane killed 600 people and damaged or destroyed nearly 25,000 homes and businesses, according to Peter Judge, a spokesman for the Massachusetts Emergency Management Agency.
"This came over Long Island and became a regional event that ultimately had impact in downtown Quebec," Judge said.
Emergency management officials know that in the low-lying areas that sit right at sea level, many people aren't aware of how great a risk they face.
In New York City, projections of the type of flooding that even a Category 1 hurricane could bring show the potential for devastating results.
"We estimate that in the worst case we might have to move 2.3 million off the coastal zones," said Joe Bruno of the New York Office of Emergency Management.
Meanwhile, Gulf Coast residents are still dealing with fallout from Hurricane Gustav, with nearly a million customers in Louisiana alone without power.
FEMA officials said today that groups are dividing their time between the aftermath of Gustav, while others planned for Hanna. Many evacuees are still making their way home, even without electricity.
According to Dewayne Morris, a volunteer in rural Louisiana, Gustav hit small towns especially hard. Residents are trying to squeak by without any power to refrigerate food or air condition their homes in the steamy September heat.
"Everyone has been more than gracious and thankful, but from a lot of them all I keep hearing is: Where can I go? Where can I get food?" he told ABCNews.com. "You would not believe what a bag of ice would do for somebody. A $3 bag of ice would mean the world to people right now.
"Ice is like gold."