The sun was setting on a summer evening in September 1986 when two teenagers discovered a newborn baby boy in a cardboard box.
He was in a box next to a Salvation Army bin in Anchorage, Alaska, and the teens picked him up, took him home and the authorities were called.
Police launched an investigation and learned from bystanders that a pregnant woman had been seen standing near the area where the baby was found.
"[The bystanders] hadn't given it much thought, but when they had gotten home, they started watching the news, and heard that a baby had been abandoned there," said Det. David Koch, one the Anchorage Police officers who responded to the scene.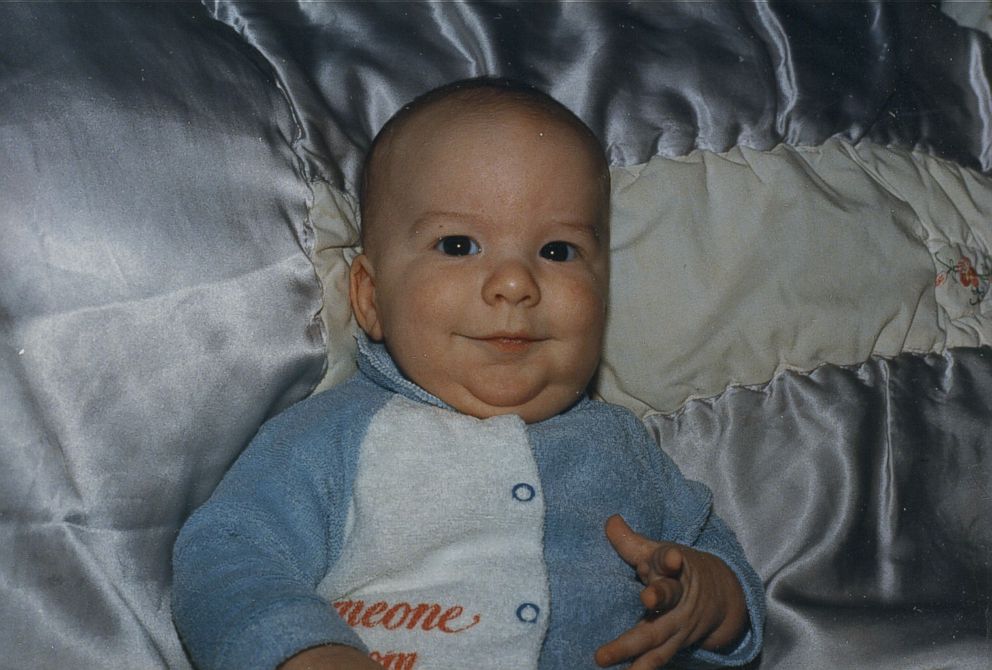 The baby was placed in foster care for a few months and then adopted into a loving home in Idaho, where he grew up alongside two sisters.
Today, 31-year-old Benjamin Tveidt is a sergeant in the Idaho Army National Guard. An experienced gunner, he served two tours in Iraq.
Tveidt said he was 11 years old when his father told him he was adopted.
"I didn't believe him at first," Tveidt said. "I was devastated."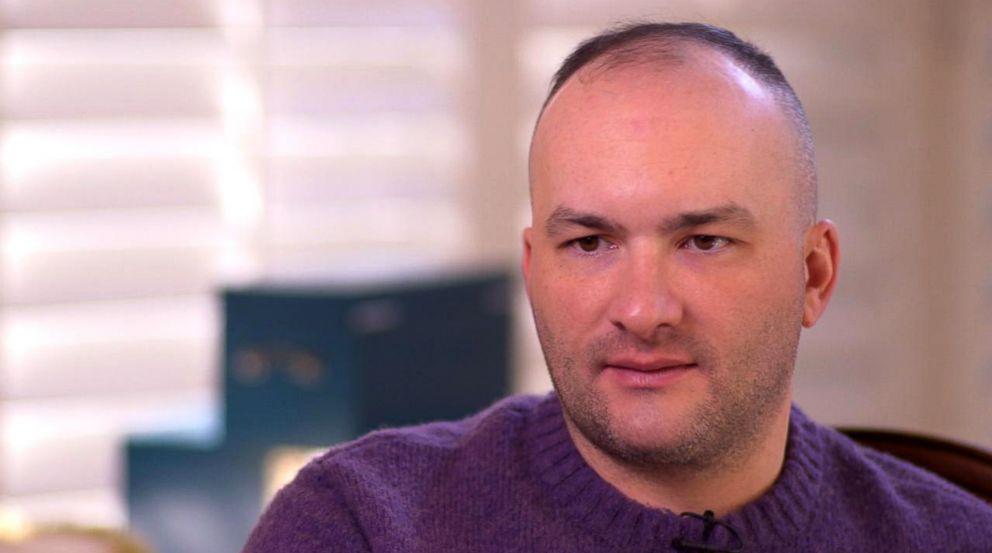 Then he learned about how he had a "foundling," abandoned as a baby in a cardboard box.
"[My parents] brought the newspaper clippings out that they had preserved … They showed me my bracelets from the hospital," he said. "I was spinning. I mean I was like, 'What, this is all a joke, right?'"
The shocking news launched Tveidt on a new mission to solve the mystery of his birth and learn the identity of his biological parents, where he came from and why he was left.
"This was the biggest question in my life," he said. "I would look up at the stars some nights and wonder if my mom or dad or if my brothers or sisters or my grandparents were looking at the stars that night."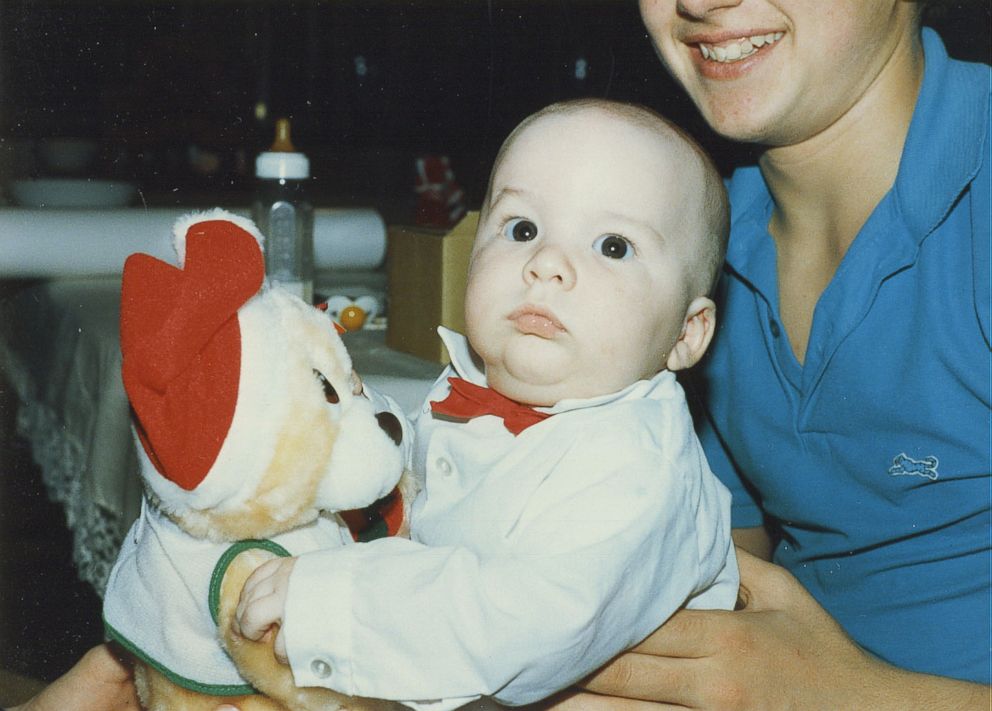 Tveidt connected with genetic genealogist CeCe Moore, who entered samples of his DNA into four national databases hoping to find a match for his biological mother. Through that process, possible hits on distant relatives cropped up.
But then Moore got a direct hit on someone they hadn't even been looking for. She had found Tveidt's biological father, who, as it turned out, had also served in the military.
"It's a man named Richard Blanchfield, who's a pretty incredible guy," Moore told him. "He's not just any Vietnam vet, he's a highly decorated Vietnam vet."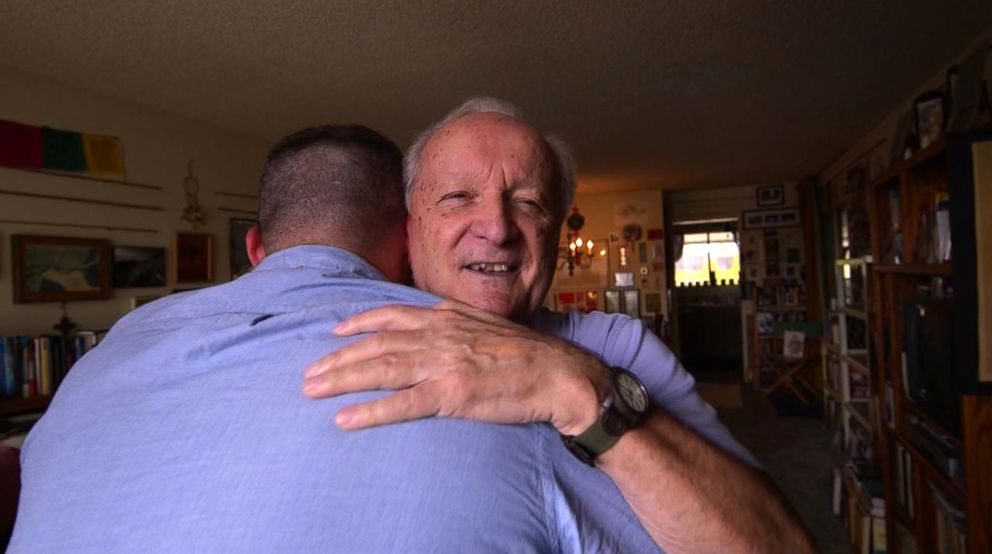 Moore was able to uncover that Blanchfield had been 47 years old when Tveidt was born and not only was he was still alive, but he also he lived in California, 20 minutes away from where Moore lives.
"I thought I got struck by lightning when she told me," Tveidt said. "To find a relative that close, it blew my mind. I thought I landed on the moon and discovered aliens."
In a search for his birth mother, Benjamin Tveidt discovers his biological father happens to live 20 minutes from where he learned about their DNA match.
Tveidt made the drive over and knocked on his biological father's door. An older man opened it and introduced himself as "Doc."
"This is eerie," Tveidt said.
"You bet it's eerie," Blanchfield told him. "Come on in, son. Come on in. Welcome."
As they sat down together, Richard "Doc" Blanchfield explained that he had joined the Marine Corps at 18 years old, served in the 82nd Airborne Division and had been a Purple Heart recipient. Tveidt had also enlisted at 18, joining the Army.
In a stirring irony, the once-abandoned son learned that his biological father had helped rescue abandoned children in Vietnam during his military service. He then told Tveidt he would have kept and raised him as his own if he had known he existed.
For Tveidt, hearing that was a huge relief.
"There was that feeling of rejection that I had for so many years being abandoned, and it counterbalanced that feeling because I was accepted and I was wanted," he said. "It lifted a weight off my shoulders, off my chest. I couldn't go to bed angry anymore."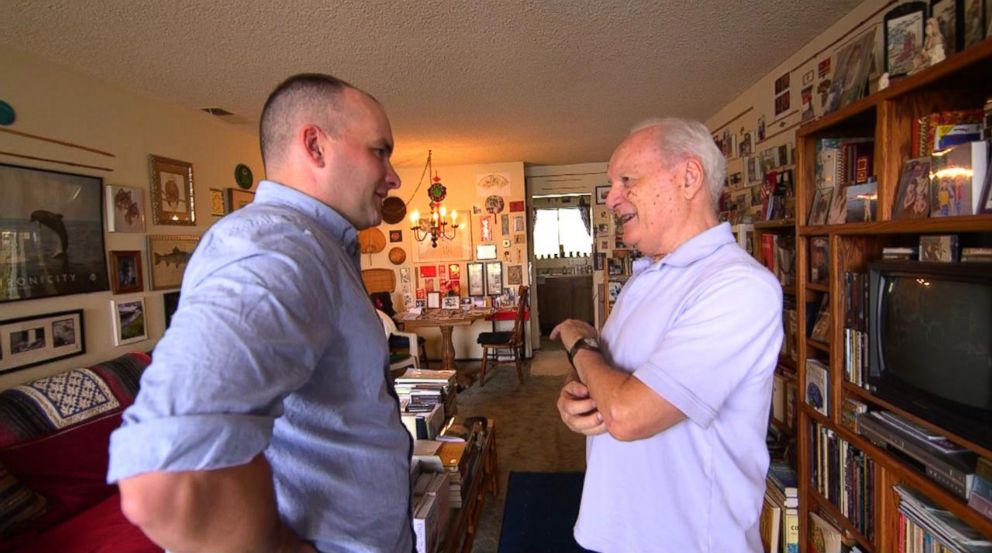 When Tveidt asked about his birth mother, Blanchfield recalled that he had met her at a bar called The Cabin Tavern one night 32 years ago.
"I had a hard day and I remember I said, 'I'm going to go and have a beer there before I go home,'" Blanchfield said. "There was … a young lady sitting at the bar and I just went up and I sat down. I didn't say anything, I had my beer and we just started a conversation."
As the night progressed, Blanchfield said the woman told him she was in a difficult relationship and said she didn't want to go back to wherever she came from.
"I don't remember the lady's name, honest to God I don't," he said. "Before she left, I remember this distinctly … I had three statues, I still have two of them. They're from China and… it was a Chinese goddess statue and I gave it to her and I said, 'This will bring you good luck'"
"I never heard from her again," Blanchfield added. "I wonder if she still has it."
After searching for his birth mother, Benjamin Tveidt met his biological father for the first time and was "overwhelmed" by the reunion.
Tveidt decided to continue his search for his biological mother. He first located his foster mother, Verneta Wallace, who had cared for him during his first few months, but she didn't have any clues for him about his birth mom.
He next went to the Anchorage Police and met Det. David Koch. He told Tveidt that they had a sketch of the woman suspected to have left him behind, but no fingerprints.
Genealogist Cece Moore continued to dig into Tveidt's family tree. She was able to identify two of Tveidt's second cousins -- one on his mother's side, the other on his father's. Moore traced their family trees, all the way to their great-grandparents.
Moore then built the family trees forward with their descendants. Pouring over obituaries, gravesite locators and census records, she painstakingly began a process of elimination.
Finally, Moore had pared down his biological mother to two women – sisters, one of whom would have been Tveidt's aunt and the other would have been his mother.
"I felt completely certain that I had the right two women because of the way the family trees came together, there was just no other explanation," Moore said.
For Tveidt, learning the whereabouts of his biological mother was a heart-stopping moment.
"I'm going to … see if she's willing to talk to me," he said then. "I've been less nervous doing operations in Baghdad than I am right now."
Unannounced, he drove over to an office building where one of the two women reportedly worked. He called a number he had for one of them and a woman answered.
Sadly for Tveidt, the startled woman on the other end of the line immediately denied that she or her sister could be his mother or aunt. Over the course of their phone conversation, it became increasingly apparent that the woman didn't want anything to do with Tveidt.
"She's extremely adamant that her and her sister are a dead end, but people can lie. DNA doesn't," he said afterwards. "I just don't know. Crawling back inside of myself, starting to feel nothing again. This is OK. That will pass."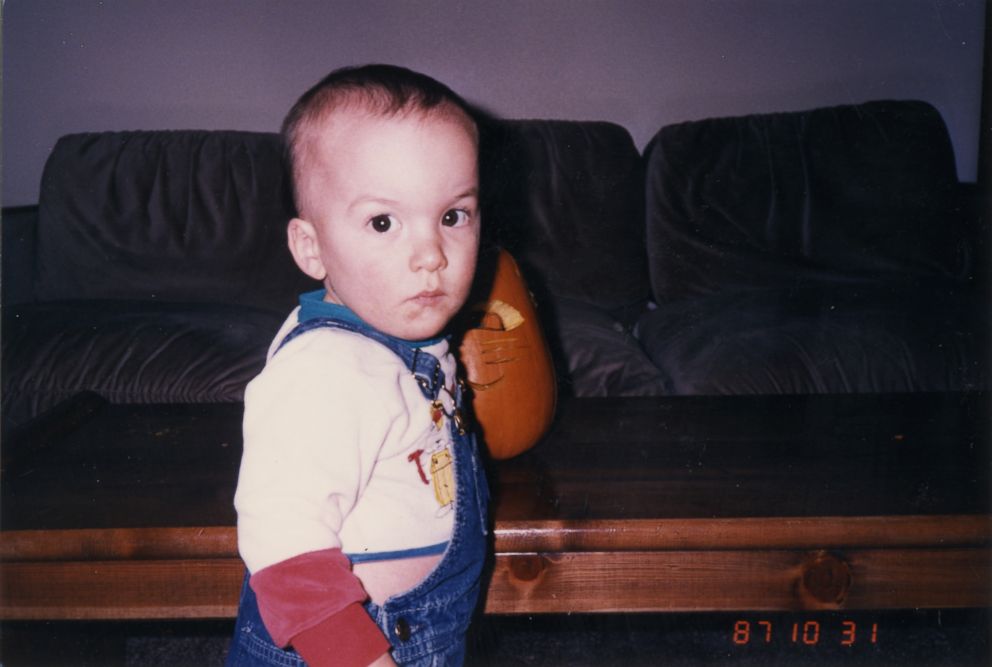 Minutes after hanging up, Tveidt's cellphone rang again. It was the woman's sister, who called to tell him to never contact them again.
"She hung up on me," he said. "She said that I need to go back to where I'm from, and love my family, and love the people that raised me."
"Her reaction led me to the conclusion that she's probably the mother," he added.
For Tveidt, it felt like he had been abandoned and rejected all over again.
When biological parents are contacted by a child they had left behind long ago, Moore said, it can be like "opening Pandora's box."
"They have to face a lot of deeply buried emotions … They have carried a lot of buried emotions," she said. "A lot of shame, of guilt and fear."
But he still had his biological father. Later, Tveidt reached back out to Blanchfield in Idaho. Over the course of their conversation, Tveidt told him what had happened and said if he had to go back and do it all over again, he wouldn't have changed anything about his life.
"I don't want to be a different person," Tveidt said.
"You are a great person, you have a bigger family now," Blanchfield told him. "The world had given me so much and I was blind to that for 30 years."
As their conversation started to wind down, Tveidt and Blanchfield said their goodbyes.
"Alright son, I love you," Blanchfield said.
"I love you too," Tveidt replied.
Watch the full story on ABC News' "20/20" this FRIDAY at 10 p.m. ET.