— -- Dylann Roof, the 22-year-old accused of killing nine black parishioners at a church in Charleston, South Carolina, had a handwritten note in his car with the names of several churches on it, according to testimony today at Roof's ongoing trial.
Former South Carolina Law Enforcement Division agent Brittany Burke, who processed Roof's car after the shooting, was on the stand this morning, recounting items found in the car after the then-21-year-old was captured.
Besides the note listing churches, notable items in Roof's car included a Confederate flag, a burned American flag, a gun, an empty box of ammunition and a laser attachment for a gun that helps with accuracy.
Personal items were also in the car like a GPS, deodorant and cigarettes, Burke said.
Roof, who is white, is accused of fatally shooting nine black parishioners during a Bible study at the predominantly black Emanuel AME Church on June 17, 2015. Roof allegedly entered the Church armed and "with the intent of killing African-Americans engaged in the exercise of their religious beliefs," according to the federal indictment against him. The parishioners welcomed Roof into their Bible study group, according to the indictment, after which Roof allegedly drew his pistol and opened fire.
Roof was captured in North Carolina the day after the shooting.
The federal courtroom was packed today on the victims' side. Roof appeared in court wearing a green sweater and grey pants.
A prosecution witness, Ronald Thrailkill, who sold the Glock used in the attack to Roof, also testified today.
Roof purchased the Glock in April -- two months before the shooting, Thrailkill said. Surveillance video was played in court showing Roof coming into the gun store and looking around. Video also shows Roof coming back to the store to buy the gun three business days later.
Roof filled out paperwork, including background information that asked about drugs and mental health, Thrailkill testified. If the perspective buyer answers "yes" to any of those questions, the sale is canceled, he said.
Any licensed firearm dealer has access to the national instant criminal check (NICS), which can allow, deny or delay a purchase within three business days, he said. Thrailkill testified that he can sell a gun if there's no response from the NICS system after three business days.
During cross-examination, Thrailkill testified that when NICS didn't respond to him in three days, he decided to go ahead with the sale to Roof.
Thrailkill testified that on June 29, 2015 -- after the church shooting -- he received communication from NICS that the sale was to be denied. Roof, then in custody, had at that point admitted to authorities that he used narcotics.
FBI agent Tracy Sicks also testified today about a website believed to belong to Roof that included a manifesto with racist language, according to ABC affiliate WCIV.
On Friday, a video interview of Roof conducted by law enforcement was played in court, in which Roof laughed as he admitted to the shooting.
He also said he used a Glock 45 to do it, according to the video. "I didn't say anything to them before I pulled it out, not even one word," Roof said of the gun in the video. "I mean they reacted after I shot them."
Roof said in the interview he did not expect to survive the shooting because he expected police to respond to the church and shoot him. Once he escaped, he says he spontaneously decided to go to Charlotte, North Carolina, because he didn't want to go home to Columbia.
After an agent told him he killed nine people and asked how he felt, Roof responded in a monotone voice, "It makes me feel bad."
Testimony on Friday also addressed letters Roof wrote to his parents and a journal he kept with racist entries -- all found in his car after he was apprehended.
In a note to his mother, Roof apologized and said he loved her, and he wrote, "Childish as it sounds I wish I was in your arms."
In the journal, Roof degrades African Americans and Jews, and a state law enforcement agent on the witness stand read the racist entries aloud. Some jurors leaned on their hands as they read the journal entries on monitors and appeared in shock.
Roof wrote that he was not raised in a racist place. He also wrote that after reading a Wikipedia entry about the Trayvon Martin case, it was obvious to him that George Zimmerman, the man who fatally shot Martin, was in the right, and he was never the same again.
Roof also wrote that one of his only regrets is that he was never able to fall in love.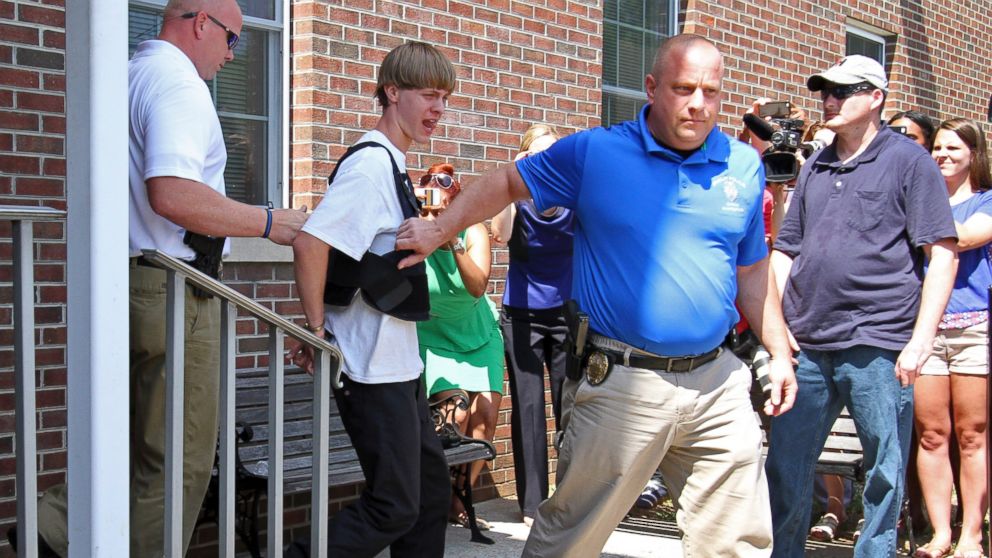 The 33 federal counts against Roof include hate crimes resulting in death and obstruction of exercise of religion resulting in death. If convicted, Roof faces the death penalty.
Roof has pleaded not guilty.
He also faces a state trial, set for early next year, in which he may also face the death penalty.