— -- President Trump's executive order restricting travel and immigration from seven Muslim-majority countries received a fresh wave of legal and political challenges today after a tumultuous weekend in which protesters took to the streets in many American cities to voice their dissent.
Democrats sought to take advantage of the opposition by pushing legislation to undo the executive action.
Senate Minority Leader Chuck Schumer said this morning that he would call for a vote on bills that would rescind the executive order.
Sen. Dianne Feinstein of California outlined what such legislation would accomplish: rescind the order, ensure congressional oversight of Trump's authority to bar people from entering the U.S. and require the president to respond to questions about the rationale for barring certain classes of foreign nationals.
"Painting more than 200 million people with the same broad brush is contrary to the principles on which this nation was founded and will not make us any safer," she said, referring to the approximate number of people around the world affected by the order.
Federal lawsuits, meanwhile, have been filed in New York, Massachusetts, Virginia and Washington, challenging the law, with experts expecting more to come.
The Council on American–Islamic Relations, a Muslim civil rights and advocacy group, announced a federal lawsuit challenging the order this afternoon.
CAIR's executive director, Nihad Awad, criticized the order and Trump's leadership, arguing that the president has not transitioned effectively from a campaigner to a statesman.
"Trump's order isn't based on national security. It's based on fearmongering," he said at a press conference.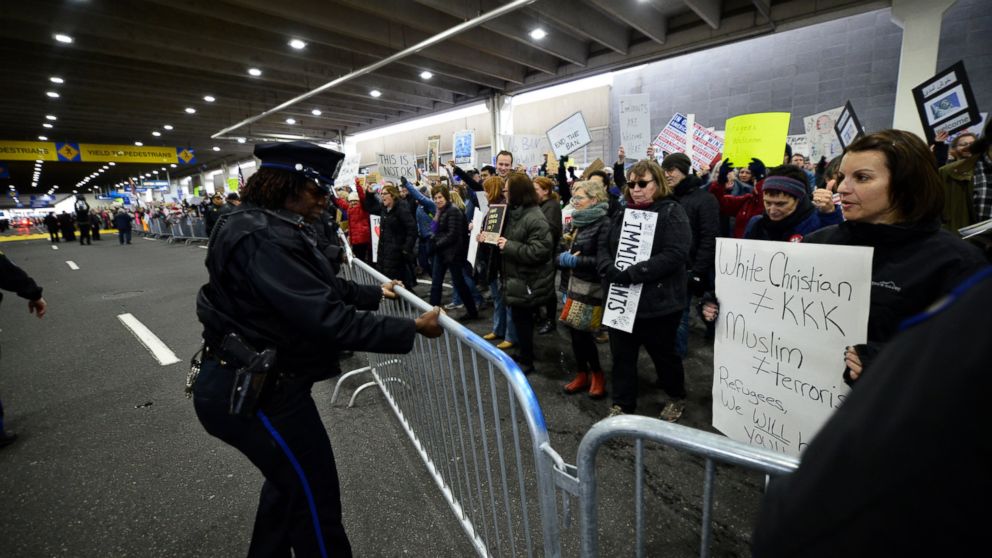 Kellyanne Conway, a counselor to the president, suggested this morning on "Good Morning America" that the media inflated the impact of the president's order, and she pushed back against the mounting criticism of it.
"[The order] is temporary. It is narrowly prescribed," she said.
Trump defended the policy on Sunday. "This is not about religion — this is about terror and keeping our country safe," he said in a statement.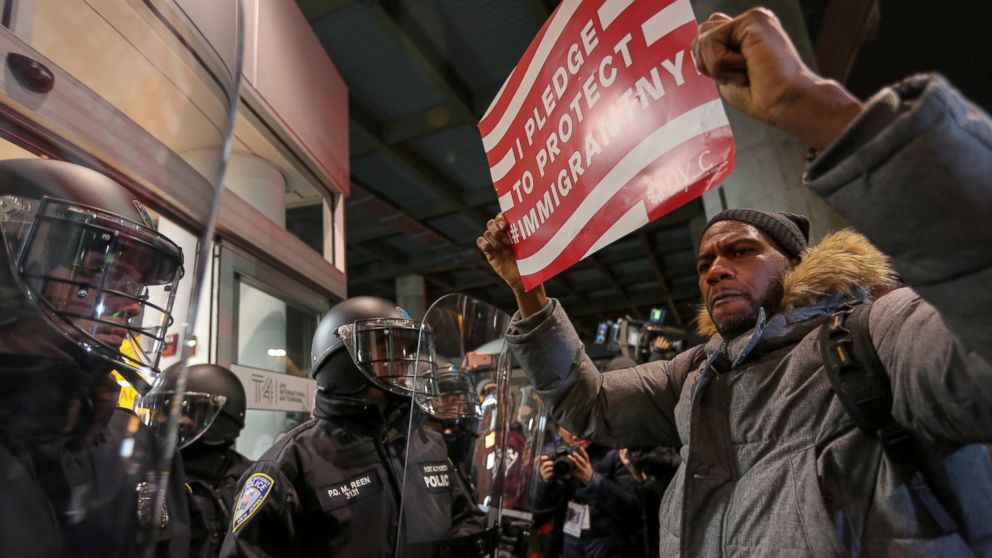 A Department of Homeland Security official told ABC News on Monday that there are no more individuals being detained at U.S. airports under the order.
The official said that as of Sunday evening, there were 735 encounters at U.S. ports of entry under the executive order. Nearly 400 of the people stopped by law enforcement were legal permanent residents, and all but two of them were allowed to enter the country.
Air France announced early Monday that it blocked 15 people from traveling to the United States because of the order, according to The Associated Press.
The Department of Homeland Security said in a statement on its website that it was complying with emergency judicial rulings that temporarily halted parts of Trump's order. "We are committed to ensuring that all individuals affected by the executive orders, including those affected by the court orders, are being provided all rights afforded under the law," the statement read.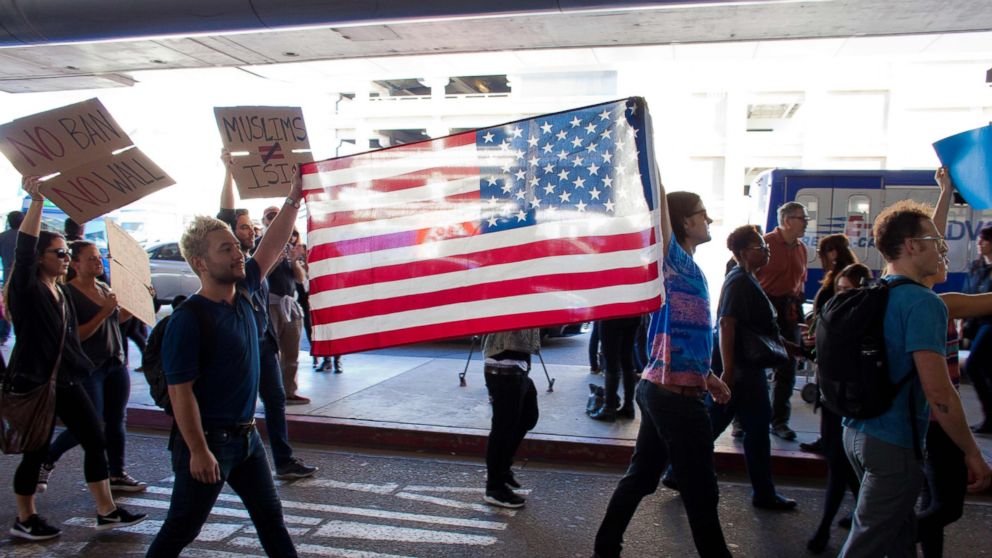 Demonstrators planned to continue the momentum built over the weekend, with about 10 gatherings at major U.S. airports this week, according to GroundGame, an organizing platform that tracks protests via social media. There were also a handful of demonstrations scheduled in the United Kingdom and Canada.
Beyond the widespread protests, businesses and universities reacted to news of the controversial order.
Goldman Sachs CEO Lloyd Blankfein sent a voice mail to employees last night, saying that he does not support the presidential order on immigration and that it could create "disruption" at the firm. Over the weekend, Bloomberg News obtained a staff memo circulated by Google CEO Sundar Pichai in which he criticized Trump's action and suggested that employees who could be affected by it return to the U.S.
Colleges advised foreign students and scholars to defer travel outside the U.S. at least until there is more clarity on how the order may affect them.
ABC News' Jack Date and Rachel Katz contributed to this report.