A police officer in Huntsville, Alabama, has died, and another remains hospitalized in critical condition, after being shot while responding to a shooting call Tuesday, police said.
"This is a devastating loss for the our department, the Huntsville community and the State of Alabama," Huntsville Police Chief Kirk Giles said in a statement. "We send our heartfelt condolences to the officer's family as they mourn their loved one who made the ultimate sacrifice."
Garrett Crumby, 36, was identified Wednesday as the officer who was killed.
"Family was important to Crumby, described by colleagues as someone who would do anything for not just those he loved, but for anyone who needed help," the Huntsville Police Department said Wednesday. Crumby joined the Huntsville force in August 2020, according to police.
The second officer, Albert Morin, 34, "remains in critical condition at Huntsville Hospital but is expected to survive," the department said.
The HPD responded to a call at 4:45 p.m. on Governors House Drive, where the two officers were shot "by an offender at the scene," the department had said, who initially "barricaded himself inside an apartment."
"The offender was apprehended about 6:20 p.m. and transported to the hospital with non-life-threatening injuries," the department said.
The officers were taken to Huntsville Hospital, according to the HPD. The second officer has undergone emergency surgery and remains in critical condition, the department said.
"As we grieve with our fallen officer's family, we have another officer fighting for his life," the chief added. "Please keep all our officers and the entire department in your prayers."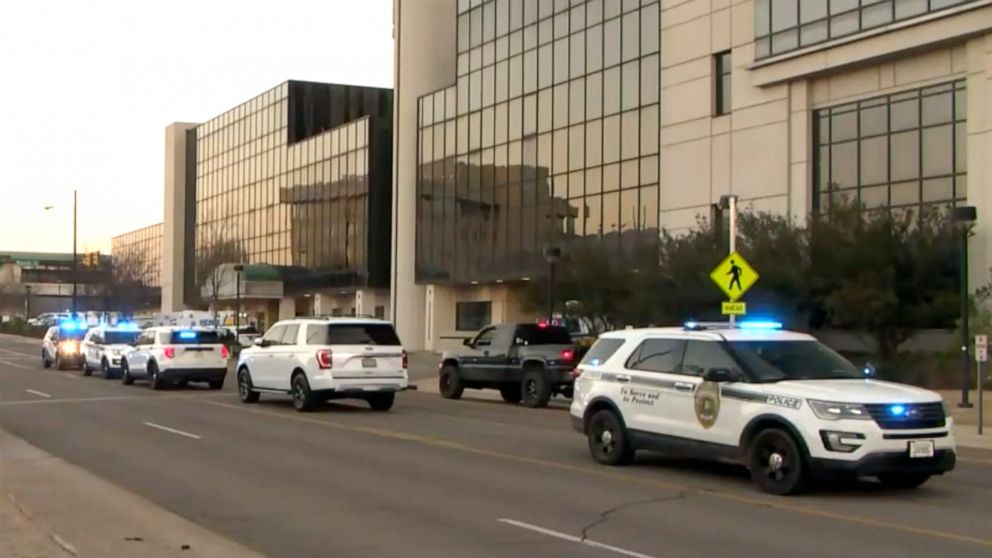 A female shooting victim was at the scene when officers arrived, according to police.
Both the offender and female victim "are at the hospital receiving treatment," police later said.
The HPD asked residents to avoid the area and closed the area to traffic amid a "heavy police presence."
The roads have since reopened.
"This is a painful night for the City of Huntsville and for our police family," Huntsville Mayor Tommy Battle said. "We are heartbroken. Words cannot express our loss. We have been overwhelmed by the show of love and support from our community, and we stand united with our police officers and their families in this tragic moment."