— -- A Los Angeles family says they are heartbroken that a "beloved" 8-foot-long alligator they have raised for 37 years since it was a baby was taken away by L.A. City Animal Services.
The investigation into the illegal pet started late last year when Animal Services received a complaint, the agency said. They weren't able to find the alligator at the time and believed it was relocated, so they decided to do a surprise visit at a later time, Commander Mark Salazar told ABC News today.
The surprise happened Monday after the agency received a new tip from a neighbor reporting an alligator in the backyard of a house in Van Nuys.
The homeowners told ABC News that they refused to let the officers come in because they said they wanted to protect their pet. However, after obtaining a search warrant, officers discovered Jaxson, an 8-foot-long alligator in a box under leaves.
She was bought from a pet store in 1977 and considered a pet and family member, owner Laura Mattson told ABC News.
But there was another surprise.
"What was disturbing was that there were two small animal carcasses that appeared to be cats in the box," Salazar said.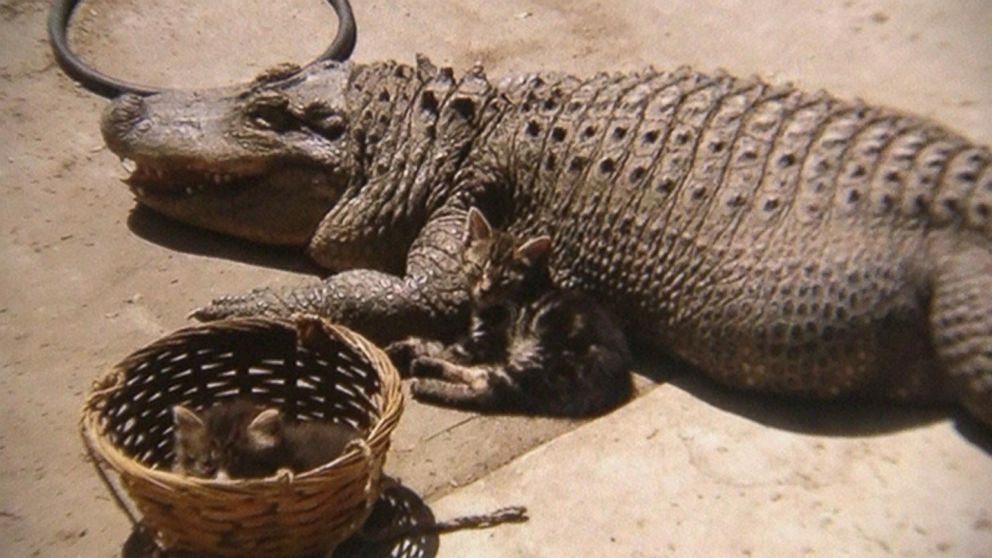 Mattson said she has cats of her own and even takes care of feral cats, but she has never fed Jaxson cats.
"I don't like the fact people are insinuating Jaxson ate cats in the neighborhood," Mattson told us. "She was perfectly docile."
Her brother, Ron Gorecki, who also lived in the house with Jaxson, said they only fed Jaxson meat from the groceries.
"We fed her chicken legs, hot dogs, turkey," he told ABC News. "No live food. No kittens. No cats."
The siblings said that they believe that feral cats are being poisoned and that two must have wandered into Jaxson's box and died in there sick from poison.
Salazar said he remains skeptical. He is asking anyone who has lost small pets over the past few decades in the area to come to them with information for the ongoing investigation.
Jaxson has since been captured with the help of reptile experts from the Los Angeles Zoo. The 37-year-old alligator is currently in the quarantine area of the zoo, a spokeswoman said.
The owners are facing citations for maintaining a wild animal without proper care and maintenance, and without proper permits. They could face further criminal charges as well, Salazar said.
It is illegal to keep wildlife without permits in Los Angeles.
Gorecki said that he and his sister want to work with the zoo to make sure Jaxson gets the perfect home.
"We're going to keep calling and visiting the L.A. Zoo to make sure we still see her and stay in contact with her because we love her. We'll always love her."