— -- An Amtrak train that derailed in Philadelphia on Tuesday night, killing at least seven people, was traveling an estimated 106 mph before it crashed, officials said today.
The speed limit in the section of track where the accident took place is 50 mph, according to the Federal Railroad Administration and the National Transportation Safety Board. The exact cause of the crash remains under investigation.
According to NTSB board member Robert Sumwalt, at 9:21 p.m., the entire train derailed while going through a turn. Just moments before the derailment, the train was placed into engineer-induced braking. At the time the engineer applied the brakes, the train was traveling at an estimated 106 mph.
Three seconds later, the train speed was recorded at an estimated 102 mph, Sumwalt said. The speed limit before the curve is 80 mph, Sumwalt added.
It is unknown at what time the train reached 106 mph, Sumwalt said, but he added that the NTSB will be working on a timeline.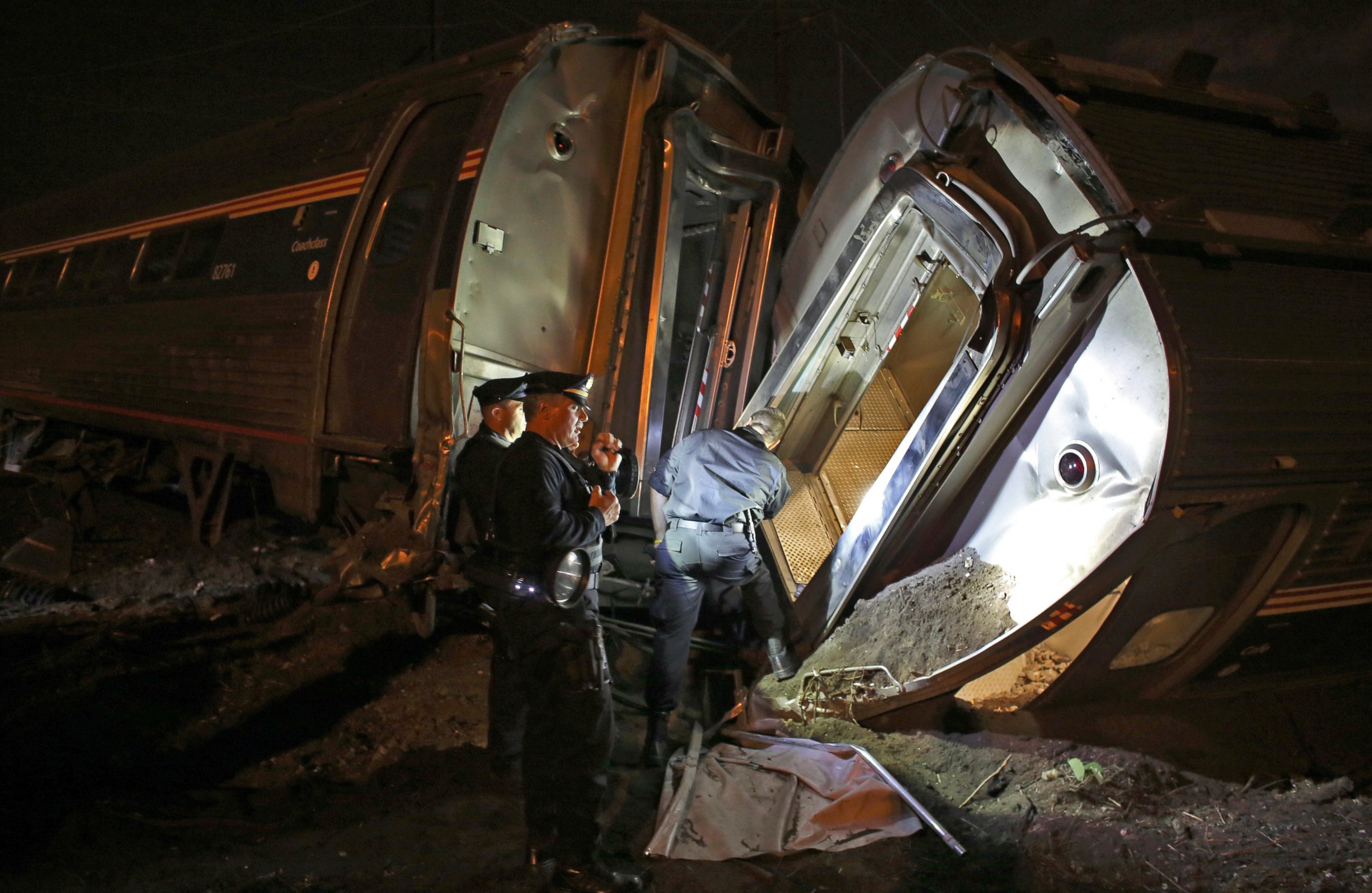 NTSB investigators are still probing the site of the crash. Officials said the train's black box -- known as an event recorder -- had been recovered and undergoing analysis. The NTSB is also analyzing the train's video cameras.
The train engineer -- identified by his attorney as Brandon Bostian, 32, of Queens, New York -- has given initial statements to police and is also being interview by federal accident investigators and other rail personnel, authorities said.
Sumwalt said investigators plan to document the site over the next few days and hope to interview crew members and passengers. Philadelphia Mayor Michael Nutter said the investigation is ongoing and will take some time. He did not offer a timeline.
New footage obtained by ABC News from a nearby business' rooftop surveillance camera shows three bright bursts of light just seconds after the train is seen going past the camera's view.
Amtrak said there were approximately 238 passengers and five crew members on board. The mayor said this afternoon that the number of passengers has not been confirmed as officials are still comparing train manifestos and hospital records.
Five people died at the accident scene and a sixth person later died at Temple University Hospital, Chief Medical Officer Dr. Herbert Cushing said. The mayor confirmed a seventh death this afternoon.
The mayor said over 200 people were treated at area hospitals. Ten people remain in critical condition.
Cushing said 23 patients remain at Temple University Hospital, including 8 people in critical condition. He said patients were "stunned" after the crash. Injuries ranged from suffered collapsed lungs, bruised lugs and rib fractures, Cushing said.
"Rib fractures tell me they rattled around in the train cars a lot," Cushing said.
Earlier in the day, Nutter said seeing the crash scene in the daytime was "almost indescribable."
"It is painful," he added. "It is incredible that so many people walked away from that scene last night."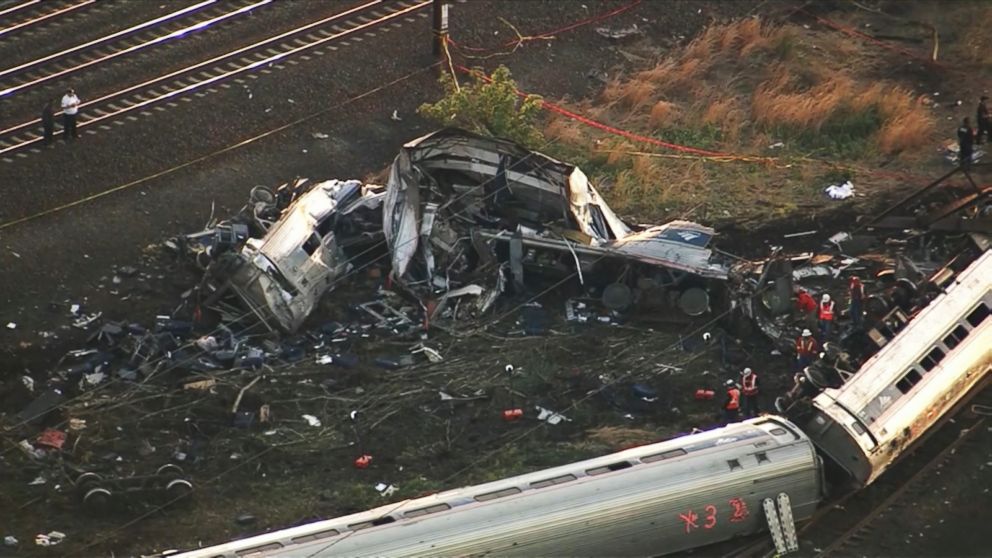 Sen. Pat Toomey, D-Pennsylvania, also described the wreckage site as "horrific" and "heartbreaking."
The search remains very active, Nutter said, as crews spent part of the day looking for unaccounted passengers among the crushed, overturned rail cars.
"What we have to stay focused on. ... Is making sure that we are searching every car, every inch, every thousands of square feet to find or locate individuals who may have been on that train," said Nutter.
Nutter said earlier today that officials "did not have an accurate count" on how many people were unaccounted for.
The front end of the Northeast Regional train, which was traveling from Washington, D.C., to New York City, reportedly shook as it went into a turn and the train's seven cars went off the rails. The FRA reports that the engine of the train and two cars were upright, three were lying on their sides, one was nearly on its roof and one was leaning dramatically.
First responders used hydraulic tools to help trapped passengers out of the mangled cars.
Former Pennsylvania Rep. Patrick Murphy was on the train and he tweeted that he was all right and was trying to help others. He told ABC's Philadelphia station, WPVI-TV, that he heard a "bang," and the train "wobbled" from one side to the other.
"Obviously, there was a lot of mayhem," he told WPVI. "People were pretty banged up. There was a lot of blood, a lot of bleeding. I pulled myself up. The guy who I kind of landed on was OK. The guy next to him was completely passed out, knocked unconscious."
Murphy said the unconscious man came to, got off the train and began to help other people. Murphy said to his knowledge, most people had gotten off the train as of 11:15 p.m.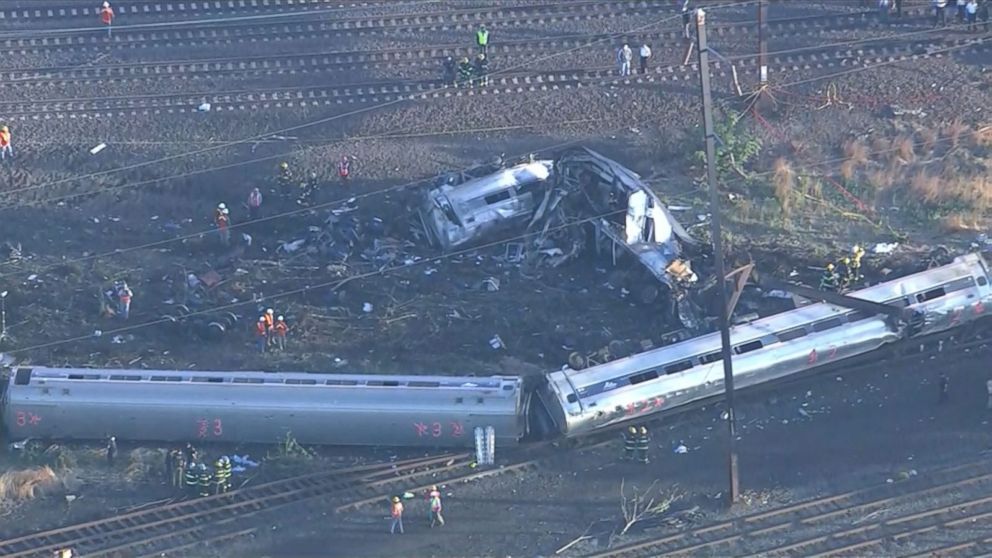 Paul Cheung, an Associated Press employee who was also on the train, said it appeared the train went off the tracks. He said he was fortunate to be at the back of the train and the front "looks pretty bad."
"The front of the train is really mangled," he said. "It's a complete wreck. The whole thing is like a pile of metal."
Delaware Sen. Tom Carper -- who is a former Amtrak board member -- got off the train in Wilmington, just before the crash.
He said in a video today, "I go back and forth on the train almost every day. Catch and early morning train and usually get out of D.C. on a train in the evening and be able to sleep in my own bed every night in Delaware. That's what I did last night. I was doing my emails and had the television on and the news story broke that the train had just derailed north of Philadelphia. Just 30 minutes after I got off. And the visuals were very graphic and horrible."
Carper added, "I had been on the train about an hour earlier from when I started seeing it be reported on the news and my initial reaction was concern for a lot of people I knew on the train... I prayed for a lot of people last night, and I still am."
ABC News' Elizabeth Hur, Josh Margolin, Aaron Katersky and Pierre Thomas contributed to this story.
Get real-time updates as this story unfolds. To start, just "star" this story in ABC News' phone app. Download ABC News for iPhone here or ABC News for Android here.