Anonymous 'TipsforJesus' Is 'Doing the Lord's Work' By Leaving Thousands of Dollars in Tips
@TipsForJesus has paid thousands of dollars in tips to unsuspecting servers.
December 3, 2013, 10:33 AM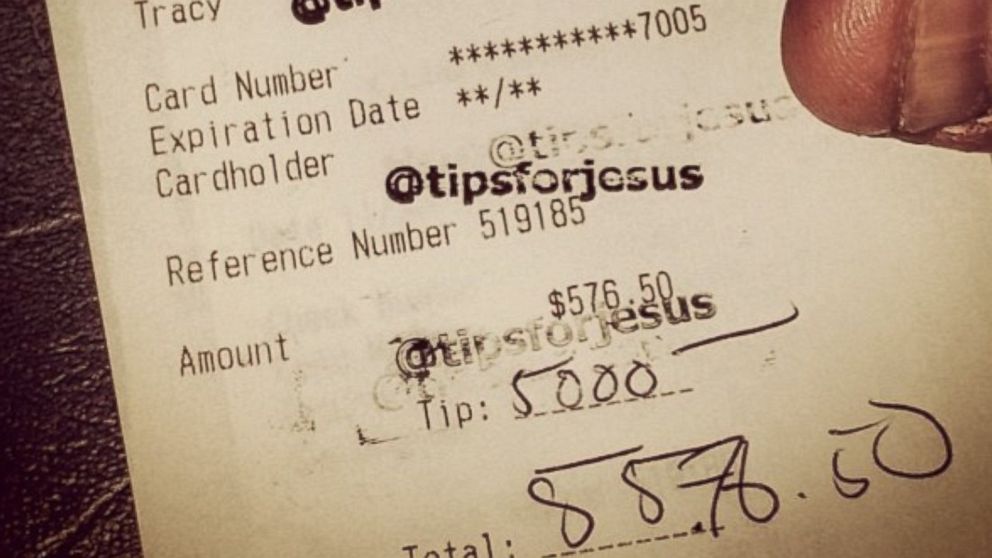 Dec. 3, 2013— -- An anonymous person or persons armed with an AMEX Centurion card, a love for college football and an Instagram account is setting out to "do the Lord's work, one tip at a time," leaving thousands of dollars in tips to unsuspecting servers.
On Sept. 8, an @tipsforjesus Instagram account posted the first photo verifying its mission, capturing the image of a receipt for Bar Louie in Ann Arbor, Mich., where they left a $3,000 tip for an $87.98 tab. The account posted two more receipt photos the next day, one featuring a $5,000 tip, the other showing a receipt with a $7,000 tip held by a grinning man, confirmed to be the co-owner of Alley Bar in Ann Arbor. Both of the receipts were signed, "@tipsforjesus."
That same day, tipsforjesus also posted a screenshot of an ABC 4 Utah article about a "mysterious" tipper who left thousands of dollars in tips in Ogden, Utah, this August, with the photo description "#tipsforjesus."
The account has remained active ever since, continuing to leave tips of over $1,000 in bars and restaurants in cities like San Francisco and Chicago. And although tipsforjesus has received numerous comments of praise, and some of skepticism, the account has continued to keep its user's identity a secret.
The only clue that follows the generosity is the account's love of college football. The signed receipts consistently show up in college town establishments on game days and include sentiments such as "Fight On!" Restaurant employees who have received the tips in Ogden, Utah, and Ann Arbor, Mich., say the anonymous person uses an American Express Centurion Card, more commonly known as the Black Card.
But while keeping their identity secret, the account is still verifying the large tips through signed customer copy receipts (now being marked with an "@tipsforjesus" stamp), and recently, they posted a photo of their online account activity to clear up a controversy concerning a Notre Dame University restaurant, where they left over $10,000 in tips in one night, that have still not been distributed to their servers.
A Legends of Notre Dame server contacted them through Instagram, writing that she had waited on them on the day of a USC vs. Notre Dame game and never received their tip. Tipsforjesus wrote back, "AMEX got paid, you should've got paid. Check with Legends management... sounds like the owners are trying to screw you. Tipsforjesus pays it's tabs!"
They then posted the screenshot of their online statement, which confirmed the large amounts charged to the card, with the caption, "Let's be clear, the Legends of Notre Dame tips were processed by AMEX and paid. tipsforjesus pays it's tabs. God bless! @notredame Your move."
Tipsforjesus has posted little in the way of written explanations for their generosity, focusing only on photos of their tipping habits and leaving comments from inquiring news outlets unanswered. But that hasn't stopped the account's commenters, a large number of them wait staff requesting visits to their own establishments, from speculating about their reasons.
One Instagram user, @mrs_ewing_, who said their father works at Legends in Notre Dame and witnessed their large tipping wrote, "That was an awesome thing! It gives me some kind of hope in humanity for people."