— -- As students on the Ohio State University campus head back to class this morning, authorities investigating yesterday's attack that left 11 people injured are saying that all signs point to an attack inspired by terror propaganda and carried out by a young man who – until yesterday – seemed to be living the American Dream.
Just five months before plowing a car into a crowd of people and launching into a knife attack, Abdul Razak Ali Artan graduated from Columbus State Community College with honors before he moved on to study at Ohio State.
What drove the young man to violence isn't clear, but authorities are now reviewing his social media activity.
Artan, who was killed by a fast-acting police officer, appears to have posted a sort of anti-U.S. rant on Facebook just minutes before starting his short-lived rampage.
"I can't take it anymore," he wrote in the post, which has been reviewed by ABC News and appeared on a page that has since been disabled. "America! Stop interfering with other countries, especially the Muslim Ummah. We are not weak. We are not weak, remember that."
The attack comes as the ISIS terror group has been urging its followers in recent weeks to copy the vehicle attack that took place in Nice, France, when 84 people were killed by a terrorist driving a semi-truck through a Bastille Day celebration in July. And it comes two days after the terror group published a video instructing its followers on how to use a knife to attack non-believers. ISIS is not mentioned in the Facebook post.
"Certainly looking at the attackers' social media, it looks like the motive was the type of motive we've seen in other terrorist attacks that have been inspired by terrorist groups overseas, like the Islamic State," said ABC News Contributor Matt Olsen, who is the former director of the National Counterterrorism Center.
Whether Artan had been inspired by such propaganda isn't clear at this point, and authorities are not speaking to his motives, saying only than an investigation is ongoing.
But experts tell ABC News that people's susceptibility to these messages can't easily be predicted.
"So many people, who are flipped by ISIS propaganda remotely look like they are leading successful lives," said Richard Clarke, an ABC News contributor and former U.S. National Coordinator for Security and Counterterrorism. "It's so hard to predict when the propaganda will get through to them to the point where they crack and go violent."
With a seemingly urgent tone, the post also states: "If you want us Muslims to stop carrying lone wolf attacks, then make peace...we will not let you sleep unless you give peace to the Muslims."
It appears that the post's author harbored particular anger over reported violence in Burma (a country also known as Myanmar), where U.N. officials have sounded the alarm in recent days over what one official characterized to BBC News as the "ethnic cleansing of the Muslim minority," in the country.
"Seeing my fellow Muslims being tortured, raped and killed in Burma led to a boiling point. I can't take it any more," the post's author wrote in the first paragraph.
Doubling down, the post later reads: "Stop the killing of the Muslims in Burma."
It doesn't appear that Artan has a direct connection to Myanmar. Sources tell ABC News that he is of Somali descent and is a legal permanent resident of the U.S.
However, he may have felt like an outcast because of his faith.
Three months ago, Artan spoke with a student reporter for the school's newspaper, Kevin Stankiewicz.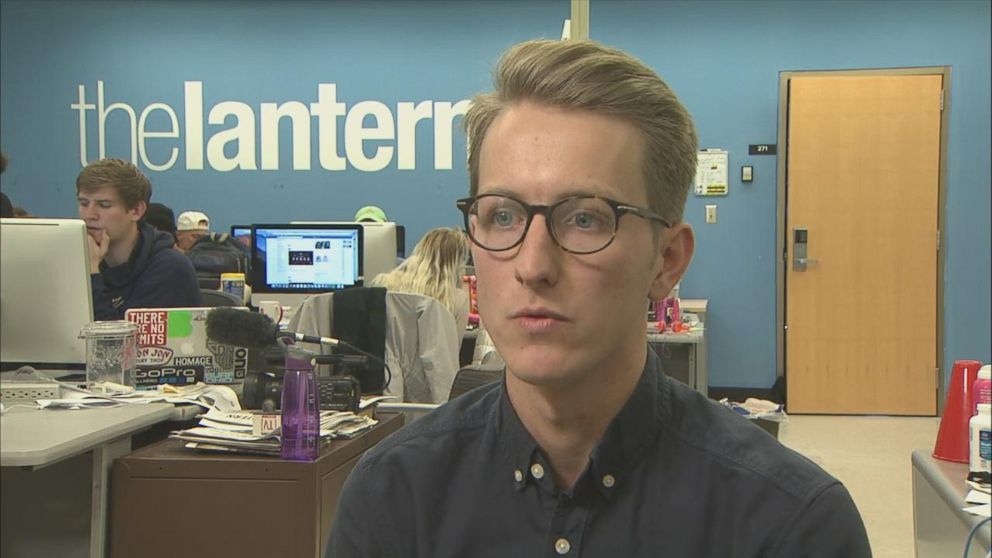 "His main concern was, 'is it acceptable for me to pray on the oval right now before class?'" the student reporter told ABC News in an interview on Monday night.
Artan is quoted in the paper saying: "I wanted to pray in the open, but I was kind of scared with everything going on in the media. I'm a Muslim, it's not what the media portrays me to be."
"If people look at me, a Muslim praying, I don't know what they're going to think, what's going to happen. But I don't blame them. It's the media that put that picture in their heads, so they're just going to have it, and it — it's going to make them feel uncomfortable," he added.
ABC News' Cho Park, Randy Kreider, Aaron Katersky, Lee Ferran and Paul Blake contributed to this report.