Tornado Overturns Cars, Uproots Trees in South Florida
Severe winds wreaked havoc along the Florida Turnpike in Broward County.
January 27, 2016, 3:01 PM
— -- An apparent tornado wreaked havoc in South Florida Wednesday, overturning cars and tractor trailers, uprooting trees and causing thousands to lose power.
Just after 8 a.m., the National Weather Service issued a tornado warning for Broward and Palm Beach Counties lasting until 11:45 a.m.
The storm system was believed to have originated from El Niño in the Pacific Ocean, ABC News Meteorologist Max Golembo said. It sustained winds from 90 to 100 mph, ABC News meteorologist Melissa Griffin said.
Most of the damage occurred in the Coconut Creek area and at an industrial park in Pompano Beach, Griffin said. Reports of the storm first came from Broward College along the Florida Turnpike around 9:30 a.m., Chuck Caracozza, a meteorologist with the National Weather Service in Miami, told ABC News today.
Several people posted photos and video to social media showing the damage caused by the strong winds, including a car sitting atop another in the college's parking lot outside the Earth Sciences Center.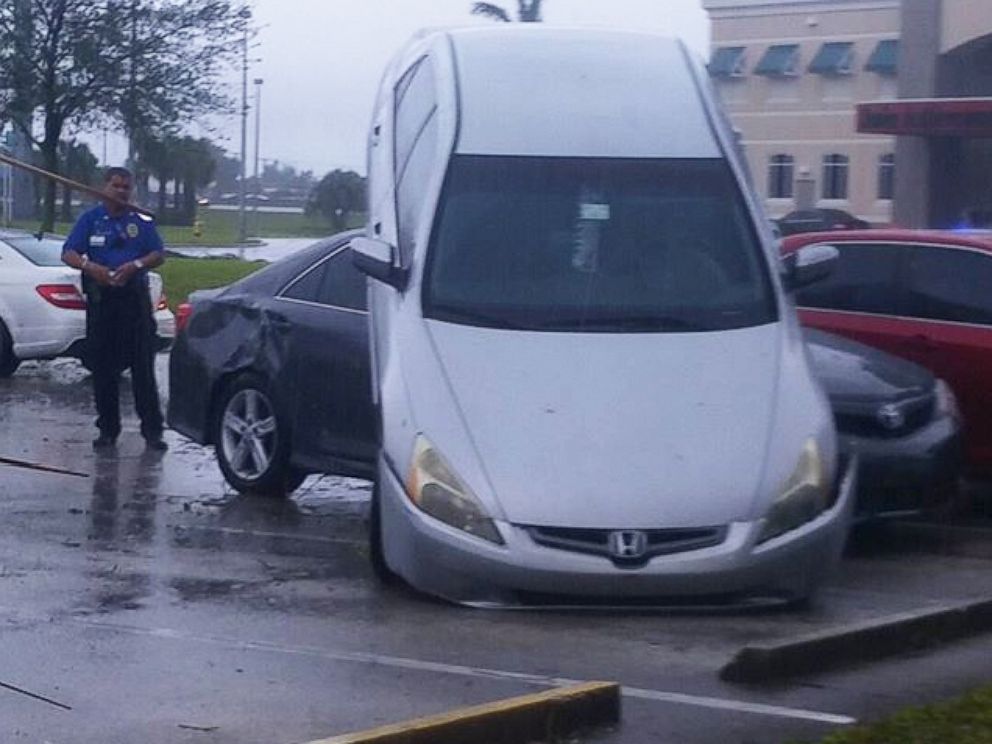 Tornado winds caused a tractor trailer to overturn on the Florida Turnpike near Coconut Creek Parkway, said Sgt. Mark Wysocky of the Florida Highway Patrol. The same exit was blocked by a large uprooted tree.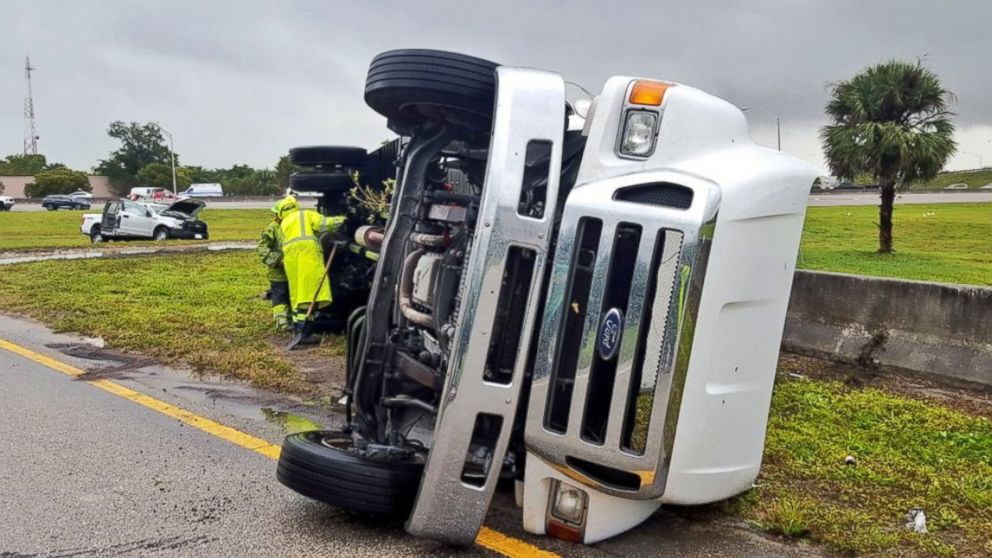 The storm produced significant damage along the turnpike, where it downed a power line and caused structural damage to an apartment building in the Wynmoor retirement community.
Also on the Florida Turnpike, a small sedan traveling southbound was lifted so high by the winds that it cleared the wall separating the highway and landed in a northbound lane, Wysocky said.
The only person injured in the storm was in the car that was lifted onto the other side of the Florida Turnpike, Wysocky said. The victim was taken to a hospital with non-life threatening injuries. A total of six vehicles were damaged along the highway in the storm.
Other images posted to social media show a fence that was blown away after a nearby tree was uprooted.
In the height of the Tornado, at least 3,000 customers in Broward County were without power, Florida Power and Light Spokesperson Bill Orlove told ABC News today. Service was restored within minutes for most, but more than 300 customers were without power hours after the storm passed.
South Florida will continue to experience some showers and extreme weather through the rest of the day and tomorrow, Caracozza said.
"The threat of strong to severe thunderstorms is continuing throughout today and tomorrow," he said.