— -- The first cold front of the week moved through the Northeast Tuesday night bringing the first snow of the season to Pennsylvania, the Hudson Valley of New York and into Massachusetts and Connecticut.
Temperatures in the Northeast on Wednesday will barely reach above 50 degrees in many areas. The highs for New York City and Philadelphia are forecast to be 52, with Boston reaching just 45.
But expect even colder weather as we get into the weekend.
A second cold front of arctic origin is forecast to bring record-cold morning temperatures to the Northeast this Saturday morning.
With the arctic air, snow will be flying from the Midwest into the Northeast, especially near the relatively mild Great Lakes.
The arctic front will move into the Midwest first Wednesday night into Thursday, bringing the coldest air since last winter.
The temperatures Friday morning in some areas of Minnesota could be below zero, with teens as far south as the northern Chicago suburbs.
Arctic air reaches the Northeast Friday afternoon and evening.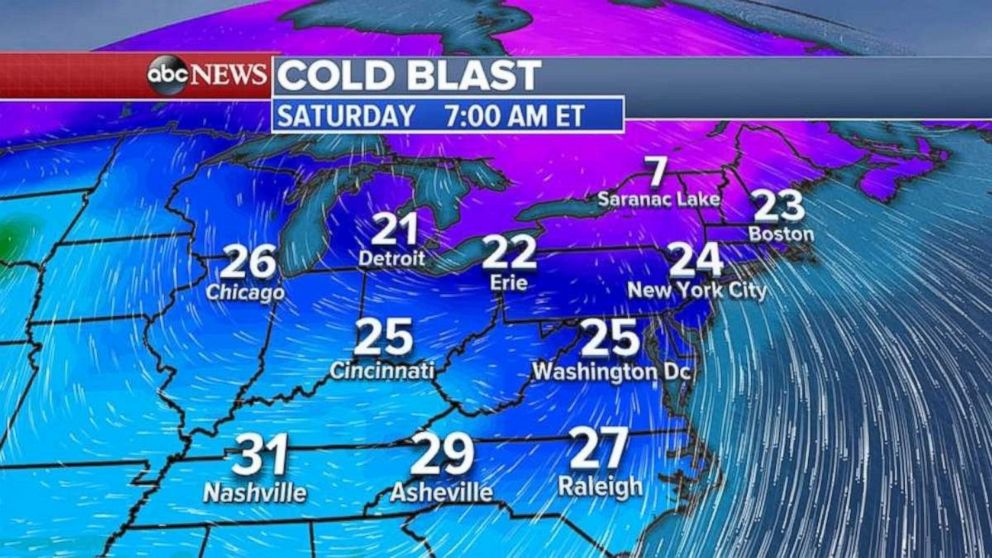 Snow is expected from Minnesota to Michigan and into the Northeast as the arctic from moves through. Winter Storm Warnings have been issued for Wisconsin and Michigan for as much as a foot of lake effect snow.
New western storm
A new storm system is moving into the West today, bringing heavy rain to northern California and parts of southern Oregon.
Gusty winds up to 60 mph are possible along the West Coast with this new storm.
San Francisco will begin to see rain Wednesday evening and into the night. Some flash flooding and debris flow is possible in the recently burned areas.
Some areas in northern California could see up to 6 inches of rain, with 30 inches of snow in the Sierra Nevada Mountains and the Cascades.