— -- The Wisconsin fugitive accused of robbing a gun shop and sending a manifesto to President Donald Trump was captured while camping on a Wisconsin farmer's property after a 10-day manhunt, officials said.
Joseph Jakubowski, who was considered "armed and dangerous," allegedly stole 18 firearms from a gun store near Janesville, Wisconsin, on April 4, then allegedly torched his car and fled, and had been on the run ever since.
Jakubowski is also accused of sending the president a manifesto littered with anti-religious and anti-government rhetoric. Jakubowski allegedly distributed as many 25 copies of the manifesto, mostly to people that he knew, officials said.
"Today is a good day for the Wisconsin community," Justin Tolomeo, special agent in charge of the FBI's Milwaukee Division, said at a news conference this afternoon. "There is no other credible threat related to him in the Wisconsin community."
Janesville Chief of Police David Moore said that police were concerned a mass shooting could have occurred.
"It ended because a citizen gave a clue," Moore said. "We were looking out not in terms of days but in terms of weeks for sustaining this investigation. We were set up for a long-term investigation and we had the assets in place in the event ... something of a tragic nature occurred."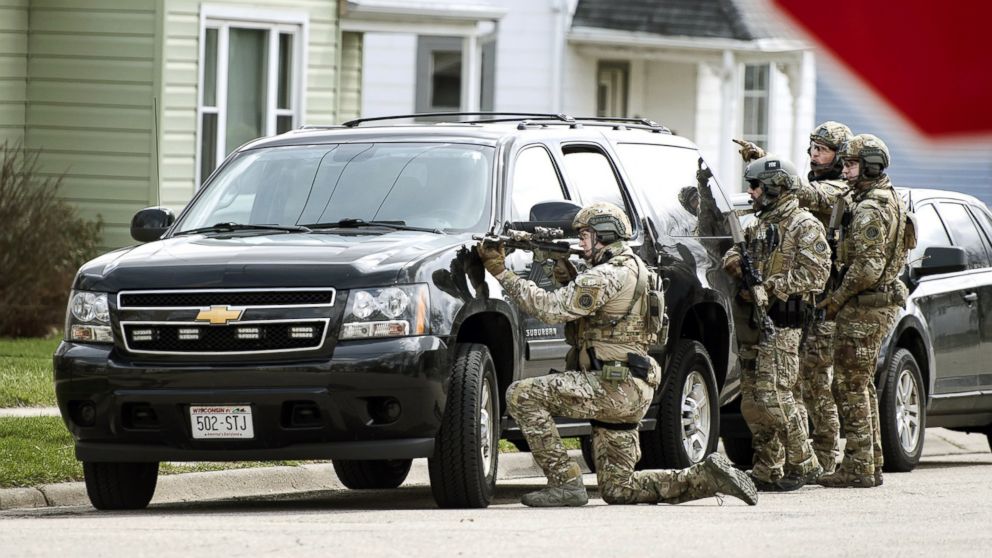 Jakubowski was taken into custody early this morning after he was spotted camping Thursday night on a farmer's property near Readstown, Wisconsin, which is about 130 miles northwest of Janesville, the sheriff's office in Rock County, where Janesville is located, said in a news release this morning.
The property owner, Jeffrey Gorn, told The Associated Press he spoke to the man camping on his property for about an hour and did not realize he was Jakubowski.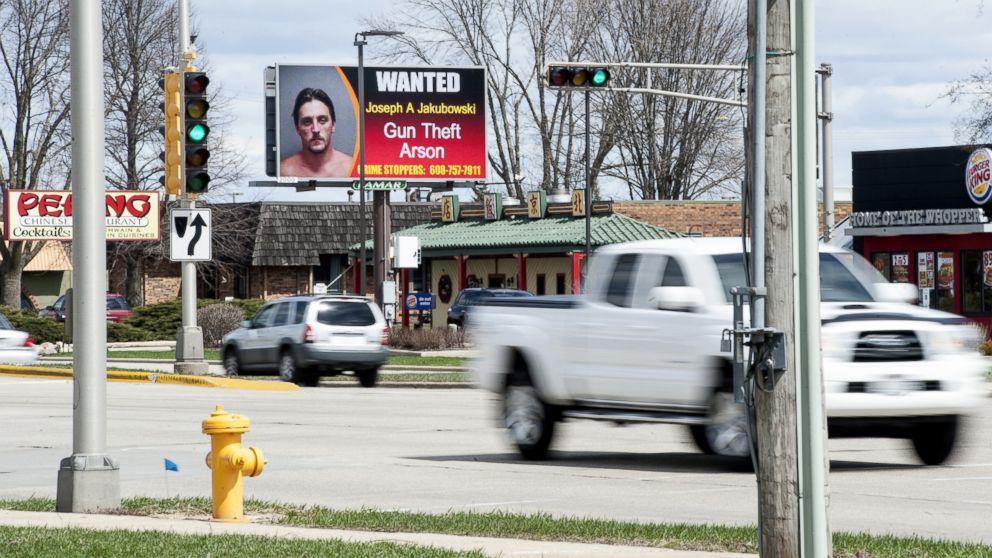 Gorn, a retired high school counselor, said the man was "extremely cordial" and "never raised his voice, never showed any sign of doing anything inappropriate," the AP reported.
"He seemed angry at the way he views society, how he believes money is controlling society," Gorn told the AP. "He wanted me to see what he had written to various people."
Gorn said the man asked for food and asked if he had to leave, and Gorn told him he could stay the night, the AP reported. Gorn returned to his home and "felt a bit uneasy," and he called authorities, the AP said.
"The witness was crucial," Vernon County Sheriff John Spears said this morning. "He could have just said, 'Get off my property,' and that be it, but he didn't."
When the property owner called authorities, he said a suspicious person was camping "and refused to leave when he had been asked to do so," the sheriff's office said. The property owner was told to look at Jakubowski's picture online to see if it looked like the same person, Vernon County Sheriff's Office and Richland County Sheriff's Office officials said at a joint news conference this morning. After that, authorities felt comfortable based on the description to establish a perimeter, officials said.
Shortly before 6 a.m. local time today, officers made contact with the suspicious person, identified as Jakubowski, and he was taken into custody without incident, the Rock County Sheriff's Office said. Two BearCats, armored vehicles used by law enforcement, on the scene made the initial contact, officials said today.
Four handguns, one long gun, ammunition, a samurai-like sword, a bulletproof vest and a copy of his manifesto were found, said Tolomeo.
No one was hurt during the capture, officials said.
The Rock County Sheriff's Office is "ecstatic," to have Jakubowski in custody, officials said, adding that they expected the capture to involve a shootout.
Twenty-six agencies were involved in this manhunt -- 18 local, two state and six federal -- Tolomeo said, and more than 250 law enforcement officers came together from these different agencies for "one public safety mission."
Over 700 leads were explored in an effort to apprehend Jakubowski, Tolomeo said.
Janesville resident Shannon SuraHajewski told ABC News today "it's been pretty scary" in town since the manhunt began.
"The sense of not knowing is just an uneasy feeling, especially when you have children at school," she said.
Children weren't allowed to be outside for recess during the manhunt, and it was confusing for them, she added.
"This morning, when we found out [Jakubowski was in custody] we cheered," SuraHajewski said.
It's a "huge sign of relief," she said. "We can proceed as normal. We're safe."
ABC News' Jack Date, Cheryl Gendron, Jason Volack, Andy Fies and Alex Perez contributed to this report.
The Associated Press contributed to this report.