— -- Several people were arrested in connection with the case of three inmates who escaped from a maximum security California jail, according to the Orange County Sheriff's Department.
Although those arrested do not include the inmates themselves, they have "some connection to the individuals who escaped," Sheriff-Coroner Sandra Hutchens, of the Orange County Sheriff's Department, said in a press conference Wednesday night.
Some of those arrested were members of a Vietnamese gang, Hutchens said. Further details on the arrests were not immediately available.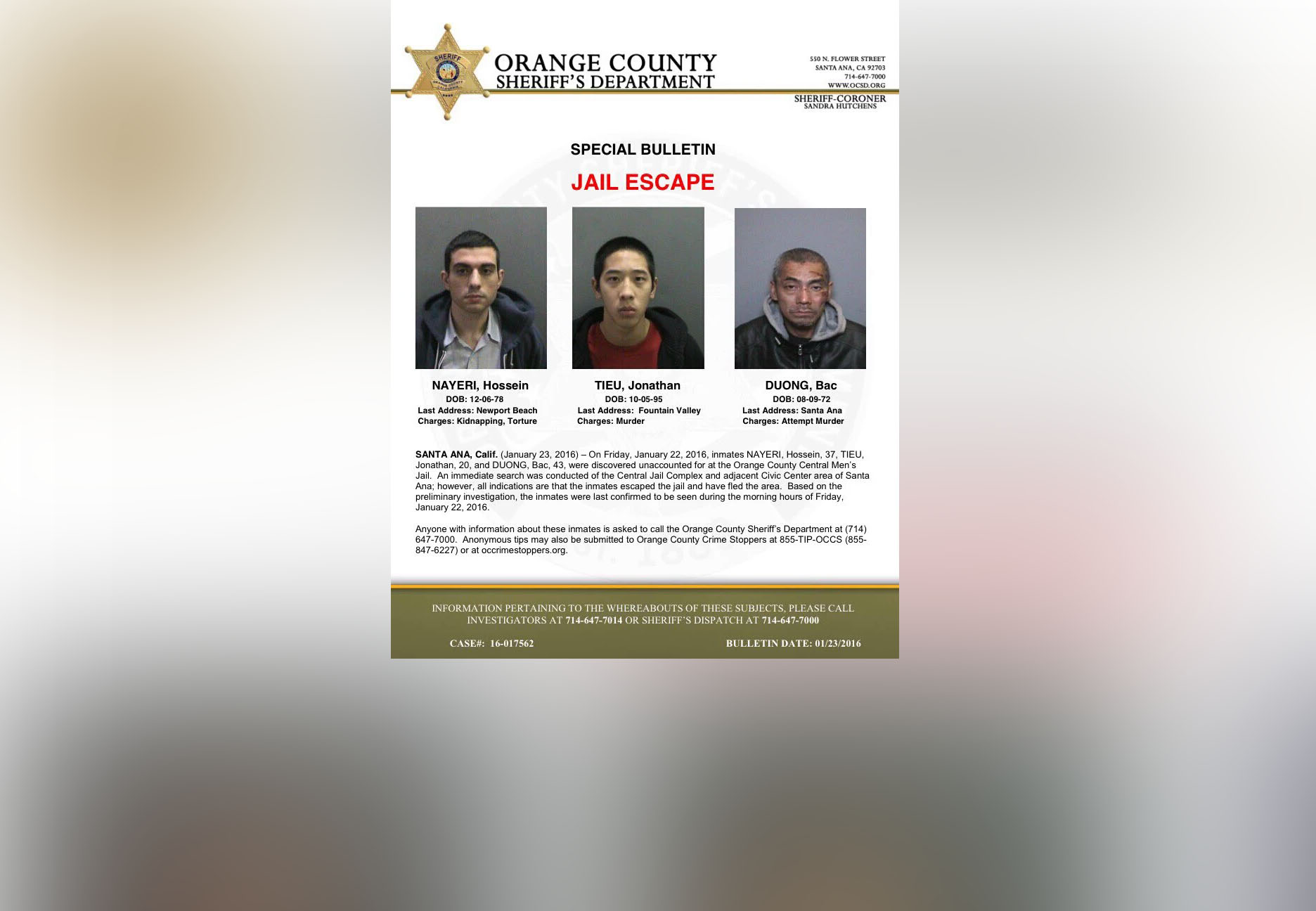 Investigators are convinced that the inmates had outside help in escaping the prison due to the clean cuts made to inch-thick steel bars, Hutchens said.
"It's not something we think could have occurred with a jail-made" object," Hutchens said.
The jail has also launched an investigation about whether the inmates had inside help on their escape.
"The question is: how do you get cutting tools inside a jail?" Hutchens said.
The OCSD is working in conjunction with the U.S. Marshals Service to find the inmates, Hutchens said. There is no knowledge on where they could be located.
"We think it would be difficult to get out of the country at this point," Hutchens said. "I'm not ruling that out though."
Hossein Nayeri, Jonathan Tieu and Bac Tien Duong allegedly broke out of Orange County Men's Central Jail Friday by sawing through jail bars and traveling through plumbing pipes to reach the roof, according to court records.
"Next to the edge of the roof was a section of barbed wire that was cut off and placed next to the brown paper bag of rope," the documents stated.
The jail, which was built in the 1960s, holds its recreational activities on the roof, Hutchens said. The only surveillance video of that night is of an image of a flashlight on the roof.
The jail is looking to install new, higher-quality cameras and personal tracking devices, Hutchens said.
"We haven't had an escape from this jail in decades," she said.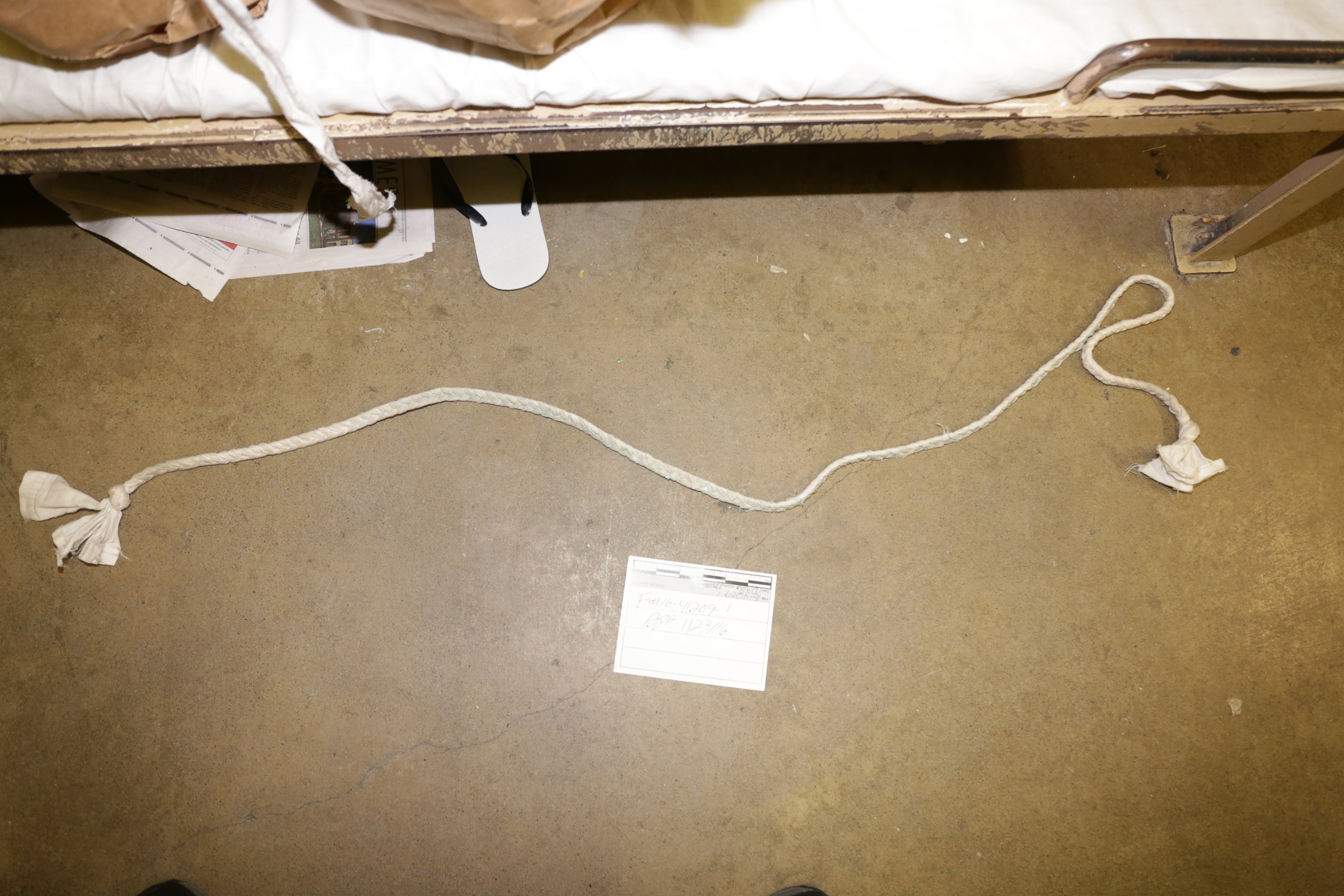 Authorities believe Nayeri, who has past military experience, was the mastermind behind the escape.
"It's every sheriff's nightmare," Hutchens said, calling the inmates a "danger to the public."
Tieu was a documented Vietnamese gang member, authorities said. Duong was allegedly associated with the same gang.
"Two of the escapees have ties to a gang that operates in the city of Garden Grove and the city of Westminster," Hutchen said. "So we have been focusing on that gang and as a result, we have made some arrests."
The inmates were last seen Friday at 5 a.m. in their holding area, authorities said. They were not reported missing until 9 p.m. that night. By the time their escape was confirmed at midnight, they had a 16-hour head start on authorities searching for them.
Tieu, 20, is charged with murder, while 43-year-old Duong is charged with attempted murder. Nayeri is accused of kidnapping the owner of a marijuana business and another person in October 2012. He allegedly tortured the owner with fire, a knife and bleach.
All three men pleaded not guilty to the charges.
The OCSD is offering a $200,000 reward for information leading up to the arrest of the escaped inmates. Anyone who sees them is asked to call 714-628-7085 or submit tips anonymously to Ocsd.org.
This is a developing story. Please check back in for updates.