Baton Rouge Cops in Alton Sterling Killing Named
U.S. Department of Justice civil rights division is investigating the shooting.
— -- Officials today released the names of the two police officers who were placed on paid administrative leave after their involvement in the fatal shooting of a black man outside a Baton Rouge, Louisiana, convenience store.
Blane Salamoni, a four-year veteran, and Howie Lake II, a three-year veteran, both white men, were placed on leave in connection with the death of Alton Sterling, according to a Baton Rouge police news release.
Both officers work in the department's uniform patrol division.
Sterling, 37, was killed early Tuesday in a shooting that was captured on cellphone video. In the video, two officers appear to struggle with Sterling and slam him to the ground. One man seems to yell "gun." Then at least two shots are fired while the officers are close to Sterling.
Baton Rouge police said the incident began when uniformed officers responded to a disturbance call from someone who said a black man who was selling CDs threatened him with a gun.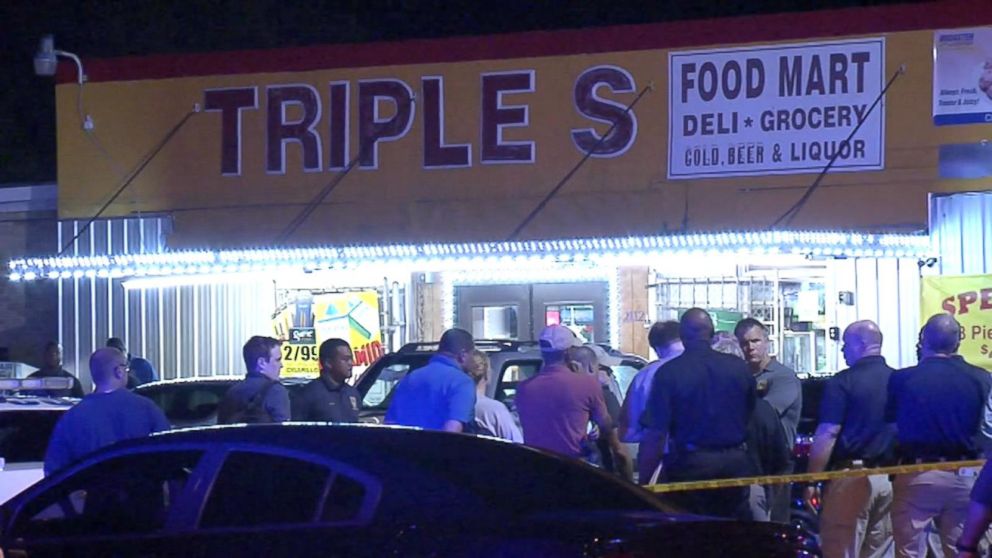 Officers approached Sterling in the parking lot of the convenience store, and "an altercation between Sterling and the officers ensued," police said. He was shot during the altercation and died at the scene, police said.
The coroner for East Baton Rouge Parish said Sterling died from multiple gunshot wounds to his chest and back.
Baton Rouge Police Chief Carl Dabadie Jr. called Sterling's death a "horrible tragedy" and described the incident as an "altercation" that "resulted in the loss of his life."
Dabadie said Sterling was armed, but added, "There's a lot that we do not understand."
"I am demanding answers," he said.
There is video from the police body cameras — which became dislodged during the incident but continued recording — as well as video from the patrol car camera and the store, officials said today.
East Baton Rouge Parish District Attorney Hillar Moore III said when the officers involved were interviewed by the case detectives, the two officers "indicated that they feared for their life and that deadly force was necessary and justified."
Louisiana Gov. John Bel Edwards announced today that the investigation into the shooting will be led by the U.S. Department of Justice's civil rights division.