— -- Over 50 locations across five states -- Massachusetts, Connecticut, New Hampshire, Maine and New York -- got 30-plus inches of snow this week.
Below are the highest amounts in each of those states -- with three towns in Massachusetts getting three feet of snow -- Auburn, Hudson and Lunenburg.
Ten-foot drifts were reported at Southwest Harbor, Massachusetts, and winds gusted to 78 mph in Nantucket, while Marshfield, also in Massachusetts, experienced 14 consecutive hours of blizzard conditions. Boston had 9.
Boston ended up with just over 2 feet of the white stuff -- 24.6 inches -- for their biggest January snowfall on record. The annual average snow for Boston is 43.2 inches and they got over half of that in just one storm.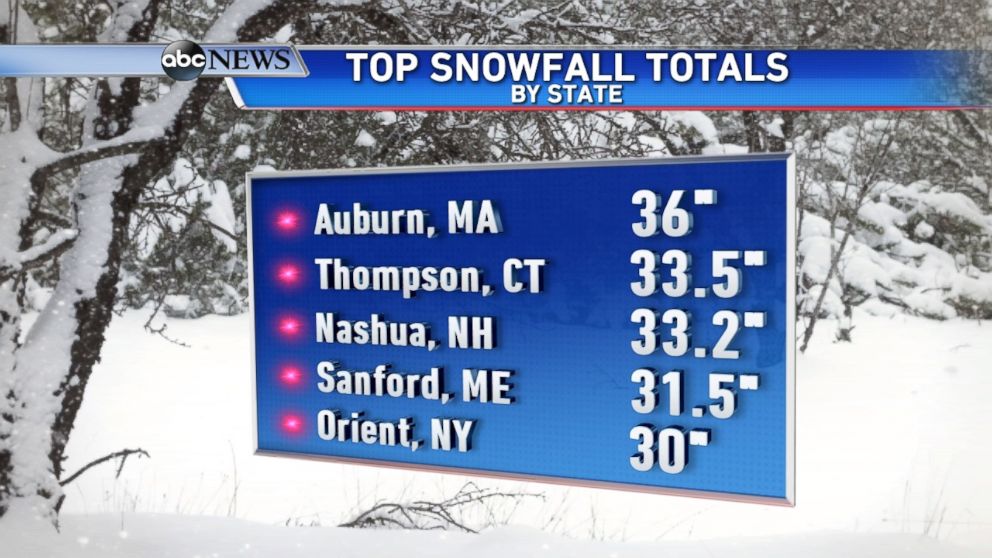 Boston public schools are closed again on Thursday.
Meanwhile, Providence, Rhode Island, and Portland, Maine, also saw a top 5 largest snowstorm totals -- both getting 19.1 and 23.8 inches, respectively.
So many other cities also shattered records for today -- including Islip, New York, Kennedy Airport in New York -- just to name two.
Watch this incredible 24 hour timelaspe video as the snow quickly piles up in Berlin, Massachusetts:
As millions are still digging out from this record-breaking blizzard, a clipper system moves through the Ohio Valley and Northeast on Thursday and Friday. It will bring snow and ice in Detroit on Thursday morning, cutting through Ohio, Pennsylvania, and Western New York by Thursday afternoon and evening in the Northeast.
The roads for the Friday morning commute could be a bit messy and slick from Washington D.C. to Boston.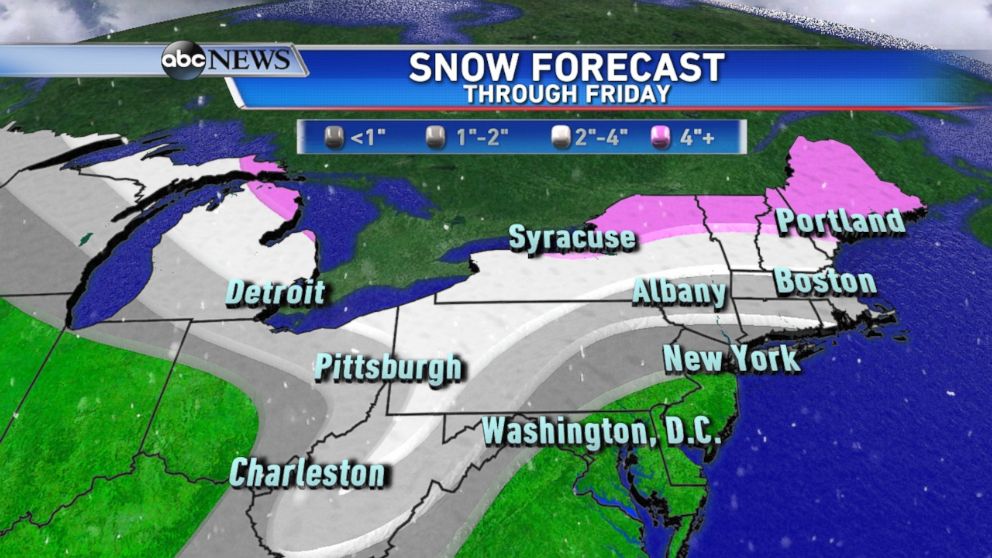 At this time, snow accumulation does not look major, but adds insult to injury, especially for New England. A general 1-3 inches for most. D.C. and New York City will likely get less than an inch as a wintry mix is also likely, while Boston could see 1-2 inches.
Highest amounts area 2-4-plus inches possible up north from New York to Maine, especially in the higher elevations and along the Canadian border.