— -- Bodycam footage shows the moment a police officer took matters into his own hands to deal with an alligator trespassing on the front porch of a home in Hollywood, Florida.
The Boynton Beach Police Department posted the video to Facebook Wednesday, which shows officer Alfredo Vargas wrestling the alligator after he found it lying near the front door of the residence.
In the video, Vargas first approaches the alligator with a pole about 5 feet long with what appears to be a noose at the end of it. Once the alligator's head is lassoed, the officer tapes its snout shut.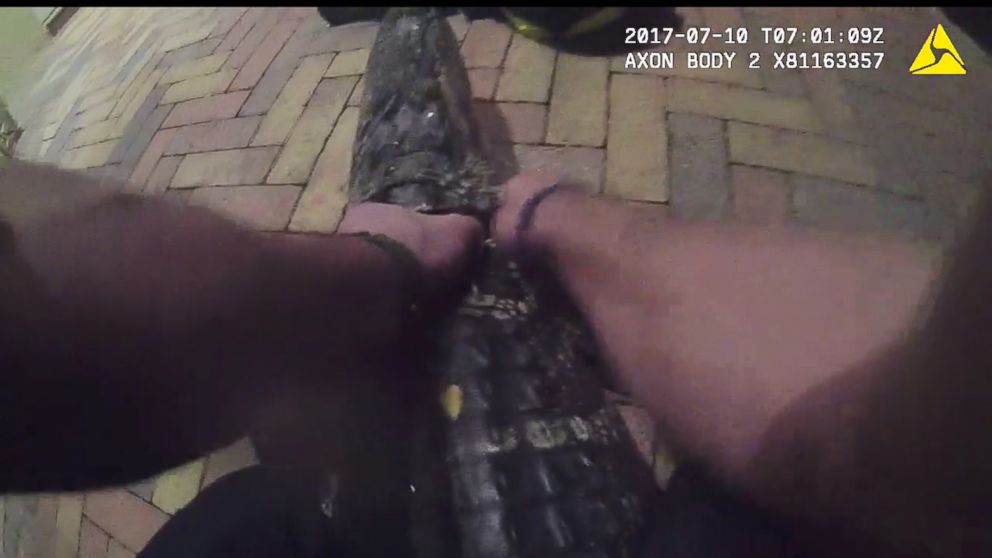 Police received a call about the alligator around 2:24 a.m. on July 10, a spokesperson for the department told ABC News.
Vargas decided to handle the gator himself after he called the Florida Fish and Wildlife Conservation Commission, who told him that a trapper wouldn't likely arrive for another 30 minutes and would likely kill the gator, the police department wrote on Facebook.
FWC advised Vargas that he could release the alligator elsewhere, so he put it in the back seat of his patrol car and placed it in a nearby canal after removing the tape from its mouth, police said.
Vargas had been trained on how to handle nuisance alligators and return them to their natural habitat by Gator Boys Alligator Rescue at the Everglades Holiday Park in Fort Lauderdale, police said.
The department quipped on Facebook that it has made Vargas its "official alligator wrestler."
Florida Fish and Wildlife did not immediately respond to ABC News' request for comment.