California firefighters, Girl Scouts prove to be a dog-saving duo
A Girl Scout project put life-saving pet masks on all Bakersfield fire engines.
— -- A firefighter and a pair of girl scouts have proven to be a dog-saving duo.
On July 19, the Bakersfield Fire Department posted a video on Facebook, showing firefighters rescuing a dog named Jack from a house fire. Firefighter Matt Smith went searching for Jack when his owner said he was missing.
"I knew the owner was real concerned about him," Smith told ABC affiliate KERO-TV last week.
Smith found Jack behind furniture and brought him outside. According to the department, firefighters then revived Jack using an animal oxygen mask and high-flow oxygen.
Maryland firefighters revive dog saved from burning home
On July 20, Smith went to the Bakersfield Veterinary Hospital to meet Jack and owner Jeff Garnett.
"I can't thank you guys enough," Garnett told Smith. "If it wouldn't be for, you know, these guys, these firemen, getting him out, he wouldn't, we wouldn't, be standing her now."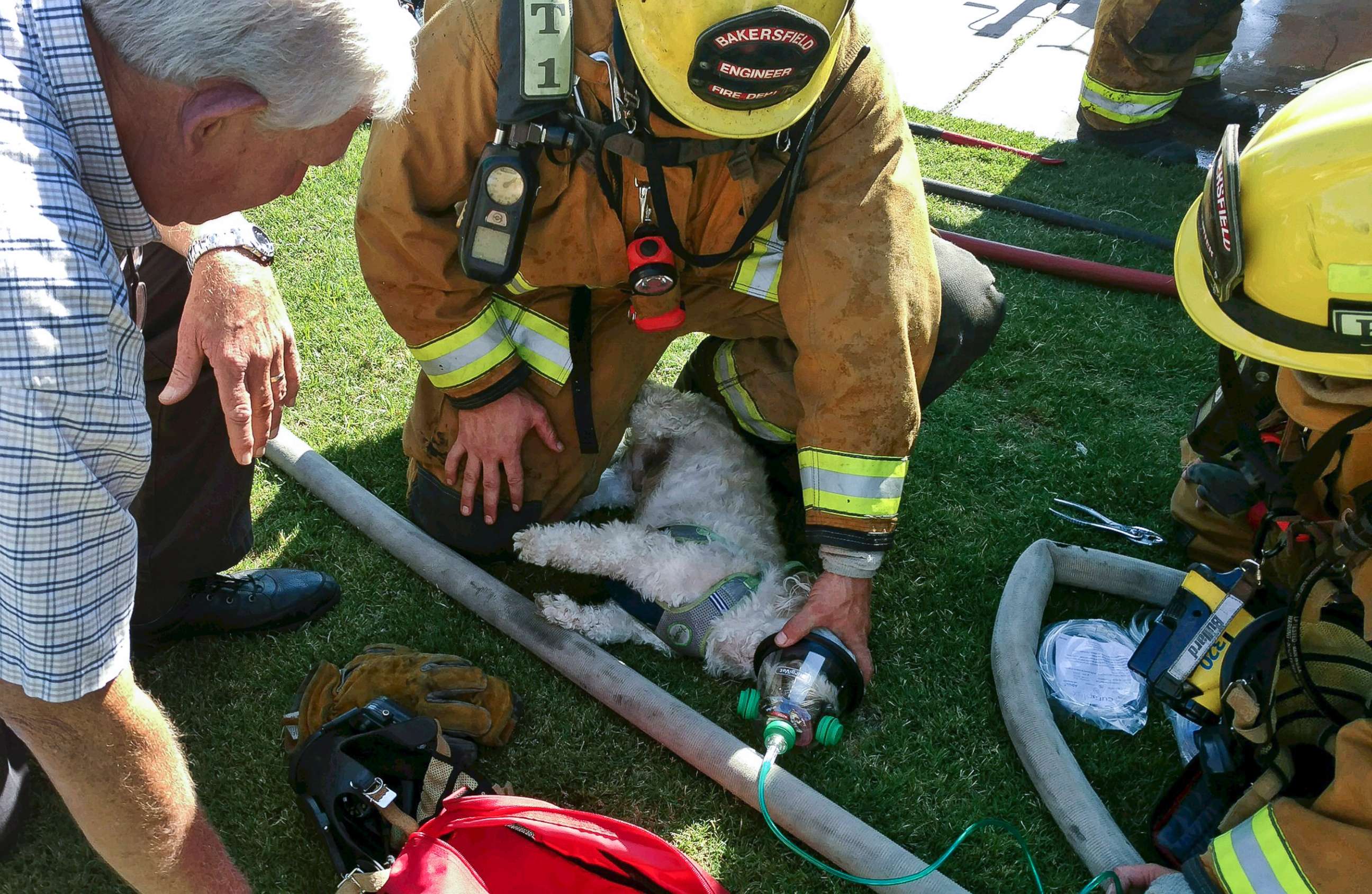 In its post on Facebook, however, the fire department also thanked Girl Scouts Kylie Greene, 14, and Hailey Amos, 14, of Central California South Council Troop No. 376.
In 2015, Kylie and Hailey started selling shirts, eventually raising $2,400 to buy those pet mask kits on all 37 Bakersfield fire engines. The project also scored them the silver award in Girl Scouts.
"We really, really love, love, love pets," Kylie told KERO-TV in a 2015 interview.
The fire department's John Frando told ABC News today that Kylie and Hailey had come to Fire Station No. 1 to pitch their idea.
"The girls explained the masks and how they could be used as life-saving tools for various family pets. They shared the fact that they would fund-raise to purchase the masks so that the masks would incur no costs to the department," Frando said. "The day that the girls delivered the masks they were immediately placed on all fire engines."
Frando said that the masks had been used several times by firefighters but that the incident on July 19 shows "the true value of these devices."
For saving Jack's life, the Bakersfield Fire Department also received the Compassionate Fire Department Award by PETA.